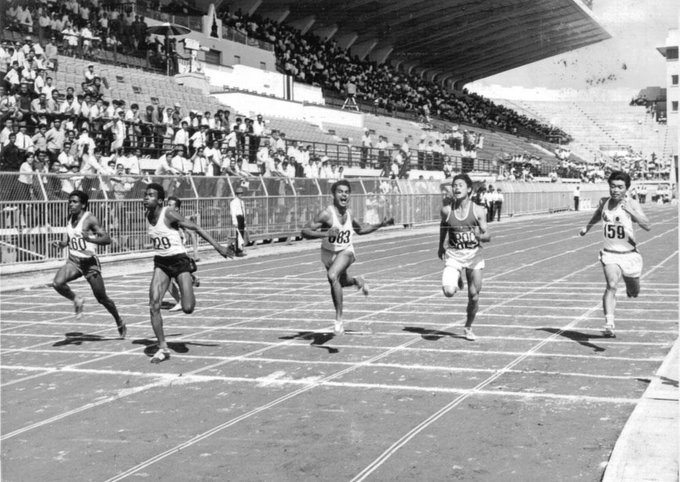 ---
KARACHI: There are heroes all around us, but all too often, we forget they were ever there.

"John deserved much more, I'm proud of him as a friend and a teammate," 82-year-old Muhammad Talib, who had represented Pakistan in the 110m and 400m hurdles, told The Express Tribune about John Permal, Pakistan's fastest man from 1964 till 1974.

Permal, who died after suffering from pancreatic cancer on Wednesday, according to a social media post by his son Anthony, only had his family around him.

https://twitter.com/marketingdude/status/1110913770342309889

This is because, like most Pakistani athletes that make the 'mistake' of excelling in a sport that does not involve a bat or ball, he has long been forgotten by the nation that he once earned laurels for.

For Talib, who was part of the relay team at the 1968 National Games in Dhaka, which also ended Army's reign at the 4x100m event, talking about his old friend not only brings good memories, but also the bitter truth that the sporting heroes are not recognised the way they should, and the "decline in athletics has been a heartbreaking".

Talib, who is still coaching and beating his age, feels that a lot of talent goes to waste in the country, but added there is also a dearth of exposure to the athletes who have achieved great heights in the past, like Permal did, before he quit the sport.

"I remember he used to train at the Young Men's Christian Association (YMCA) in Karachi, I use to go there too, it was a breeding ground for the athletes back in the day," Talib told The Express Tribune. "Permal was amazingly talented, he beat the economic odds too to become such a force. It is his 1968 National Games achievement that I remember most fondly. We were teammates. It was a great victory for us, for the first time in history,  the Army team was defeated. We ran against them."

Talib believes that there are great names in history when it comes to athletics and his friend shines through.

Permal, an alumnus of St Anthony's and St Patrick's, represented Pakistan at the 1972 Munich Olympics, the Asian Games in 1966 and 1970, both in Bangkok, the 1970 Commonwealth Games at Edinburgh, and many other international outings.

Talib said one of his best memories is how he and Permal used to bribe the cook when they would train in Lahore and Rawalpindi for the national camps or events.

"Both of us are from Karachi and we liked to have tea with our breakfast, but we wouldn't get it, because people in Punjab wouldn't have tea in the morning," explained Talib. "We would get a litre of milk and give it to the cook just so that he can make two cups of tea for us."

Talib, who was awarded Tamgha-i-Imtiaz in 1997, feels that the recognition for athletes at the highest level is important, and feels that Permal was denied his due credit.

He added that the standard of athletics in the country has progressively declined as the Athletics Federation of Pakistan has been run by the people who do not necessarily care about the sport or developing athletes.

Sindh Olympic Association official and former athlete Ahmed Ali Rajput remembers Permal as the naturally gifted individual.

"His physique was meant for athletics and he was so fast that it would look like he was flying," said Rajput, who was an athlete before turning to gymnastics from 1974 till 1978. "I just want to tell Permal saab that he is a legend and he is not forgotten by us, who have seen him run on the track."

Similarly, former hammer throw athlete and Sindh Athletics association president Zahid Rizvi said that Permal was an inspiration for him.

"There used to be John, Abdul Khaliq, Abdul Raziq, and Mubarak Shah. They used to win in Asia, they were feared, and also inspired the following crop of athletes like me, as I began athletics in 1970," said Rizvi.

On the other hand, while the current crop of athletes is not as familiar with the heroes of the past, tennis ace Aisamul Haq Qureshi sent his regards for Permal, and Muhammad Waseem, Pakistan's first boxer to get a World Boxing Council title, said that the country should wake up and look at other sports.

"Every sport has its significance, there's not just cricket. Boxing never got a full shot at public or media attention."

He added that he feels "awful when I think how legends go unappreciated in Pakistan. Athletics as a sport takes nerves of steel, we need to educate ourselves about our heroes, it is our job. I just want to wish him the best, and let him know that he is an inspiration," said Waseem.