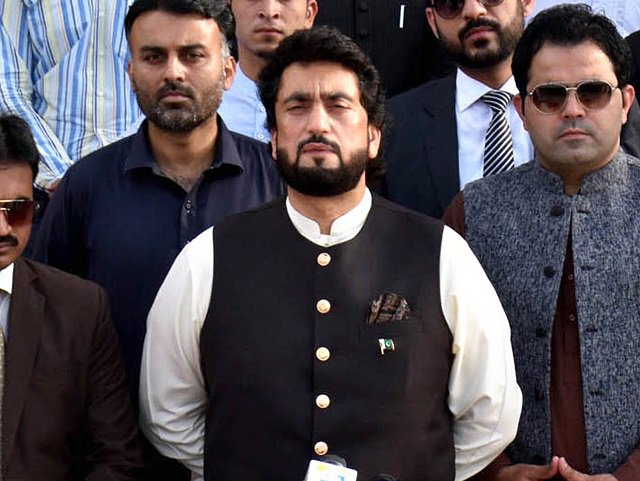 ---
ISLAMABAD: The government in a major crackdown on Tuesday arrested 44 under-observation members of proscribed organisations, including some close relatives of Maulana Masood Azhar, Minister of State for Interior Shehryar Afridi said.

Flanked by Interior Secretary Major (retd) Azam Suleman Khan at a news conference in the federal capital, the minister said the action had been taken under the National Action Plan (NAP) that would continue for two weeks.

They said those detained by the authorities included Maulana Masood Azhar's son, Hamad Azhar, and a close relative Mufti Abdul Rauf.

"We have launched a crackdown against proscribed organisations and have taken 44 individuals into custody, including Mufti Abdul Rauf and Hammad Azhar," Afridi told reporters.

Afridi emphasised that the government was "not taking this action under pressure" from anyone. "We are investigating them and if we get more evidence, more proof against them, they will be proceeded against according to law and if we don't get any proof their detention will end," he said.

"Actions are being taken against all proscribed outfits without any discrimination," the state minister added. "The rule of law will be implemented in New Pakistan. Neither Pakistan's land will be used against anyone, nor will any country be allowed to intervene in our affairs."

Replying to a question, the minister said that Pakistan was acting against the banned groups in its own interest. "This is Pakistan's decision," he said, adding that action under NAP would continue and the progress would be reviewed on a fortnightly basis.

Pakistan takes another step towards reducing tensions with India

On the occasion, the interior secretary said that the action was being taken across-the-board and that it was not against one or two organisations. He said that the authorities concerned would not "demonstrate reluctance" in case they have to seize properties and bank accounts of any outfit.

Responding to a question, the interior secretary acknowledged that some of the people, who had been taken into custody, under the preventive detention were named in a dossier on the recent Pulwama attack handed to Pakistan by India.

At a separate news conference, Federal Minister for Information Fawad Chaudhry reiterated the government's resolve to initiate massive crackdown against terrorism.

He said that steps were being taken to devise an administrative and economic plan to curb extremism in the country.

On the recent threat of a war with India, Chaudhry commended the steps taken by Prime Minister Imran Khan, saying that such a situation had been averted. "Unlike a segment of the Indian population, we are not whipping war hysteria," he added.
COMMENTS
Comments are moderated and generally will be posted if they are on-topic and not abusive.
For more information, please see our Comments FAQ