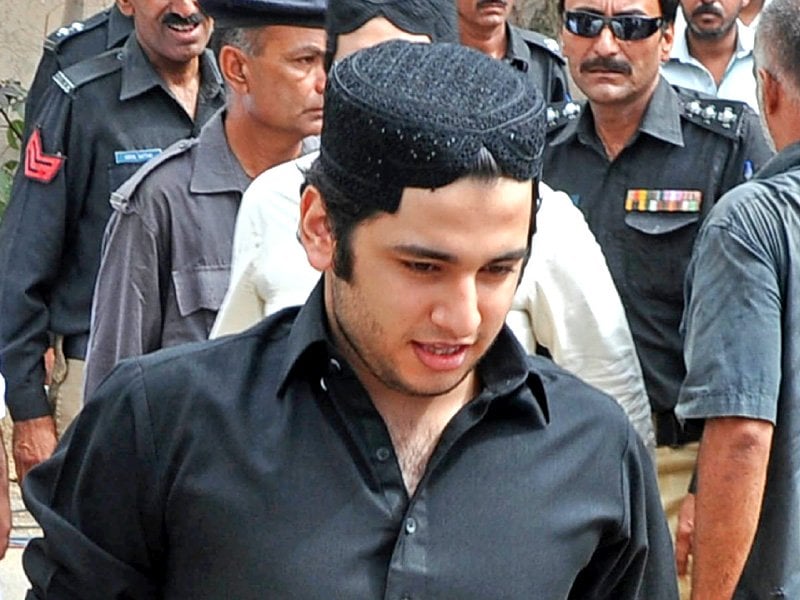 ---
KARACHI: The Sindh High Court (SHC) directed the lawyers on Monday in the Shahzeb Khan murder case to present further arguments on March 11 after the report pertaining to Shahrukh Jatoi's escape to Dubai with the aid of fake documents was presented before the court.

A two-member bench, comprising Justice Agha Faisal and Justice Muhammad Ali Mazhar was hearing the case in which the Additional Prosecutor-General Zafar Ahmed Khan said that Jatoi had escaped to avoid arrest.

Presenting his arguments, Khan said that the parties cannot reconcile in the cases of terrorism and no compromise had been reached at the subordinate court.

The SHC had sent the matter for inquiry for affirmation from the family about the settlement, he said adding that a settlement could not be filed without the consent of the public counsel.

Shahrukh Jatoi, others file surety bonds to avoid arrest in Shahzeb murder case

"It was inappropriate for the defending lawyers to declare Jatoi juvenile at the time of murder." According to all the medical reports, Jatoi was aged above 18 years at the time of the incident. Hence, his case could not have been run under the juvenile system.

The court adjourned the hearing till March 11 for further arguments.

Appeal against sentence

Another bench of SHC sought response on Monday from the parties till March 28 over an appeal filed against the sentences of accused in murder case of five people during the Lyari gang war. Justice Naimatullah Phalpheto and Justice KK Agha heard the appeal against sentences awarded to Adil Zafar, Yaseen Baloch and Abdul Basit.

A special anti-terrorism court had awarded the sentences after the accused were found guilty. Death sentence was awarded to suspect Baloch, while lifetime imprisonments were awarded to Zafar and Basit.

According to police, a case against the accused was registered at Mauripur Police Station.

Published in The Express Tribune, March 5th, 2019.