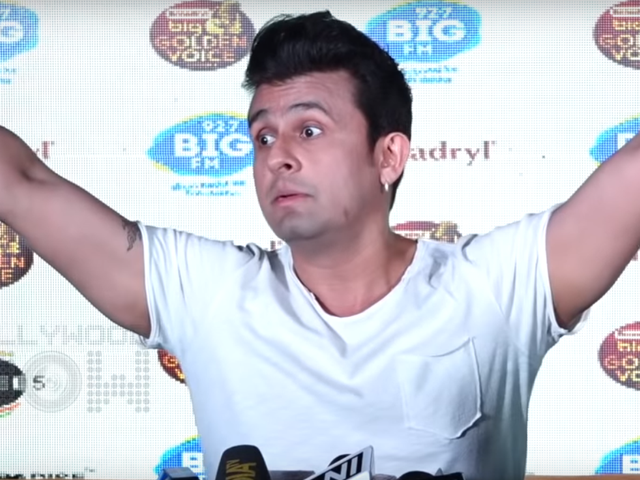 ---
In this troubling time of Indo-Pak relations, many celebs from both sides of the border expressed support and concerns over further escalation in the regional situation.

Indian celebs such as Ajay Devgn, Paresh Rawal, Nawazuddin Siddiqui, Vidya Balan, Kangana Ranaut and others called out to cut all cultural ties with Pakistan and its artists, other celebs including Preity Zinta, Shobha De and others showed restraint and talked about peace.

However, it was Sonu Nigam who took the cake when he talked about the current scenario.

During a recent press meet, the Kal Ho Naa Ho singer called out Indian media for sensationalising the tense situation between the two countries for their ratings.



"I would never talk in favour of a war. I would never support the decision to go to war. But if need be, we will resort to retaliate," he told the press. "I, however, request you (the media) to not make a mountain out of a molehill for your ratings. By doing this, you are enraging the other party. If you provoke them in this manner, they will respond."

"There is no end to this. When we've just delivered the first ball, you can't go and celebrate victory. Wahan se ek shot tou parnay do pehle (let them respond first). This is very stupid of Indians. We act childish," added the singer.




"A reputable country acts responsibly. It goes on about these issues more seriously. I believe, we as Indians really, really need to grow up," said Nigam.

"Even if you are taking revenge, act proper. Do not insult anyone. I don't understand how can you celebrate someone's death. It doesn't matter if our people die or theirs [Pakistan], they are someone's children, someone's brothers, husbands and are human beings."

The singer continued, "For us to really develop, we need to grow up and have a more responsible media. Two things we really lack at the moment."

It wasn't only Nigam who called out the sensationalism by the Indian media.




Wing Commander Abhinandan Varthaman, the captured Indian Air Force (IAF) fighter pilot, who was released on Friday, also admitted that the Indian media exaggerates when it comes to issues related to Pakistan. "They make a mountain out of a molehill," he can be heard saying in a new video surfaced on social media on Friday.

In an amusing episode, which happened during a live show when the anchor was presenting what he called "irrefutable evidence" that Indian jets had downed a Pakistani F-16 the day two Indian warplanes were shot down.

An aeronautical expert at the show, however, exposed the blatant lie telling the anchor that the debris of the aircraft he was showing on the video-wall was in fact from a MiG-21 Bison – an old Russian jet currently being used by the Indian Air Force – and not a F-16.

"I don't think that's entirely accurate," the analyst, Abhijit Aiyar Mitra, said. "That part is actually from a MiG-21 as F-16 interior looks entirely different," Mitra explained, much to the embarrassment of the anchor.



Have something to add to the story? Share it in the comments below. 
COMMENTS
Comments are moderated and generally will be posted if they are on-topic and not abusive.
For more information, please see our Comments FAQ