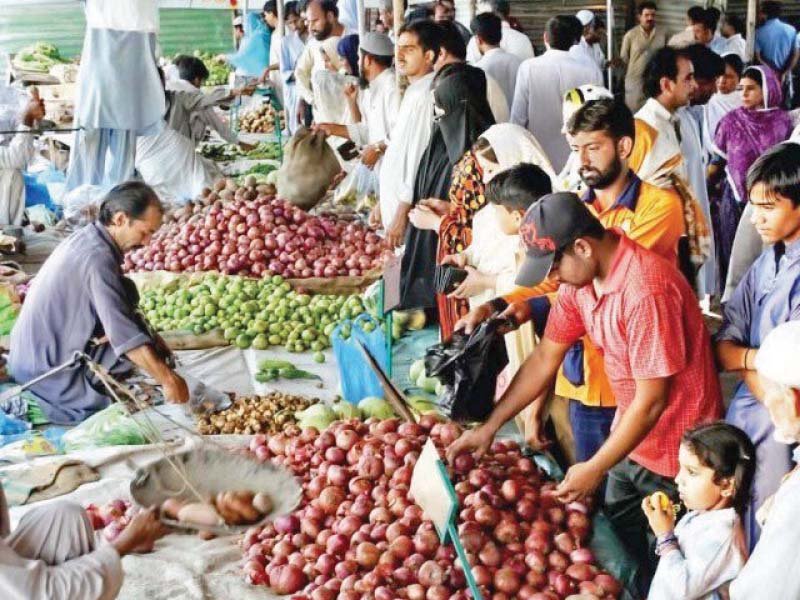 ---
KARACHI: In line with expectations, the pace of inflation shot up to a 56-month high at 8.21% in February 2019, driven up by a significant surge in the cost of living on almost every front, including higher utility bills, increased cost of education and health care as well as rise in transportation and communication expenses.

The Pakistan Bureau of Statistics (PBS) reported on Friday that inflation measured by the Consumer Price Index (CPI) accelerated to 8.21% in February 2019 compared to 3.8% in the same month of previous year.

"The uptrend in inflation is in line with market expectations," Arif Habib Limited Head of Research Samiullah Tariq told The Express Tribune. "Inflation stood high primarily due to rupee depreciation."

Moreover, prices of several essential goods were significantly low at this time last year. Consequently, "the low base effect of last year also contributed to the increase in the inflation reading," he said.

Consumers brace for higher inflation in FY19

The State Bank of Pakistan (SBP) has let the rupee depreciate by a massive 32% since December 2017 to Rs138.53 to the US dollar on Friday in a bid to push up exports and control imports, which will shore up declining foreign currency reserves of the country and help manage balance of payments deficit. This also has a delayed impact on prices of goods.

PBS reported that transportation services became expensive by 13.32% in February 2019 compared to a drop of 0.43% in prices in the same month of previous year.

Alcoholic beverages and tobacco became expensive by 13.21% compared to just 0.46% in the corresponding month of previous year. Similarly, housing, water, electricity, gas and other fuels became costlier by 11.55% against just 0.01% earlier; education cost 10.21% more versus increase of 0.16% earlier; cost of furnishing and household equipment maintenance rose 9.24% compared to 1.21%; communication became expensive by 7.77% compared to 0.05% and health care cost 7.76% more compared to 0.46% in February 2018.

Other goods including clothing and footwear, food and non-alcoholic beverages and miscellaneous goods and services became expensive in the range of 4.52-9.87%.

Inflation slows down for 2nd straight month, stands at 6.2%

Perishable food items was the only group which remained in the negative as their prices fell 0.81% in February 2019 compared to 10.40% in the same month of last year, the PBS reported.

It mentioned that prices of tomato, ginger, beef, sugar, tea (Lipton), mutton, gur, ghee (loose), fish, moong pulse, eggs, cooking oil, rice, gram pulse, gram whole (black), fresh milk and wheat increased in the range of 3.21-179.40%.

Average 8-month inflation

Average rate of inflation for first eight months (July-February) of current fiscal year came in at 6.46% where transportation (up 16.81%) and education (up 11.61%) were the two largest categories, the PBS reported.

The central bank in its latest quarterly report on the state of economy released recently said: "The SBP's inflation projection for FY19 increased further in the range of 6.5-7.5%. Following factors played a key role in this regard - a higher-than-anticipated rise in international oil prices and its pass-through to domestic fuel prices; upward revision in domestic gas prices; further increase in regulatory duties on imports in early September 2018 and continued second-round impact of previous rupee depreciations."

Core inflation at 6-year high

Core inflation - the non-food and non-energy inflation - continued to pick up pace in February 2019. It grew at almost six-year high pace of 8.8% compared to 5.2% in February 2018, according to the PBS and tradingeconomics.com.

Core inflation has maintained the rising trend for the last nine consecutive months.

Some economists give more importance to the core inflation over CPI inflation as it depicts a non-volatile pricing trend than the CPI which includes rapid fluctuations in food and energy prices.

Published in The Express Tribune, March 2nd, 2019.

Like Business on Facebook, follow @TribuneBiz on Twitter to stay informed and join in the conversation.