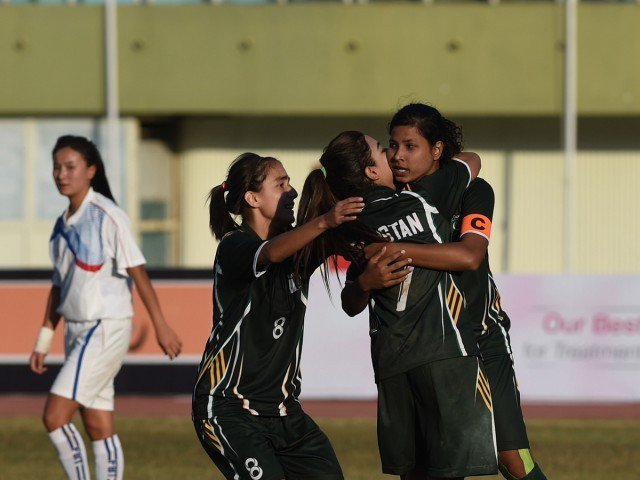 ---
KARACHI: It seems like a never-ending wait for the Pakistan women's football team when it comes to something as simple as just getting to participate in the international events.

Pakistan captain and key striker Hajra Khan is angry and frustrated because the country will not be competing at the South Asian Football Federation (Saff) this year too. The last time Pakistan women played any international event was in 2014, and the gap is just stretching.

"Some teams worry about winning; we just want a chance to play," Hajra told The Express Tribune. "I'm hearing from national teams in the region who have been eagerly waiting for us to attend the Saff, but it's not going to happen for the second time in the last five years."

It is not that there is a dearth of talent in football or that there are not enough opportunities, but it is the political gains that have been the fore-front in PFF.

While the men's team got to participate even last year, after the five-month Fifa-ban was lifted in March that came for third-party intervention, Makhdoom Syed Faisal Saleh Hayat's administration made sure that the men's team ended up competing at the Asian Games, then at the SAFF Cup, but the PFF ended girls' U16 and U19 teams' participation in Saff and AFC events for the first time in its history. Which is not a good sign for any Fifa member association, but Fifa persisted in their support of Hayat.

The latest edition of Saff Women's Championship was to take place in December last year, and PFF held a rather mismanaged National Women's Championship in Lahore, whilst promising that a women's coach from Japan will come to Pakistan. However, they cancelled all the plans once the Supreme Court-ordered elections took place.

"The men's team has played several friendlies and tournaments in the past few months and there was not exposure given to the women's team after the ban lift. How should women's football develop if there's no women's national team. We need accountability in 'developing' the game as they say," said Hajra.

While Pakistan men's team ranking with Fifa has dropped to 199, it is the women who are worst hit due to the politics of the Pakistan Football Federation (PFF).

Fifa is responsible for the impediments in the development of the women's game too, at least when it comes to Pakistan, as they are backing Hayat, a politician and the PFF president who got to the office in 2003 and has been involved in manipulating the PFF election process for his favour in 2015 in order to win a fourth tenure.

Not only has Hayat been responsible for keeping the power to himself by claiming to make "connections with Fifa and Asian Football Federation" for the growth of football. However, it seems it has only been his way of lobbying to stay at the PFF.

Fifa has failed to send the normalisation committee to Pakistan despite the controversial elections in 2015 which saw the PFF breaking into factions and the case being dealt through the Lahore High Court, and later in the Supreme Court.

With new elections that took place on December 12, the new PFF body is headed by Syed Ashfaq Hussain, but Fifa and AFC do not recognise them.

Hence we are seeing the repeat of 2016 as far as the women's football is concerned when Hayat withdrew the participation from the AFC Women's Asian Cup qualifiers, and 2016 Saff Championship too, because at that time the LHC-appointed administrator Asad Munir was looking after the PFF, which again Fifa called a third-party intervention.

The situation was the same and Hayat could have had an arrangement with the administrator between 2015-2018, but he chose to fight his case to remain the PFF president, instead of sending men's and women's teams to international competitions.

They are unlikely to sit with the new PFF body too, but according to Hussain, he will make sure that the women get equal exposure as men.

"We are in contact with Fifa and AFC, we can't work without them, we are in touch with them, we'll have to wait for one more month," said Hussain. "But this time, we will not be able to send the women's team to Saff because there is an issue, but this will be sorted out soon. There is no point of me being here if I can't find solutions. In the future I assure you we'll have the game developed for both equally. For now grassroots level development is important and we will be discussing this all in our first meeting on March 4."

Hussain added that so far it is difficult since Hayat may not sit with him to resolve this matter and the time is short. However, it has been too late, as the Saff Championship will begin on March 12.

Meanwhile, Hayat's side of the statement reveals that PFF cannot function with a nationally recognised and an internationally recognised body running parallel to each other. "The women's was a major lose, But at the end of the day, we need to follow the Fifa rules," PFF Deputy secretary Fahad Khan. "There was a Dubai tour, there was a month-long camp they were suppose to have. We were also hoping for a women's coach from Brazil."

Pakistan had been slotted in Group A with Nepal, Bangladesh and Bhutan, but it seems the wait for women's game to flourish is not ending any time soon.
COMMENTS
Comments are moderated and generally will be posted if they are on-topic and not abusive.
For more information, please see our Comments FAQ