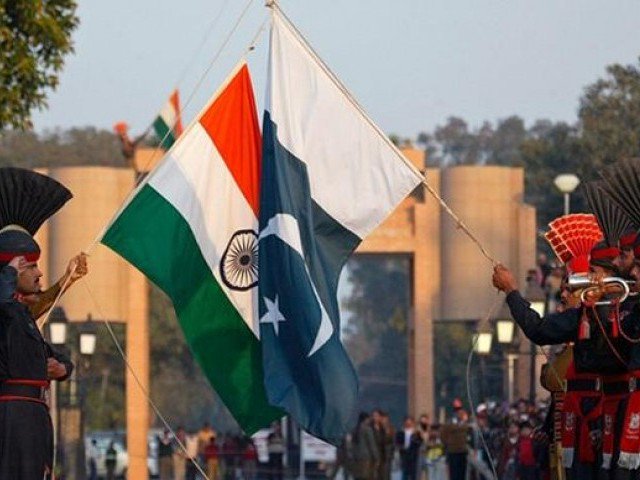 ---
KARACHI: It's been a tense few days for Pakistan and India. In a raging flare-up between the two neighbours, the past 48 hours have sent the world into frenzy, with many fearing the two nuclear nations could go to war. But that hasn't stopped many people of Pakistan and India tweeting a combined voice and mutually agreeing on social media in the midst of tensions: #SayNoToWar. The tweet has become a top trend in both Pakistan and India.

After military spokesperson Major General Asif Ghafoor confirmed Pakistan shot down two Indian fighter jets in the early hours of Wednesday morning, and one Indian pilot subsequently captured as their jets were destroyed in air combat by PAF aircraft.

The shots were fired, metaphorically and literally, a day after Pakistan's civil and military leadership promised to retaliate "at the time and place of its choosing" after violation of Pakistan's airspace by Indian air force.

PM Imran Khan issued a statement addressing India, saying 'better sense should prevail'.

His address is earning the praise of politicians and analysts:

While independent politician and activist Jibran Nisar tweeting he is 'proud of our PM', President Arif Alvi termed it 'a very appropriate, precise and compassionate message conveyed to India'.

Analysts also tweeted numerous posts of appreciation, deeming it 'wise.'


Despite Indian Air Force incurring losses Pakistani leadership isnt indulging in chest thumping jingoism or self glorification for political gains. Our leadership is instead thinking about the region, thinking abt ppl on both sides of the border & offering peace. Proud of our PM

— M. Jibran Nasir 🇵🇸 (@MJibranNasir) February 27, 2019
"I ask India: with the weapons you have and the weapons we have, can we really afford a miscalculation?" Excellent question by @ImranKhanPTI , only answer is NO

— Huma Yusuf (@humayusuf) February 27, 2019
Very appropriate, precise and compassionate message conveyed to India by Prime Minister @ImranKhanPTI. Pakistan wants peace, it is to ready to help in investigation if any actionable information is provided. War has its own unmanageable dynamics, therefore sanity should prevail.

— The President of Pakistan (@PresOfPakistan) February 27, 2019


"The sole purpose was to tell them [India] that if they can come here, we can go there too. All wars are miscalculated and no one knows where they lead to."

The prime minister's televised address comes as Dubai Airports confirmed flights to and from Pakistan have been affected due to the closure of Pakistani airspace. Nine airports in north India have also shut amid tensions with Pakistan.


Dubai Airports confirms flights to and from Pakistan have been impacted until further notice due to the closure of Pakistani airspace. We are working closely with airlines, control authorities & air traffic controllers to minimise operational impact and customer inconvenience.1/2

— Dubai Airports (@DubaiAirports) February 27, 2019


But amidst the ongoing pressure, the Pak-India conflict dominates Twitter's worldwide trends.

Politicians, celebrities, rights groups and social media users from both the nations are virtually calling for governments to refrain from a military confrontation, with hashtag #SayNoToWar trending across the world.

Also swirling in the top of the global trends are #PakistanStrikesBack and #PakistanArmyZindabad.

With the combined Pakistani and Indian voices of social media shouting a viral #SayNoToWar, let's take a look at some of the tweets:


Imran Khan is gaining more respect.!!

It's your turn to #SayNoToWar Modi !!
Our Army loves and their families matters...Not your petty political gain !! pic.twitter.com/7Hcbc3mHNL

— Vivek (@Vigo0506) February 27, 2019


https://twitter.com/Manishshaarma/status/1100701349333925891


The only war India and Pakisthan should fight is illiteracy,Poverty and violence #SayNotoWar

— Rukshmanii Kumari (@KumariRukshmani) February 27, 2019
Truth is war is not just a wrestling match of pinning each other down. People will die. Families will continue to suffer. India and Pakistan need to see each other as equals & respect that we will end up killing soldiers not empowering our poor masses. #SayNoToWar

— Nadia Jamil (@NJLahori) February 27, 2019
More than ever, it is now critical that both India and Pakistan show restraint, and heed all those calling for mature diplomacy rather than provocation and aggression. The right to life starts here. #SayNoToWar

— Human Rights Commission of Pakistan (@HRCP87) February 27, 2019
As critical as I have long been of PM Khan, this is the only moral stance to take. We do not want war. We don't want more violence to hurt either Pakistanis or Indians. https://t.co/gOWgArTzrI

— fatima bhutto (@fbhutto) February 27, 2019
love respect and #SayNoToWar pic.twitter.com/jjGUSs3DCJ

— RaHmAn (@rahmanlala) February 27, 2019


https://twitter.com/AasifFem/status/1100728301973164032


No matter what you say, have seen so many Pakistanis speak same sentiment today across social media.

Yeh dooriyan sirf siyasi hain. #SayNoToWar https://t.co/yVMztHeIM2

— Richa Singh (@richa_singh) February 27, 2019
We are on the brink of a war that nobody in their right mind in either Pakistan or India want. Imran Khan's words should be welcomed. Encourage dialogue, commit to deescalation. Anyone who thinks otherwise should for a moment swap places with Abhinandan & his family #SayNoToWar

— Raunak Kapoor (@RaunakRK) February 27, 2019
Soldiers die, Their Families suffer !
Not the politicians who calls for war!
Think about it ! #SayNoToWar#PeaceNotWar pic.twitter.com/MTtePlzDKW

— [email protected] (@riz1ahamed) February 27, 2019
COMMENTS
Comments are moderated and generally will be posted if they are on-topic and not abusive.
For more information, please see our Comments FAQ