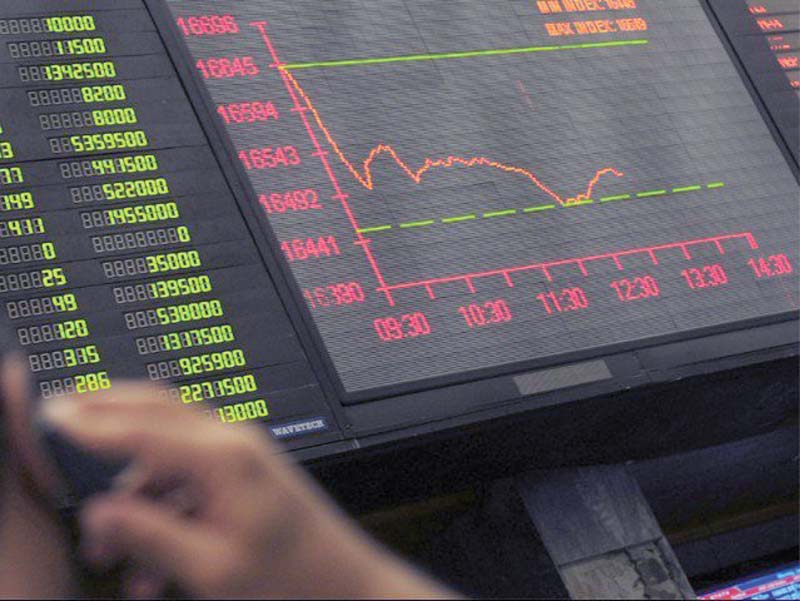 ---
KARACHI: The stock market endured an extremely volatile session on Wednesday as escalating tensions between India and Pakistan drove the index to fall below the 37,400 mark during intra-day trading. This marked the fourth successive session to finish in the red.

The KSE-100 index nosedived from the moment trading began as investors offloaded stocks amid growing tensions on the Pak-India border. Two Indian Air Force (IAF) aircraft were shot down by the Pakistan Air Force (PAF) as they once again violated the Pakistani airspace. The development caused panic selling among investors, leading the index to drop nearly 1,500 points in intra-day trading.

However, the situation improved significantly following the speeches of ISPR Director General Major General Asif Ghafoor and Prime Minister Imran Khan who stressed on maintaining regional peace. The statement reasserting peace assured investors who then swooped in to accumulate stocks, trimming the day's losses and propelling the index upward.

Market watch: KSE-100 loses 785 points as Pak-India tensions rise

At the end of trading, the benchmark KSE 100-share Index recorded a decrease of 128.98 points, or 0.33%, to settle at 38,692.69.

Commenting on the mid-day situation, Topline Securities CEO M Sohail said that Pakistan market was down 1,000 points after border tensions.

The panic sales are "obviously in response to retaliation on border," said Elixir Securities Director Research Hamad Aslam.

"It is very difficult to anticipate market movement going forward as the market is not moving on fundamentals but on tension on the border."

He noted that individuals had restored to panic selling. On the other hand, financial institutions, mostly banks and insurance were buying the stocks. The sale is on across the board, he said.

The market tanked again following a steep decline from 41,767 points and reached another significant decline of 1491 points, taking the index down to 37,330 points, which is virtually the same level it was before the past rally, stated an Arif Habib Limited report.

"Scrips, all and sundry went down in the crisis of confidence, which was caused by the border confrontation with India and heightened tensions due to taking down of Indian planes by Pakistan Air Force. Several leveraged positions are believed to have become a casualty of Wednesday's steep decline."

Market watch: KSE-100 dips 409 points as political tensions grow

JS Global analyst Danish Ladhani said mixed sentiments were seen in the financials where HBL (+0.8%) and UBL (+0.2%) closed in the green, while MCB (-1.4%) closed in the red.

MLCF (+0.8%) and DGKC (+0.1%) were the major gainers in the cement space. NCL (+3.6%) reported 1HFY19 EPS of Rs8.40 with a DPS of Rs1.50. PPL (+1.2%), BAHL (+0.8%), FFC (+0.1%), HBL (+0.8%), HUBC (+0.2%), EFERT (+0.3%), ENGRO (+0.5%) were among top scrip to cumulatively contribute 69 points to the close.

"Going forward, we expect local equities market to remain volatile due to the geo-political tension with India," Ladhani remarked.

Overall, trading volumes increased to 273.7 million shares compared with Tuesday's tally of 161.9 million. The value of shares traded during the day was Rs10.27 billion.

Shares of 370 companies were traded. At the end of the day, 72 stocks closed higher, 290 declined and eight remained unchanged.

The Bank of Punjab was the volume leader with 35.1 million shares, losing Rs0.14 to close at Rs12.24. It was followed by K-Electric with 19.8 million shares, losing Rs0.17 to close at Rs5.87 and Fauji Cement with 12.1 million shares, losing Rs0.57 to close at Rs20.78.

Foreign institutional investors were net sellers of Rs85.4 million worth of shares during the trading session, according to data compiled by the National Clearing Company of Pakistan.
COMMENTS
Comments are moderated and generally will be posted if they are on-topic and not abusive.
For more information, please see our Comments FAQ