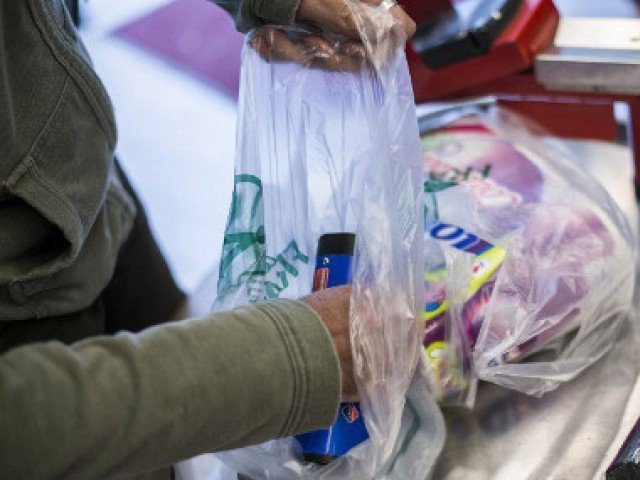 ---
ISLAMABAD: The usage of non-degradable plastic is high in the country despite a ban on the manufacturing, purchasing and selling of non-degradable plastic bags.

According to a survey report of Environment Protection Department, as many as 55 billion plastic bags  are used per year in Pakistan while the amount of plastic use is increasing by 15 percent each year. The report disclosed that more than 8 thousand plastic manufacturing units are present in Pakistan with an average daily production capability of 250kg-500kg.

Further, this industry provides direct employment to some 0.2 million people whereas it is the source of bread and butter of some 0.6 million people indirectly.

According to a latest report of Environment Protection Department, around five trillion plastic bags are consumed every year worldwide out of which some thirteen million tons of plastic bags are dumped into the seas causing danger to marine life as around 0.1 million marine animals die annually due to swallowing plastic.

The report revealed that around seventeen billion barrels of oil are used every year for the production of plastic while it is a startling fact that plastic decomposes after a period of 100 years.

Two years ago, the environment protection department issued notices to all traders in Islamabad to ensure full implementation on the ban on usage of plastic bags in Islamabad, while it also published advertisements in national newspapers so that the people could get awareness about the hazards of plastic. However, all the measures went in vain while the ban did not give any desired outcomes.

An Environmental Protection Agency (EPA) source revealed that the Sindh government banned the manufacturing, production, purchase, sale and use of polyethylene bags for the first time in 1994 while Punjab's Institute for Conservation of Environment placed a similar ban in 1995.

The Baluchistan government completely banned  and prohibited the use of Polythene bags throughout the province in 2001 through the "Baluchistan Prohibition on Use and Sell of Polythene Bags 2001" Ordinance.Similarly, K-P's department of Industries also banned manufacturing of polythene bags across the province, while the current K-P government has banned the use of polyethylene bags.

EPA sources disclosed that the federal government prohibited manufacturing, production, purchasing and selling of plastic shopping bags in Islamabad during the year 2013 with issuing official SROs. According to the SRO, it was prohibited for an individual to manufacture, trade, supply, distribute, produce, purchase or sell any non-degradable plastic product or non-degradable plastic itself.

The officials of EPA told that there were several plastic manufacturing home industries operating across the country with no plan for environmental protection as well as NOC.

They added that the shopkeepers or traders give these bags for free with the grocery items as they are very cheap which ,he termed,  was a big cause of its large scale usage. He suggested that the usage of plastic bags could only be reduced if they were produced with an improved standard and sold at an increased price.

The officials expressed that the polythene bags or plastic shoppers cause severe threat to the environment ,  while being non-degradable they choke the sewerage lines. Further, the smoke emitted after burning of plastic bags was hazardous to health and environment.

Similarly, these shoppers lying in open spaces are eaten by animals which they could not digest and ultimately it becomes a cause of their death.

Similarly, if anything warm is kept in these shoppers, the chemicals present in the plastic enter into the items and become a source of cancer.

EPA officials told that there are plants for recycling of polyethylene bags in developed countries and now these countries have also introduced the "Oxfo biodegradable" and "Photo-biogradable" system for recycling of polyethylene bags.



Published in The Express Tribune, February 18th, 2019.