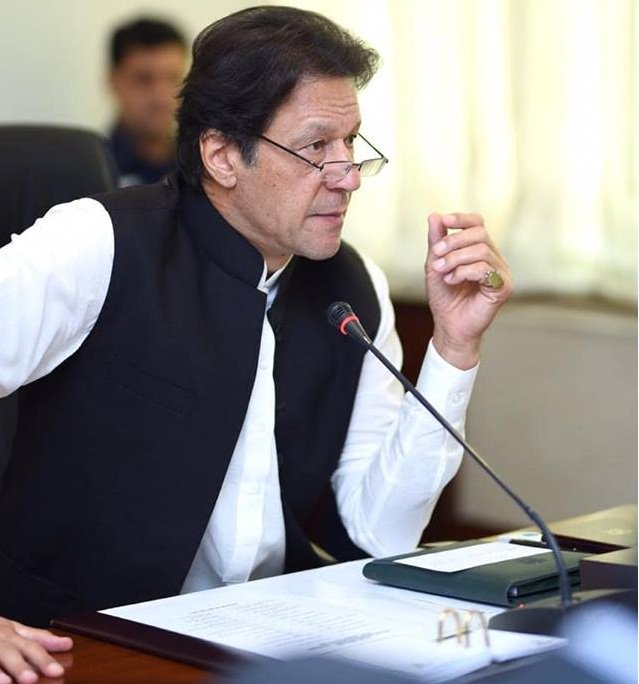 ---
Prime Minister Imran Khan has taken 'serious' notice of a notification issued by the Ministry of Interior purporting action against members of the Shia community for remarks against the Kingdom of Saudi Arabia ahead of the Arab crown prince Mohammad bin Salman's two-day visit.

The development was announced by Federal Minister for Information Broadcasting Fawad Chaudhry. "PM Imran Khan has taken serious notice of the contents of notification purportedly issued by the Ministry of Interior referring to certain sects/classes, secretary interior has been directed to launch an inquiry to this effect immediately," he said in a tweet.


PM @ImranKhanPTI has taken serious notice of the contents of notification purportedly issued by ministry of interior reffering to certain Sects/classes, Secy Interior has been directed to launch an inquiry to this effect immediately.

— Ch Fawad Hussain (@fawadchaudhry) February 16, 2019


It is pertinent to note that the portfolio of the interior ministry lies with the prime minister himself.

The notification claimed that a 'targeted campaign' had been launched to "to project a negative perception" about the high-profile visit. The ministry said it had analysed the matter and found that "dissidents/ disgruntled elements from 'Shia community'" were mostly involved in the "nefarious activity to malign KSA."

The ministry of interior has processed 19 Facebook pages and 20 Twitter URLs and forwarded the request to block to Pakistan Telecommunication Authority (PTA). "Cybercrime wing of the Federal Investigation Agency and PTA shall ensure blocking/ tracking of accounts/ activists involved in the campaign," the notification added.

Pakistan rolls out the red carpet for royal guest

Social media outrage

The notification created outrage on social media as users condemned singling out a particular sect.


So @ImranKhanPTI eats up a notification issued by his own ministry ordering crackdown against #Shia community during Saudi Prince MBS's #Pakistan visit. The notification had caused an outrage across the country. https://t.co/14xnOjrrsI

— Saleem Javed (@mSaleemJaved) February 16, 2019
A notification by the Interior Minsitry singling out "Shia Community" and labelling them as anti-national is shocking and unacceptable.

Is this the #NayaPakistan?
Naya Pakistan without Shia Community? pic.twitter.com/oZpOZP6vXQ

— کل کا قائدLeader of Tomorrow (@Hah_sachi) February 16, 2019
Strongly condemn this absurd notification issued by Federal Ministry of Interior which singled out peaceful SHIA COMMUNITY. We always consider National interest as priority. Demand to immediate inquiry against issuer of this inappropriate notification @ImranKhanPTI pic.twitter.com/5phWCvvIe1

— Allama Raja Nasir (@AllamaRajaNasir) February 15, 2019
@ImranKhanPTI you have disappointed whole shia community with this notification. Shame on you and your government. You are no more different from others. #PakistanRejectsMBS pic.twitter.com/ubAFREGFdF

— Realist Views (@realistviews1) February 15, 2019
Thank you @ImranKhanPTI from riyast-e-madina to riyast-e-MBS.
Profiling of the Shia community in a notification from your government is shameful. @pid_gov @fawadchaudhry pic.twitter.com/swmYAZwBrj

— Akif Hazarvi (@akif_hazarviii) February 15, 2019
COMMENTS
Comments are moderated and generally will be posted if they are on-topic and not abusive.
For more information, please see our Comments FAQ