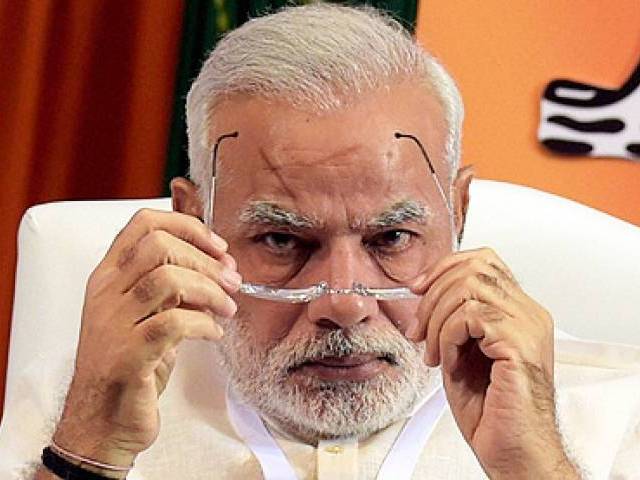 ---
NEW DELHI: Indian Prime Minister Narendra Modi on Friday said the country would give a 'strong reply' to those behind the Kashmir attack as New Delhi withdrew the Most Favoured Nation (MFN) trade status given to Pakistan in the aftermath of a suicide bombing in occupied Kashmir that killed at least 44 security personnel.

"India will give a strong reply for Kashmir attack," said the right-wing premier.

Thursday's attack in Pulwama area of IoK was the deadliest attack on Indian occupying forces there since 2002.

MFN status withdrawn

According to reports in Indian media, the decision was taken during a Cabinet Committee on Security (CCS) chaired by the Indian prime minister. The high-level huddle decided to withdraw the MFN status for Islamabad and "initiate all possible steps" to ensure complete isolation of the country.




"The most favoured nation status granted to Pakistan stands withdrawn. The ministry of commerce will issue [a] necessary notification in this regard," said Union Finance Minister Arun Jaitley while speaking to the media.

India had granted MFN status to Pakistan in 1996, a year after the formation of the World Trade Organisation for the promotion of international trade.

Pakistan rejects Indian allegations after occupied Kashmir attack kills 44 security personnel

Pakistan also expressed grave concern on the Kashmir attack.

In a statement, Foreign Office Spokesperson Dr Faisal said, Islamabad has always condemned heightened acts of violence in the valley.




The FO spokesperson also strongly rejected the insinuation by elements in the Indian government and media circles that seek to link the attack to Pakistan without investigations.

India can't stop freedom movement in occupied Kashmir: PM

The attack

The attack outside Srinagar, reportedly claimed by Jaish-e-Mohammad (JeM) group, saw explosives packed inside a van rip through buses in a convoy of 78 vehicles, carrying some 2,500 members of the Indian force.

Two buses, with 35 people each, bore the brunt of the massive blast, heard miles away, around 20 kilometres from Srinagar on the main highway to Jammu.

The bombing was carried out at 3:15 pm local time on a national highway near Lethpora village in Pulwama district. Dozens of others are reported to be wounded in the attack, who "have been removed to army hospital" CRPF Inspector General Zulfiqar Hassan told the media.




The convoy was bringing the troopers back from leave to rejoin active service. It was unclear whether the van containing the explosives was driven into the convoy or whether it was detonated when the buses were adjacent.

After the attack, hundreds of government forces cordoned around 15 villages in the district the bomber came from and started searching house-to-house.








COMMENTS (3)
Comments are moderated and generally will be posted if they are on-topic and not abusive.
For more information, please see our Comments FAQ