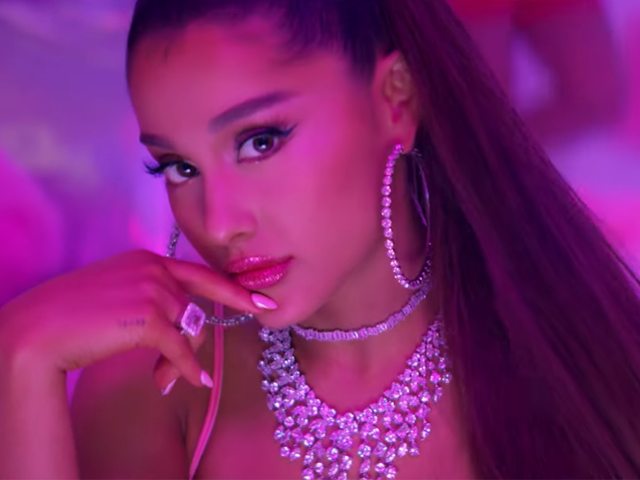 ---
KARACHI: Keeping with her 'getting over a break-up theme' singer Ariana Grande's new, viral track is all about getting over heartbreak with her girls and money.

Ariana's bop 7 rings shows her finding 'material' comfort in her friendships with single and strong women, whereas Thank U, Next shows the mega-famous singer promoting self-love and growth to get her through post-breakup.

"I'd rather spoil all my friends with my riches", Ariana sings in the second verse.


After her very public break-up, Ari wants to show everyone she's getting over her heartache with her girls and wealth.  The singer revealed to fans on Twitter that she got rings for herself and six of her closest friends, as well as her mum and grandmother after making the sing, which inspired 7 rings.


well ............. 'twas a pretty rough day in nyc. my friends took me to tiffany's. we had too much champagne. i bought us all rings. 💍 it was very insane and funny. & on the way back to the stu njomza was like 'bitch, this gotta be a song lol'. so we wrote it that afternoon. https://t.co/CoczmPj1Fo

— Ariana Grande (@ArianaGrande) December 1, 2018


If you're inspired by Ari this Valentine's Day, here are five ways to get over a breakup, perhaps without the fortune she has:

1. Gym: 

https://www.instagram.com/p/BqMtZ3bnARb/

We all know that exercise has physical benefits, but what about the mental? Studies show exercise is one of the most effective ways to improve your mental health. Regular exercise can have a huge positive impact on depression, anxiety and more.

It also relieves stress, improves memory, helps you sleep better and boosts your overall mood.  Bollywood star Esha Gupta shows us how it's done.

2. Friends: 




Let's be inspired by Ariana's song and vent with supportive friends.  Maybe we can't all afford expensive rings for each of our closest; instead hang out, go for dinners, watch a movie, or go for a bit of retail therapy.  Keep busy. You might find yourself with too much free time on your hands, especially on weekends.

Plan ahead and do things that you usually enjoy with friends that can be your positive inspiration for you and your growth.  It's ok to want time to yourself, but spending time with supportive people not only helps get your mind of things, but also can assist with seeing things from a different perspective.

Let's take inspiration from actress and model Iqra Aziz and her positively infectious smile with bff and fellow counterpart Hina Altaf.

3. Travel, watch the sunset:




Travelling is a great way to move on from a breakup.  If you can't travel solo, try and find somewhere close by the explore.  Pakistan is full of easily accessible natural wonders to admire, even if it's just to watch the sunset.  Take Pakistan-based traveller and blogger Anam Hakeem aka @girlwithgreenpassport, who posted a picture on Instagram at Karachi's sea view, with the caption:

"Did you know you don't have to travel far and across oceans to catch a gorgeous sunset, if you live in Karachi. Sea view is the least favourite beach of many of us residents, but the show it puts up every damn winter evening at sun down, is breathtaking. When was the last time you visited sea view beach at sunset? (Passing by it, doesn't count!)   Watching a sunset on the beach, hiking through nature, and appreciating the beauty of the world."

So, grab a blanket and pillow to watch the sunset. It's never too cliché.  The sunset is always a different, remarkable sight that never fails to take our breath away.

Also check out Polish travel vlogger Eva zu Beck totally feeling the zen on a beach in Gwadar:


4. Keeping a diary/reading: 


Therapists recommend keeping a diary and writing down your thoughts when going through a big change or difficult time. Writing can be in all types of forms, from poetry to just jotting down thoughts and feelings.  It's a great way to release emotion in a healthy way for the mind and soul.  If writing isn't you thing, reading before bed is extremely beneficial.

Studies show that opening a book before you go to bed can help you cope with insomnia, and that just six minutes of reading reduces stress by 68%.  This clears the mind and prepares the body for sleep.  So, log off social media and turn off the phone - it will surely do wonders for your peace of mind!

And if you're looking for book recommendations, meet Pakistani twins Aqsa and Tuba aka @thenerdtwins taking Instagram by storm with their aspiration to show their followers the beauty of literature.

5. SPA day:




Breakups are tough, but you can let yourself heal.  The most proven way to feel better about yourself, especially if you're single this Valentine's Day, is to stop focusing on the past and concentrate on improving things in your life.  And YES - this also means treating yourself right!

Develop a self-care routine such as going to the spa or whatever makes you feel good.  Wellness coaches say self-care, including a massage or pedicure, is always important if it's what relaxes you.  If you have a relaxed mind and body, perhaps this will also allow you to focus more energy your needs and goals.

What the experts say:

Psychotherapist Alya Mian has some important advice from a professional perspective on healing and dealing with grief after a breakup.

"There is a natural process of grieving and loss, which needs to be honoured.  Grieving is pure when it is no longer laced with anger, guilt, regret and bitterness.  With time one needs to recognise that we need to move on and not spend more time on negative feelings.  It's important to recognise the need to seperate from the loss and sadness and focus on the healing.  Seeing what lessons we can learn and how this loss is indeed a gift for us to make adjustments in our future relationships.  The more energy we give to our vision of being healed and becoming more whole, the more fruitful our journey of healing becomes.  It's important to know that 'right now' we are hurting, and that time and faith will allow our healing to emerge."

Have something to add to the story? Share it in the comments below.