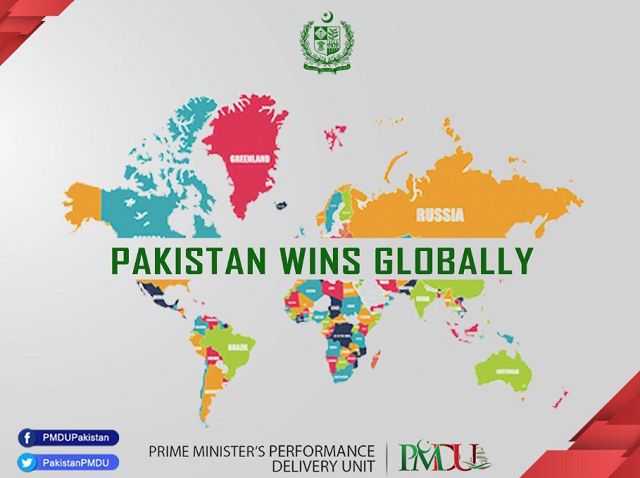 ---
Pakistan Citizen Portal (PCP) secured the second place in top three Best Mobile Government Apps out of over 4,600 entries at the World Government Summit held in Dubai earlier this week.

In a tweet on Wednesday Prime Minister Imran Khan revealed that the government portal, launched in October last year, which helped resolve over 250,000 complaints out of 420,000 lodged secured the second position.

PM launches Pakistan Citizens' Portal to address public complaints

The app connects all the government departments and is monitored by the Prime Minister Office. PM took to Twitter to laud the effort of the team from Khyber-Pakhtunkhwa that developed the app free of charge.

Creating a direct link with the people to provide for resolution of their problems has led to the incredible success of my complaint cell in the PM Office. pic.twitter.com/xJZWzHykpo

— Imran Khan (@ImranKhanPTI) February 13, 2019

Indonesia's Qlue Smart City App secured first place which works in a very similar way as PCP where complaints are posted with geo-tags which helps the government officials in resolving issues faster as the exact location can sometimes also be tagged. With this app, it is said to have improved the government's performance by 60 per cent.

While the US-based app NYC 311 came in third and is used by over 1.8 million people yearly. This app also provides services and help to the users regarding government information.

PM Imran meets Abu Dhabi crown prince, IMF chief on sidelines of Dubai summit

PCP had managed to resolve over 15,000 complaints within the first month of its launch and had over 100,000 downloads from the Google Play Store which now stands at 500,000 plus downloads and has very easily become the 7th best app on the play store.

Many users also took to Twitter to encourage the government for their initiative where #PakistanWinsGlobally became a trend.

Making the Nation Proud. #PakistanWinsGlobally pic.twitter.com/2IA8CxWpj8

— Prime Minister's Performance Delivery Unit (@PakistanPMDU) February 12, 2019
Tabdeeli on board!
Pakistan citizen portal application have won International award. Pakistan citizen portal application got second position in World Government summit.
Congratulations Pakistan for this stupendous winning!#PakistanWinsGlobally pic.twitter.com/Qq5v0FQpbA

— PTI Vehari (@PTIOfficialVHR) February 12, 2019
Congrats to natiin and specifically app team #PakistanWinsGlobally

— Kalim Khan (@KalimKh75452529) February 12, 2019
Another success of PTI government!
Pakistan citizen portal application have won the International award.
Yes this is the Naya Pakistan.
Congratulation Pakistan!#PakistanWinsGlobally pic.twitter.com/7NqaEdgmE0

— Teeba Syed (@TeebayThought) February 12, 2019
#PakistanWinsGlobally
Thank You IK for this wonderful app.
Our issues are being addressed in a smart way. https://t.co/9rGXDGDYxJ

— زبیرخٹک (@zubairktk87) February 12, 2019
First time ever in the history of Pakistan a Prime Minister reviewed his own team's performance, this is called democracy, this is the true accountability.
This is Naya Pakistan. #PakistanWinsGlobally pic.twitter.com/hPByyMpnmK

— MAK (@imahmedk) February 12, 2019
#Pakistan Citizen's Portal App was recognized as one of the top applications among more than 4,600 entries for an award at the #WorldGovSummit in #Dubai
Maa Shaa Allah Great achievement :clap::clap::clap::clap:
Well done team @PakistanPMDU :+1:#PakistanWinsGlobally #PakistanZindabad :green_heart: pic.twitter.com/rc4O1ihFVx

— ☆aTTia ツ (@AttiaZahid) February 12, 2019
COMMENTS
Comments are moderated and generally will be posted if they are on-topic and not abusive.
For more information, please see our Comments FAQ