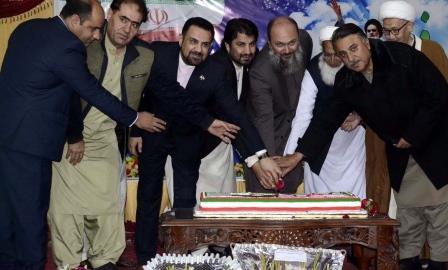 ---
QUETTA: Balochistan Chief Minister Jam Kamal has said enhancing trade ties with Iran particularly through Taftan border could help improve the living standard of the people in both the Iranian province of Sistan Baluchestan and Balochistan.

"Iran and Pakistan have pledged to enhance the bilateral trade to $5 billion dollars. The coming era will be of the people of Pakistan and Iran," Kamal said while addressing a ceremony held at the Iranian Consulate in Quetta on Monday to mark the 40th anniversary of Iranian Islam's Revolution.

Referring to the 1979 revolution, the CM said Ayatollah Khomeini was a historic figure who fought for the revolution with firmness and succeeded in turning Iran into an Islamic republic.

"Pakistan and Iran have historical ties and both countries have helped each other in every crucial moment. Iran was the first country to accept Pakistan as an independent state; therefore, the people of Pakistan have a great respect for the brotherly Iranian nation," Jam Kamal said.

The National Assembly Deputy Speaker Qasim Khan Suri, provincial ministers and government officials were present at the ceremony hosted by the Iranian Consul General Muhammad Rafique. Suri said Iran and Pakistan are facing serious challenges.

"Both the countries should unite and play a vital role for the Muslim world," he urged. Under the National Assembly Pakistan-Iran parliamentary friendship group, 123 lawmakers will visit Iran and it would promote Pak-Iran friendship in a good way, he said.

Iranian consul general has said Pakistan is the first country that accepted Iran's Islamic revolution officially. "Through trade with neighbour countries, we could promote peace in the region," he added.

Rafique said Balochistan has a long border with Iran but the both countries do not do enough trade with each other. Both countries have lots of opportunities in trade sector, he added. "Pakistan and Iran are important geopolitically and economically for the rest of the world. Pakistan and Iran have historical relations," he said.

Talking about Iran's revolution, he said: "In 1979, the Iranian nation under leadership of Imam Khamenei ended the 2,500 year old monarchy. Today the world admires the great change in Iran." Later, CM Kamal, Deputy Speaker Suri and Consul General Rafique also cut a cake to celebrate the anniversary. They also visited stalls of Iranian products.
COMMENTS
Comments are moderated and generally will be posted if they are on-topic and not abusive.
For more information, please see our Comments FAQ