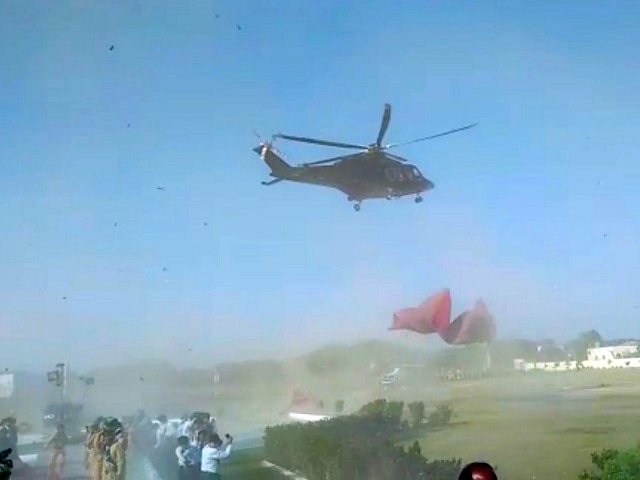 ---
TANDO ADAM: Pakistan Peoples Party (PPP) co-chairman Asif Ali Zardari escaped a potential accident after his helicopter narrowly missed a flying red carpet, which was laid out to welcome him in Sindh's Tando Adam town on Saturday.

In a clear show of mismanagement, the carpet was laid out without anything to weight it down and to keep it safe from gusts of wind generated by the chopper's blades during landing.

The PPP co-chairman was invited by Senator Imamuddin Shouqeen as chief guest at the inauguration of a private college in the Sindh town.

When his helicopter was about to land at the newly-built college's ground, the red-carpet, which was laid out to welcome the PPP supremo, could not handle the gusts generated by the chopper and flew up in the air.

Country needs to come out of security state mentality: Bilawal

The pilot, however, showed presence of mind and kept the helicopter in the air for few moments longer to keep it out of the reach of flying carpets. He later landed the chopper keeping all onboard safe.

Last month, a plane carrying PPP chairman Bilawal Bhutto, the son of Zardari, skidded off the runway at the Benazir International Airport in Islamabad. Bilawal, as well as, all other passengers and crew on board the flight, however, remained unhurt in the incident.

Sources at the airport told The Express Tribune that the private jet skidded off the runway, but luckily stopped only after drifting away by 10 feet.

Rescue teams of Civil Aviation Authority (CAA), present at the airport, reached the spot immediately after the incident and safely evacuated all on-board, including the PPP chairman, to Raval Lounge of the airport.