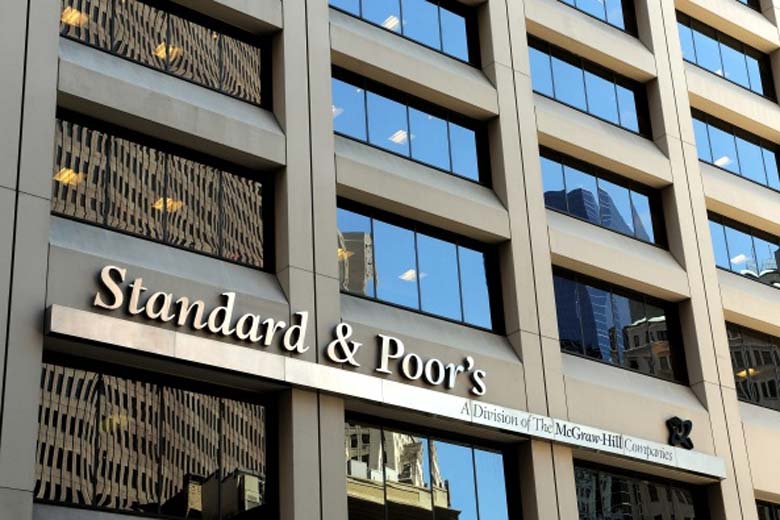 ---
KARACHI: Standard and Poor's (S&P) - one of top three global rating agencies - has downgraded Pakistan's long-term sovereign credit rating just after the country launched five-year dollar-denominated Diaspora bonds last week.

"We are lowering our long-term sovereign credit rating on Pakistan to 'B-' from 'B' on the diminished growth prospects as well as elevated external and fiscal stresses," the rating agency said on Monday.

"At the same time, we are affirming our 'B' for short-term sovereign rating," it said.

Pakistan's economic outlook, as well as its external position, has deteriorated well beyond S&P's previous expectations.

"With the weaker economic settings, and limited progress in addressing fiscal imbalances following elections in mid-2018, we believe prospects for a rapid recovery in fiscal and external settings are now diminished," the ratings agency stated.

More modest growth prospects and limited reserve buffers will continue to challenge the country's external position, even as the government receives financial aid from various partners.

In seven months: FBR collects Rs2.07tr in taxes, misses target by Rs187b

"Negotiations with the International Monetary Fund (IMF) have taken longer than anticipated, and we now believe the reform timeline will be more protracted in nature."

Global bond and equity investors track ratings by big international agencies to take decision on investing in such markets.

Prime Minister Imran Khan last week launched five-year dollar-denominated Diaspora bonds, Pakistan Banao Certificates, at an interest rate of 6.75%.

Besides, the country was also determined to float Eurobond and Sukuk - Islamic bonds - in the near future to bridge foreign financing gaps.

S&P stated, "The outlook for the long-term rating is stable...We also lowered the long-term issue rating on senior unsecured debt and Sukuk trust certificates to 'B-' from 'B'."

It said the government led by the Pakistan Tehreek-e-Insaf (PTI) party had yet to introduce fiscal measures that were sufficient to bring about a substantial improvement in the general government deficit.

China comes to Pakistan's rescue with $2.5b loan

Though the government in October 2018 introduced new budget measures that would increase revenue from petroleum products and infrastructure development, among others, "we believe that additional measures would be necessary in order to bring about a more meaningful decline in the fiscal deficit."

The second mini-budget presented in January 2019 should be marginally supportive of the economy, but is unlikely to have a significant impact on fiscal imbalances.

"Relative to our previous expectations, we now believe prospects for a broader stabilisation of Pakistan's credit metrics have diminished," S&P said.

The ratings on Pakistan remained constrained by a narrow tax base and domestic and external security risks, which continued to be high, it said, adding the country's security situation had gradually improved over recent years.

"We have revised downward our forecast of annual real GDP growth to an average 3.6% over 2019-2022. Pakistan's per capita GDP growth is somewhat lower, at about 1.5%, due to a fast-growing population," it said.