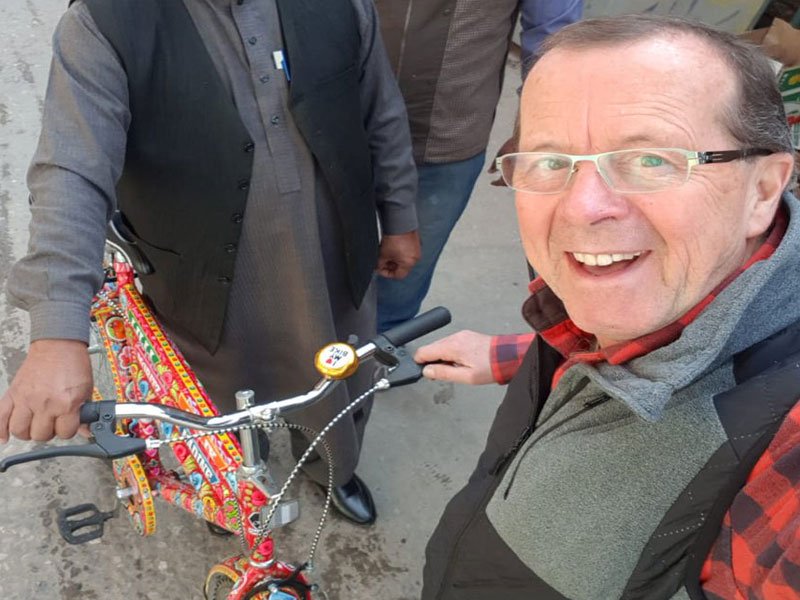 ---
ISLAMABAD: German Ambassador Martin Kobler, who had recently purchased a locally-built bicycle from Rawalpindi, has gotten the two-wheeler painted in the designs and hues of famous Pakistani truck art.

Here it is! My Pakistani bicycle is ready with amazing truck art," he tweeted on Sunday, adding that he loves it more now.

"Rode it in the streets of Rawalpindi. Feels great. Horn also works."

Kobler, who has gained somewhat of social media stardom for his high praise of Pakistani culture and traditions and frequently travels to various areas of the country to explore its natural beauty.

Nevertheless, his critics are of the view that he is doing everything but diplomacy for which his country has sent him to Pakistan.

During his tenure, they say, nothing significant has been achieved on the bilateral front nor has the embassy held significant cultural events, which used to be the hallmark of the embassy.

Published in The Express Tribune, February 4th, 2019.
COMMENTS
Comments are moderated and generally will be posted if they are on-topic and not abusive.
For more information, please see our Comments FAQ