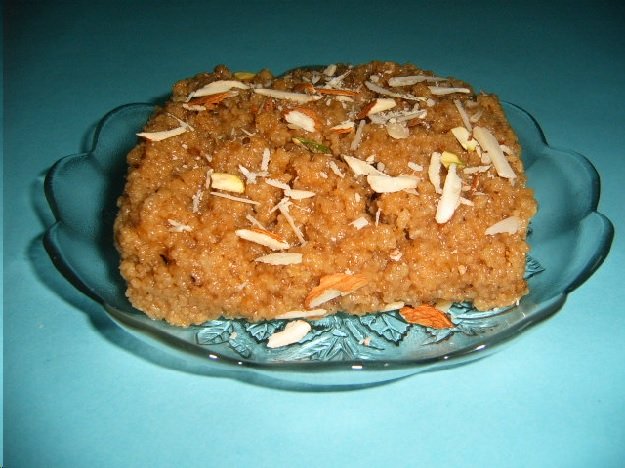 ---
KHUSHAB: There is something inherently tempting about traditional sweets. Walk into any mithai shop and you will find an eclectic range of items in various hues, shapes, sizes and textures.

However, dhodha, popularly known as Khushabi dhodha, is a special dessert of Khushab district that is not only popular in Pakistan, but all over the world. Like the sohn halwa of Multan, dhodha is considered a special gift in the region.

Dhodha dates back to the year 1902 when it was first prepared for a famous wrestler of the time Pehlwan Hans Raj. He used to eat the sweet due to its delicious taste and to gain muscle power. Later on, in 1912, it started gaining popularity among common folk and soon became a favorite dessert in the subcontinent. Prior to 1912, dhodha was considered popular among royalty such as rajas and maharajas.

Mouth-watering recipe
Dhodha is made up of four basic ingredients, including flour, milk, sugar and desi ghee. In order to prepare the dessert, flour, sugar and milk are mixed in a large pot and then put on a stove.

The three ingredients are mixed continuously with an iron scrapper till the milk starts boiling. When the milk has boiled, diluted milk or lassi is added into it and mixed till it gets dense.

When the colour turns light brown and the mixture gains thickness, it is removed from the stove. In the last stage, desi ghee is added. Before serving or being presented to customers, dry fruits, including almonds, coconut and pistachio, are added for garnishing.

A special gift
There is a whole market at Khushab's Lorry Adda where most of the shops selling dhoda are located. Being near the bus stand, people leaving Khushab take it as a gift for their loved ones. One of the oldest shops selling dhodha in the area is Ameen Dhodha.

Muhammad Rizwan, the owner of the shop, told Express News that this shop was established by his great grandfather Haji Anwar in 1935, before the establishment of Pakistan. "After his death, my father Haji Ameen took over the business and now I am running the shop," he added.

"Dhodha is the specialty of our family and even our children know how to make it perfectly," he maintained. Rizwan highlighted that hundreds of kilogrammes of dhodha is prepared at his shop daily due to its high demand.

He mentioned that Khushabi dhodha is supplied all around the world because of its delicious taste, quality and purity. While speaking to Express News, 50-year-old Irfan, who visited the shop to buy the dessert, said he has been buying it from Rizwan's shop since the last thirty years.

"The reason for buying dhodha from this shop is that they have maintained the same taste, colour, aroma and quality for the past several years."

Another customer, Hafeezullah, said that he shifted from Mianwali to Lahore in 1996 and since then he has been buying dhodha for his family, whom he visits every week. Ahmad, a student who hailed from Lahore, said that he came to Khushab from Lahore especially to buy this item. "It is popular the world over because of its unique taste," he remarked.
COMMENTS
Comments are moderated and generally will be posted if they are on-topic and not abusive.
For more information, please see our Comments FAQ