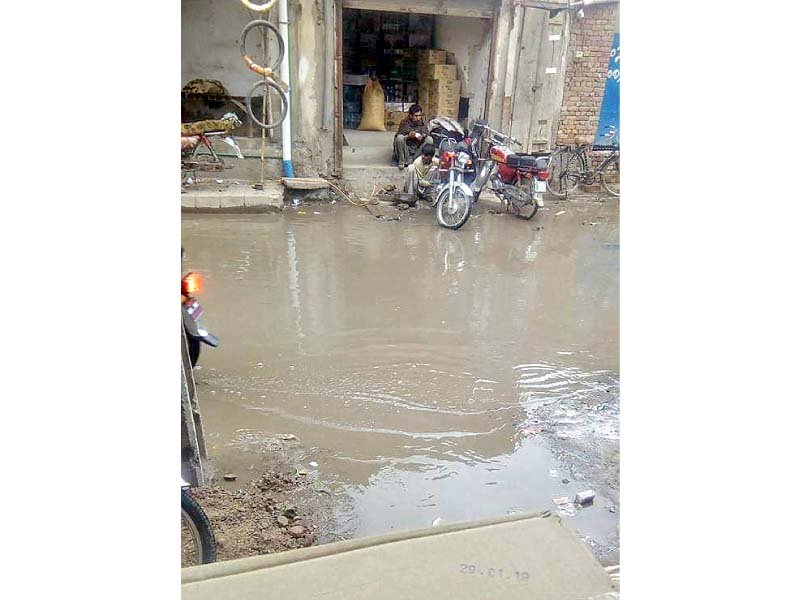 ---
LODHRAN: An inadequate and faulty drainage system in different areas of Lodhran's Kahror Pacca tehsil has made the lives of citizens difficult. Locals have appealed to authorities concerned to adopt a strategy to resolve the issue immediately.

Residents of Quaide-e-Azam Road, Bundoo Chowk, Khatm-e-Nabuwat Chowk, Dunyapur Road and other areas have endured the stench from overflowing sewage. The ineffective vacuum of the sewerage system is believed to be the cause.

As a result of the failure of this system, sewerage has accumulated on major thoroughfares and streets, creating a foul smell.

Despite tall claims made by authorities about cleanliness, almost every locality in Kahror Pacca is in a pathetic state. This has resulted in inconveniencing citizens, in addition to posing health risks.

The conditions are deteriorating with each passing day as the district administration is seemingly unable to ensure cleanliness in the tehsil.

The situation has raised several questions over the government's priorities. The prevailing conditions not only pose a threat to the atmosphere and ecological system of the city, but can also trigger an outbreak of different diseases.

Local residents say it is unfortunate that the district administration is not taking the unsanitary conditions seriously.

They said solid waste management and municipal corporation officials have failed to dispose of the garbage and maintain cleanliness in the area.

The irate residents complained that despite the lodging of complaints, officials concerned are not paying any heed to the matter.

A local resident, Ali Arshad, said streets of the area look like a dirty pond as the whole sewerage system was blocked, causing sewers to overflow onto the streets.

"Sewerage water is causing health hazards for children and they are rife with mosquito larvae."

Published in The Express Tribune, February 2nd, 2019.
COMMENTS
Comments are moderated and generally will be posted if they are on-topic and not abusive.
For more information, please see our Comments FAQ