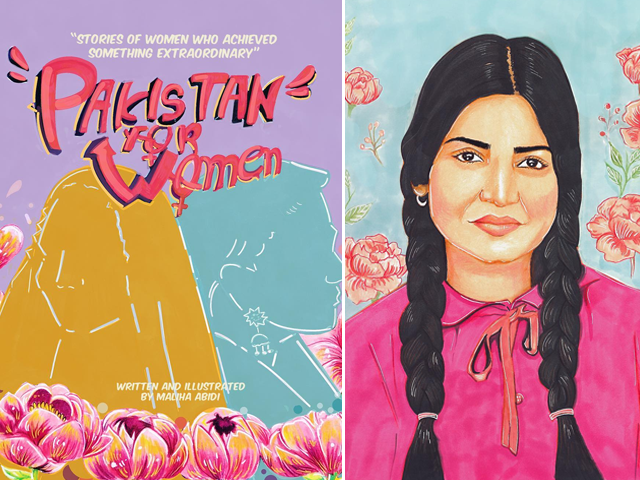 ---
KARACHI:
"I'm a feminist."
You've probably heard this sentence about a dozen times. But to Maliha Abidi, it means a lot more.
The 23-year-old artist hails from England and her Instagram page  caught our eye, thanks to her beautiful and insightful murals of famous Pakistani women.
Iconic figures such as Malala Yousafzai, Madam Noor Jehan, Asma Jahangir, first female fighter Ayesha Farooq and Veeru Kohli are amongst the few women she has immortalised through her art.
"It is a journey in which I contribute towards women's right in order to empower them and reach equality. Feminism to me is celebrating women and providing  equal opportunities so that both the society and the women's role in it can evolve," she told The Express Tribune. 
All these murals contribute to her first book which is dedicated to the Pakistani women. Pakistan for Women comprises of 50 note-worthy women of the country.
But there was a problem of choice.
"My list could have easily been more than a 1000 women. I found stories of women from all across Pakistan and while keeping a few factors in mind," Maliha said. "Diversity, contribution to society and how they stand out. All the women are worth celebrating and their achievements must be acknowledged."
Naming some of her mentions from the book, the UK based artist commented, "There are figures like Samina Baig, who is the first Pakistani woman to climb mount Everest, Arfa Karim, a computer prodigy, Noor Jehan, Queen of Melody and many remarkable women like them."
How did the idea of illustrating the book come about?
"I have always tried to celebrate women through my work. Whenever I came across an inspiring story or culture, I painted or drew it. I always knew that I wanted to contribute to women's causes and that's exactly what I did since I started taking my art seriously back in 2012," she shared. "As I grew as an artist, my vision and purpose became clearer and I started participating more and more in causes that empower women."
Her Instagram handle has almost 45,000 followers and for all the right reasons.
"After seeing the positive impact my art made, I kept going until one day I thought of doing a series on Pakistani women," Maliha continued.
Abidi has been creating artwork for as long as she can remember but it wasn't untill 2012 that she started sharing her work on public platforms.
"I have been focusing on women. Women's stories, women's rights and empowerment," the artist continued. "I started by focusing on cultural differences amongst women across the globe."
Maliha further added she has also done a series on tribal women.
"I did series on Kalash women, Tribal women from African countries, working with platforms like UN Women, Adobe and others - all for women empowerment," she went on. "I aim to portray different women who have achieved greatness and we must constantly celebrate them."
In a time where women are speaking up for their rights, how does she see herself becoming a distinct voice?
"The idea is not to be distinctive but to be united. I think my voice is not distinctive at all, I am just inspired by the strengths of many other women before me and with me who are standing against something or supporting a cause for women empowerment," Maliha remarked.
"It is wonderful that we are living in a time where women do feel empowered, but the fact remains that we still have some way to go where all women feel safe and independent. This the journey we all should be on, collectively," added Maliha.
Born and raised in Pakistan, Maliha moved to the US when she was 14. She then shifted to UK  two years ago when she tied the knot.
Does she feel Pakistani women have been more 'vocal' about their rights in the recent times since she's moved?
"I have never lived away from Pakistan for long enough. Pakistan, like every country, has different classes of women. Because of that, every woman doesn't face the same problems," she said.
"I think with the awareness and many wonderful people working towards some majorly important causes such as women's education, dowry, violence, etc, I see a definite change in awareness which is the first step," she asserted.
"In terms of actual change, let's say I see a great deal of change or no change at all, it doesn't matter what I see because the question remains, did an actual change take place which made women's lives easier? And what did we do on our part to help. Through my book, I aim to celebrate women and also share examples of extraordinary women who have shaped Pakistan."
Do you work individually or with a team?
"All the illustrations and writing in the book are done by me. While creating any other illustrations, I work by myself as well," she remarked. "However, the love and support from the people around me such as my father, Jaweed Abbas, and husband, Askari, keeps me going."
"With Pakistan for women, since it is an independent project, I was overwhelmed with the work at times. The way my family kept encouraging me really helped me," she concluded.
Have something to add to the story? Share it in the comments below. 
COMMENTS
Comments are moderated and generally will be posted if they are on-topic and not abusive.
For more information, please see our Comments FAQ