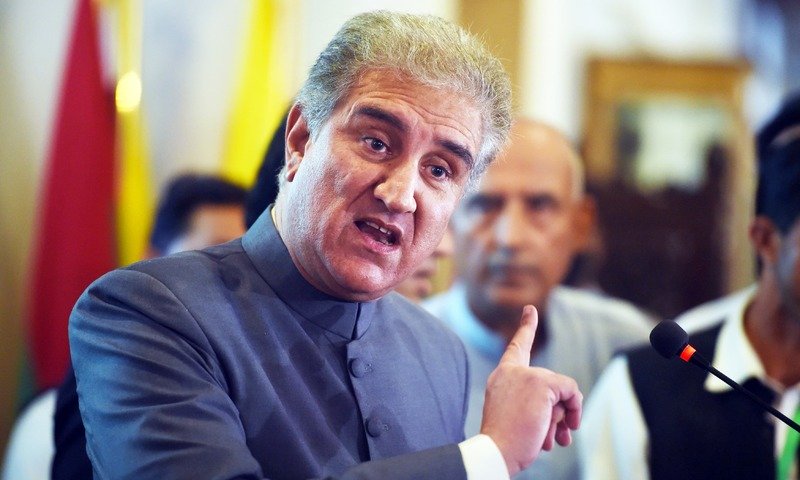 ---
[fbvideo link="https://www.facebook.com/etribune/videos/408807813199327/"]

Foreign Minister Shah Mehmood Qureshi has said that Pakistan deserves credit for the ongoing Afghan peace talks in Doha, as the Taliban only came to the negotiating table due to Islamabad's incessant efforts.

Speaking to reporters in Multan on Sunday, the foreign minister said Pakistan's stance for a negotiated settlement to the Afghan conflict had been vindicated.

He said United States Senator Lindsay Graham had admitted that Islamabad had the right approach for peace in Afghanistan. "This is a milestone in Pakistan's foreign policy domain," said Qureshi.

Pakistan reiterates support for Afghan-led peace process

In his recent trip to Pakistan, Graham pushed for a meeting between Prime Minister Imran Khan and US President Donald Trump to reset Pak-US relations and push for a peaceful settlement in Afghanistan.

'We are a nation, not beggars'

Reiterating Pakistan's desire for peace in the region, the foreign minister urged the public to gauge Pakistan's success by its achievements on the foreign policy front, and not by the amount it had received in aid.

The foreign minister was particularly irked when asked if improving ties meant the US would restart discontinued aid. "We are a nation with principles and prestige. We are not beggars!" he said.

"Nations do not only hold talks to seek aid. We have strategies and a vision that we will continue to pursue. Financial help is not important; we are not seeking aid, we are seeking peace."

Qureshi credits foreign policy 'for investment windfall'

Highlighting the PTI-led government's policy of global outreach, the foreign minister said it was unfortunate that people focused on the incoming aid and overlook the government's achievements on the diplomatic front.

"Over the past few months, I went to Tehran, Beijing, Kabul, Moscow and Doha. Very soon I am heading to Oman and then to London on February 3."

Qureshi said the outreach plan focuses on long-term global and regional peace and strengthening linkages for greater connectivity, enhanced trade and shared prosperity.
COMMENTS
Comments are moderated and generally will be posted if they are on-topic and not abusive.
For more information, please see our Comments FAQ