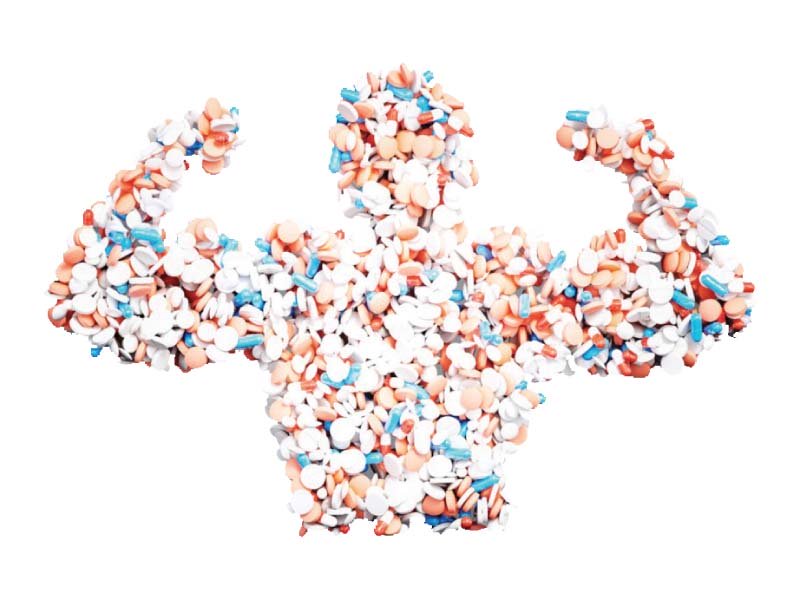 ---
ISLAMABAD: In an effort to boost their popularity and for commercial reasons it seems that gymnasiums where the purpose is to carry out rigorous physical exercise to keep the body and mind in shape a new trend is developing which is that these gyms are now supplying steroids in the guise of protein supplements to clients to increase their bodybuilding stature.

These steroids have a serious and adverse effect on the health of young people who frequent these gyms.

To attain physical prowess the younger generation tend to go to any lengths without realizing that the long term health effects could be hazardous and lead to abdominal, liver and kidney related ailments.

In a survey carried by the Daily Express, some shocking revelations came to light.

Gym trainers persuade and convince young people to take protein powder as a part of their diet regimen which would enable them to look strong and muscular in a couple of months.

Woman caught filming female swimmers at Islamabad gym

This protein does not serve any other purpose but to pose harmful effects on the body and prone to develop health problems.

A young bodybuilder and steroid user Muhammad Zain fooled in taking the powder told the Daily Express that he wanted to become a heavyweight bodybuilder in the shortest possible time and for this purpose he bought two cans of the protein powder for Rs 12,000 from his gym owner and started using them .After sometime, he started having stomach aches and went for a check-up when he was diagnosed with ulcer.

He revealed that the gym owners are involved in selling steroid injections in the name of protein and make lucrative profits from it.

He further disclosed that one of his friends who was reported with kidney problem due to an overdose of protein.

In the absence of any regulatory authority for these gyms the owners are at liberty to do as they please.

Most of the owners have no knowledge about the health supplements and buy them online.

Moreover the owners selling such powders refuse to accept any responsibility for any health issues their clients may face.

Bodybuilders have demanded of the government to regularise the gyms and further set up a mechanism to keep an eye on the activities inside them as many youngsters are prone to use steroids in order to look strong in a very short time which in effect makes them sick. Former and Mr Rawalpindi bodybuilder Muhammad Akram opined that parents must also play their due role in this matter.

He asserted that youngsters want to look big and burly in a short period of time. He added that they have always primarily cautioned these young people about the adverse effects of protein and steroids.

He said that he has always relied on a natural diet and was preparing to compete in Mr. Pakistan competition on the same diet regimen

He said that a body built on a natural diet remains healthy for a long term and it further brings great health benefits.

Doing the bare minimum in exercise: is there a magic number?

He suggested to youngsters to use natural diet and refrain from medicated ones as it poses a risk of death.

Dr. Tariq Sheikh concurred that that a bodybuilder requires more protein than usual and suggested to use meat, fish and chicken as a supplement. He said that it is our bad luck that the supplements which the youngsters use has more steroid content than the protein which swells the body immediately but  has unforeseen adverse effects on the internal system of human body.

The government should ban the open sale and purchase of protein to discourage the trend in young generation. He also stressed the need to create awareness among young bodybuilders. On the other hand District Drug Inspector Muhammad Naveed Said that action had been taken against the sellers of the harmful drug and if somebody is found selling steroids then they will be fined heavily.

Published in The Express Tribune, January 27th, 2019.