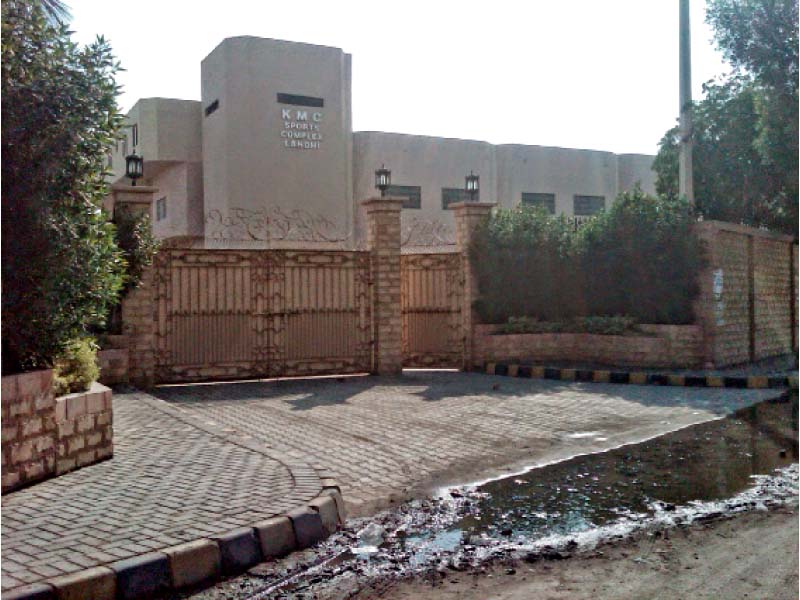 ---
KARACHI: It has been 27 years since the Karachi Metropolitan Corporation (KMC) initiated the construction of Landhi Sports Complex. It has finally been built with state-of-the-art facilities, including a swimming pool and courts for indoor and outdoor games. However, youth of nearby areas cannot avail these facilities as the complex has not been open to the public. KMC maintains that it is not authorised to hire and approve staff to run the facility hence the complex cannot be opened to public. It does, however, have the authority to outsource operations to a private company. KMC claims it has advertised in this regard but no private company appears interested in running the complex.

Several years in waiting

Officials in KMC informed The Express Tribune that the project was first initiated in 1991 but it faced bureaucratic delays. The basic infrastructure of the central building was completed but left abandoned for 16 years before the construction process resumed. During this time, Landhi Sports Complex, meant as a recreational space served a contradictory purpose. The vacant building was inhabited instead by drug addicts who took advantage of the half-built complex.

The project was revived in 2007 under former Karachi mayor Mustafa Kamal.  A budget of Rs65.1 million was reserved in yearly development programme for this project. Most of the work was completed during his term but then the project was at risk of being suspended entirely due to the non-provision of funds.

Officials confirmed that amendments were made in the plans for indoor and outdoor games courts after consultations with national level players and officials from various sports associations. The budget was further stretched as expenditure increased due to the installment of a filter plant for the swimming pool, modern flood lights and other facilities. The total expenditure eventually increased to Rs100m. Construction was finally completed in 2013.

Redundant efforts

Despite the Rs100m expenditure, Landhi Sports Complex remains unused. The public could not benefit from the facility as it remained closed due to lack of staff and electricity. A PMT was installed in 2015 but the absence of essential staff persists. The incumbent Karachi Mayor Wasim Akhtar visited Landhi Sports Complex in September 2018 and issued directives for its opening within the month. It has been four months since the instructions were given but the complex remains closed to public.

No man for the job

For the Sports Complex to be made functional, it requires an in-charge, coaches, and 19 other officials to ensure day to day activities. According to Sports and Culture Senior Director Rehan Khan, KMC does not have the power to appoint new employees but it has the option to out-source the staff. KMC advertised in this regard three months ago but no private company seemed interested. An advertisement has been issued again and KMC is hopeful that this time they will receive a positive response.

However, Sports and Culture Director Khursheed Ahmed, told The Express Tribune that there is also some pending repair work for which a tender is being finalised. He was confident that the issues are minor and will be resolved soon.

State-of-the-art facilities

Landhi Sports Complex, if and when operational, will certainly be a welcome addition in the area.  Officials in KMC claim that facilities for swimming, diving, tennis, basketball, volleyball, badminton, target practice, squash, snooker, table tennis, judo karate, chess and carom are available in the sports complex. The swimming pool, in particular, has been built in accordance with international standards complete with a filtration plant for the purification of water.

According to Ahmed, inter-district, inter-province and national level tournaments will be organised in Landhi Sports Complex once it is opened to public. Accommodation for sports players has also been accounted for, he said.

The central building houses facilities for indoor games. The badminton court and judo karate hall is on the ground floor while the first floor has table tennis, carom, and snooker facilities along with a chess hall, squash court, offices and cafeteria. On the second floor are the hostels for visiting players. The swimming pool and courts for volleyball, basketball and tennis have been built in the surroundings. Modern flood lights and seats for spectators have been installed around all the courts. Changing rooms, bathrooms and generator and car parking facilities have been provided as well.

Published in The Express Tribune, January 26th, 2019.