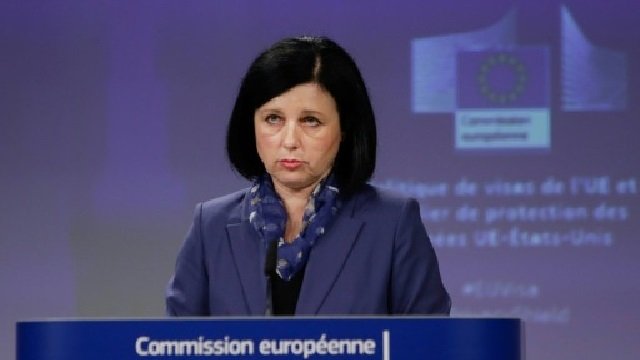 ---
BRUSSELS: The European Union urged member countries on Wednesday to crack down on schemes granting "golden visas and passports" to foreign investors, warning they can bring corruption and money laundering in their wake.

The European Commission, the EU executive arm, published a report urging members to curb the practice of giving foreigners — often Chinese, Russians and Americans — residency or citizenship in return for investment.

"We speak about opening (a) golden gate to Europe for some privileged people who have the money to pay for citizenship or residence," EU justice commissioner Vera Jourova said at the report's publication.

"We are looking at it with concern," Jourova told a news conference in Brussels.

The Czech commissioner said investor residence and citizens schemes offering "golden visas and golden passports" should not be a weak link in EU efforts to curb corruption and money laundering.

Germany to ease immigration rules to fight worker shortage

The report said wealthy candidates for residency or citizenship do face insufficient security and background checks to prevent them from posing a security risk, laundering money or evading taxes.

EU countries set conditions for granting and withdrawing nationality but must do so with respect for EU law, enforced by the European Court of Justice, officials said.

The bloc's laws are important as a citizen of one EU country has the right to travel to others, exercise economic activities within the 28-nation internal market, and vote in local and European elections.

The Commission complained that Bulgaria, Cyprus and Malta run schemes granting foreign investors citizenship for anywhere between 500,000 euros and two million euros.

And unlike foreigners who follow the usual naturalisation route, such investors are not required to live in those EU countries or show "genuine connections" to them.

However, Bulgaria said just before the report was published that it would scrap the practice.

The Commission also said residence permits given to foreign investors pose serious security risks to member states, even if the holder has fewer advantages.

An EU residence permit gives a third-country national the right to live in the member country and to travel freely in Europe's passport-free Schengen area.

UK govt 'agrees not to favour EU workers after Brexit'

Bulgaria, Malta and Cyprus also offer investors residence permits, along with 17 other countries:

Britain, the Czech Republic, Estonia, Ireland, Greece, Spain, France, Croatia, Italy, Latvia, Lithuania, Luxembourg, Netherlands, Poland, Portugal, Romania and Slovakia.

The Commission said there was a lack of "transparency and oversight" of the residence schemes, including too few statistics on how many people obtain a residence permit in this way.

The Commission warned "it will take necessary action as appropriate" if member countries fail to comply with EU law and rules on border checks, money laundering and tax avoidance.

It said it will set up a group of experts from member countries to improve the transparency, governance and security of the investor schemes.

The aim is to develop a common set of security checks for investor citizenship schemes by the end of 2019.

Berlin-based Transparency International and London-based Global Witness welcomed the Commission's report about a practice they have campaigned against.

"The tide is turning on the golden visa industry with the EU recognising the unacceptable security and corruption risks they create," said Naomi Hirst, a top campaigner at Global Witness.

"However, the Commission's report tells us nothing about what member states actually need to do," Hirst added in a joint statement on Transparency International's website.

"Now they've sounded the alarm, they need to offer solutions."

EU countries have used such schemes to give passports to around 6,000 people and residency to around 100,000 people in the past decade, securing about 25 billion euros ($29 billion) of foreign direct investment in return, the NGOs said.
COMMENTS
Comments are moderated and generally will be posted if they are on-topic and not abusive.
For more information, please see our Comments FAQ