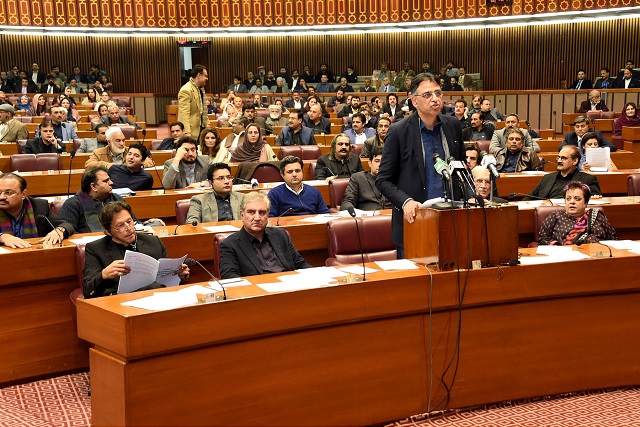 ---
[fbvideo link="https://www.facebook.com/etribune/videos/364738757658397/"][/fbvideo]

A long wait for all the countrymen finally came to an end as thePakistan Tehreek-e-Insaf's (PTI) financial wizard unveiled the current government's second mini-budget on Wednesday.

Economic framework to be unveiled on January 23

In his opening remarks, Finance Minister Asad Umar said the public is looking to its elected representatives to see how they can alleviate the current financial crisis. "People believe that a new budget is being presented; however, this is not a new budget, this is an economic reforms package to fix the economy," he said.

"I want to present a road-map by which the economy can be made stronger," he added.




"We hope this will be last IMF package that the country will have to take," he added. The federal minister vowed that Pakistan's economy will see the most prosperity in its history during the current government's tenure.


 "Our exports used to be 70%, however, it has now dropped," the finance minister added. Umar lambasted the previous governments for the economic policies, which he said have led to the crunch being faced at the moment.

He was of the view that the economy's progress is contingent on a rise in investment in the country. The federal minister said there has been a rise in exports during the PTI-government's tenure so far.




"The Small and Medium Enterprises [SMEs] are the backbone of the economy," he said. "In its manifesto, the PTI prioritised providing employment to the youth. This cannot be done if SMEs do not have the necessary funding," Umar said.




Umar also announced abolishing withholding tax for filers on all banking transactions. He said the onus is on the government to facilitate farmers and labourers in the country.

In the previous budget, the PML-N government had imposed restrictions on non-filers on purchase of autos and property.

However, in the second mini-budget presented by the PTI, Umar approved purchase of 1300cc cars by non-filers, while the tax on purchase would be increased.

The finance minister also announced removal of super tax on non-banking companies, with effect from July 1. Tax on saving for investment will also be abolished.

Talking about the Pakistan Stock Exchange, Umar said it can play a key role in boosting investment in the country. In this regard, he announced abolishing turnover tax of 0.02% on trading, to encourage trading activities. Furthermore, the government also allowed carrying over losses for up to three years.

[sc name="Finance Supplementary"]