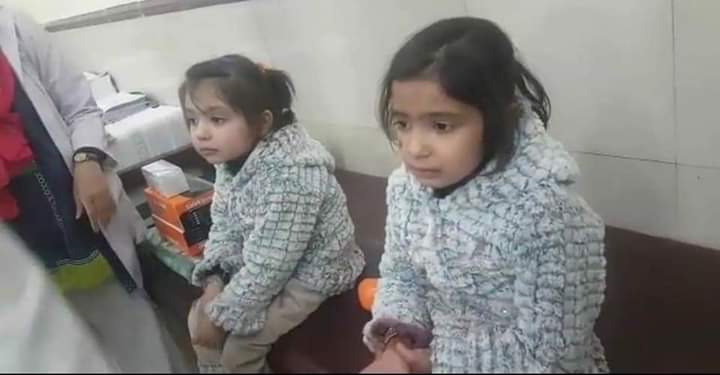 ---
After four people were killed in a shady 'police encounter' in Punjab's Sahiwal, Twitter users were quick to weigh-in on the alleged police brutality.

The victims which included two women were killed by Punjab's counter-terrorism police on a highway in Qadirabad.

The police first identified the victims as "kidnappers" and then as "terrorists from a proscribed group" raising doubts about the "encounter".

Man, wife, teenage daughter killed in shady police encounter in Sahiwal

The victim's children, however, contradicted the statement, saying the fatalities included their parents, elder sister and driver and that they were travelling from Lahore to Boriwala to attend a wedding.

Rights activist Jibran Nasir criticised the police, and said that instead of coming to their defence, the government must act responsibly and conduct a transparent probe into the matter.

He said the incident proved that police reforms were needed throughout the country.


Have we learnt anything from #NaqeebMehsud, #Intezar, #Maqsood and #AmalUmer encounter case? Now #Sahiwal incident. Rather than jumping to defend Police action Govt should act responsibly and focus on transparent investigation with exemplary punishment for those responsible.

— M. Jibran Nasir 🇵🇸 (@MJibranNasir) January 19, 2019
Just this past week a detailed report was submitted in SC by the Committee formed in #AmalUmer case to with effective recommendations for reforms specially viz a viz Police encounters for reforms in Sindh Police. The #Sahiwal incident shows reforms are needed across Pakistan.

— M. Jibran Nasir 🇵🇸 (@MJibranNasir) January 19, 2019


Senior journalist Hamid Mir also slammed the police over the incident, saying that "after watching the video of the victims children it has become clear that the incident had nothing to do with terrorism".

He claimed that the CTD version of events of the those killed having links to terrorism turned out to be "lies".


State terrorism is not acceptable.After listening to this kid I don't need to wait for the JIT report on the brutal murder of his parents and sister by CTD Punjab CM Punjab must order to arrest CTD officials otherwise he may pay the ultimate price of this brutality pic.twitter.com/YgsQ9OnEl3

— Hamid Mir (@HamidMirPAK) January 19, 2019
CM Punjab finally ordered to arrest the CTD officials involved in the brutal murder of innocent people in Sahiwal today pic.twitter.com/kxfZM0jT02

— Hamid Mir (@HamidMirPAK) January 19, 2019
White lies exposed within few hours.CTD officials involved in the murder of a family in Sahiwal detained by Punjab police DC Sahiwal informed CM that deceased family never made any resistance and never attacked CTD whole story of chasing ISIS leaders was a lie

— Hamid Mir (@HamidMirPAK) January 19, 2019


While some users called the act "shameful", others questioned Usman Buzdar's position as the Punjab CM.

Other journalists and politicians also took to the micro-blogging site to express their outrage.


Happening under govt of Naya Pakistan. Shameful. The Counter Terrorism Department openend fire on a car in #Sahiwal killing husband, wife and a teenager. These kids narrate the horror of their parents being killed, while CTD claims these were kidnappers
pic.twitter.com/hf2TM6qERK

— Naila Inayat (@nailainayat) January 19, 2019
In sahiwal CTD killed 4 people publicly........................now CM should resign or not ?

— Iftikhar Ahmad (@jawabdeyh) January 19, 2019
ساہیوال کا سانحہ انتہائی قابل مذمت اور دل دہلا دینےوالا ہے۔ یہ کیسے سفاک اور بےحس لوگ ہیں جو معصوم بچوں کی آنکھوں کےسامنے ان کے والدین قتل کر دیتےہیں۔ قوم نے جنھیں اپنی حفاظت کے لیے رکھا، انھوں نے قاتلوں کا روپ دھار لیا ہے۔ ماورائے عدالت قتل کا یہ سلسلہ اب ہر صورت بند ہونا چاہیے

— Siraj ul Haq (@SirajOfficial) January 19, 2019
Punjab govt finally admits that shooting to death from point blank range of couple in front of three kids in Sahiwal was joint operation of CTD and ISI. Apprehensions of cover up will haunt if JIT comprised of police and ISI personnel. Judicial probe is needed.

— Farhatullah Babar (@FarhatullahB) January 20, 2019
COMMENTS
Comments are moderated and generally will be posted if they are on-topic and not abusive.
For more information, please see our Comments FAQ