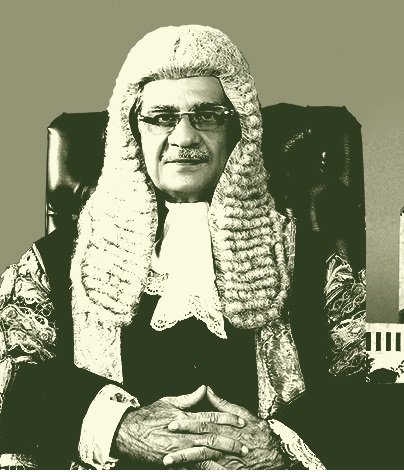 ---
ISLAMABAD:


'Populist era' of the Chief Justice of Pakistan (CJP) Mian Saqib Nisar is going to end today (January 17). However, his tenure will be remembered for many years.

The CJP Nisar visibly changed his approach in the last year of his tenure and started a unique' judicial activism, which was completely different from what he did as superior court judge throughout his 20-year career.

It is also a fact that his judicial activism has overshadowed his previous pro-executive and pro-parliament approach which was also characterized by judicial restraint. Many lawyers describe his judicial activism as a 'U-turn' in his approach.

Justice Nisar had believed in political-constitutional supremacy until 2017. But in this year, he emerged as a believer in the judicial-constitutional supremacy.

He had been pro-executive throughout his career but in his last year he became skeptical about powers of the executive.  He had been skeptic about the public interest litigation under Article 184 (3) of Constitution but became a strong proponent of exercising suo motu powers.

As a judge, he had been a non-believer in the basic structure theory of the Constitution and always put faith in the supremacy of parliament.  But later, he started saying the Constitution is supreme, which is to be interpreted by the apex court.

Till 2017, it was believed that Justice Nisar is pro-Pakistan Muslim League-Nawaz (PML-N) judge who preferred not to head a larger bench which heard Panamagate case but now he is considered as an anti-PML-N judge.

Till 2017, Justice Nisar was known as a judge who gave proper opportunity of hearing to lawyers but in his last year many senior lawyers avoided appearing before him due to his allegedly rude conduct. Harsh words were also exchanged between Justice Nisar and top attorneys during this year.

He was visibly tough on politicians, media men and top officials. However, no visible change was witnessed in his approach towards the military establishment.

That is why one section accuses him of weakening the civilian supremacy. But other section believes that he exposed corruption of the political elite.




Perhaps it was first time in the judicial history of Pakistan that a CJP heard cases also on weekends. Water, health, education and population control were his main priorities. Likewise, the CJP conducted unique proceedings in public interest matters at the Lahore Registry.

Justice Nisar not only adjudicated matters related to public interest but also visited different hospitals, jails etc. He also started a campaign to collect funds for the construction of dams. Despite reservations, people appreciate him for highlighting the issue of water shortage in the country.

Last year, the courtroom No 1 always remained packed during hearings of high profile cases, in which several politicians, civil servants and common people appeared.

Decision to remove Bilawal, Murad's names from ECL to be made after SC judgement: Qureshi

Justice Nisar started his judicial career on May 22, 1998, when he was elevated as a judge of the Lahore High Court. Later he took oath under the provisional constitutional order (PCO) in 2000 after a military coup but refused to take oath on the PCO of November, 2007.

On February 18, 2010, he was elevated to the Supreme Court and took oath as the CJP on December 3, 2016. His career as an SC judge can be divided into different phases.

Justice Nisar's elevation to the SC was a dramatic one. The Pakistan Peoples Party (PPP) led government had appointed him as the LHC chief justice and elevated Khawaja Sharif in the apex court without consent of the former CJP Iftikhar Chaudhry.

However Justice Nisar refused to become the LHC chief justice. Subsequently, the PPP government withdrew its decision and directly elevated him to the SC with consent of the CJP.

During Justice Iftikhar era (2009-13), when the judiciary was assuming powers of all other institutions, Justice Nisar had raised a voice of dissent.




Unlike other judges, Justice Nisar wanted to set parametres for public interest litigation under Article 184 (3) of Constitution but unfortunately he also exceeded jurisdiction as the CJP.

Several questions were raised about composition of benches in high profile cases during his tenure.  Even some judges openly opposed exercise of public interest jurisdiction by him.

Approach toward parliament

When a 17-judge full court took up the 18th Amendment case in 2010/11, only Justice Nisar and Justice Asif Saeed Khosa openly endorsed the constitutional amendment about changing the procedure of judges' appointment.

Due to their opposition, Justice Chaudhry had referred the matter to the parliament with few recommendations to change the procedure of judges' appointment. Likewise, despite opposition of then CJP, Justice Nisar had also written dissenting note in judges' pension case.

In 21st Constitutional Amendment case, Justice Nisar wrote that 'basic features' doctrine should not be adopted and made part of the constitutional law of Pakistan. He said the ultimate power should flow not from the pens of judicial appointees, but from the elected representatives of the people of Pakistan.

"A powerful judiciary is not necessarily an independent judiciary. And conversely, an independent judiciary is not necessarily a powerful judiciary," he had noted.

Change his approach

However, his approach visibly changed last year, when he did not endorse the parliament's law, which paved way for Nawaz Sharif to head his party after his disqualification. He headed the larger bench which supported lifetime disqualification of lawmakers under Article 62 (1) (f).

Later, suo motu was taken on the victory of senators, who were holding dual nationalities. The matter remained pending for several months. In October, when the PTI got majority in Punjab, the apex court disqualified two PML-N senators Haroon Akhtar and Sadia Abbasi for holding dual citizenship.




After their disqualification, the PTI was successful in getting both the seats. Contrary to the Election Act 2017, the apex court on June 5, 2018 restored almost all information omitted in the nomination forms approved by parliament.

Justice Nisar also gave hard time to politicians. All chief ministers and some ministers were summoned by him. Unlike his predecessors, Justice Nisar did not hesitate to summon political leaders over matters relating to bad governance.

Several lawmakers and media men like Punjab Chief Minister Usman Buzdar, Senator Azam Swati, Amir Liaqat, Dr Shahid Masood, Arshad Sharif and Mir Shakil Rehman threw themselves at the mercy of court by tendering unconditional apologies in different matters.

Approach to military establishment

Justice Nisar remained almost consistent in his approach to the military establishment during his tenure as the top judge. Though he focused on the enforcement of fundamental rights last year, he could not resolve missing persons' issue.

The SC's 2010 verdict in Macro Habib case could not be implemented. Asghar Khan case is still pending.  His opponents always propagated that he had some understanding with military establishment. However, he asked the Inter-Services Intelligence (ISI) to vacate a road.

Justice Nisar toward political parties:

When he became the CJP, it was claimed that he was a PML-N judge and he should not sit in the Panamagate larger bench. That was why he avoided sitting in the larger bench. While hearing Hanif Abbasi case, he also maintained balance and showed restraint.

After delivering his famous December 2017 speech in which he had called judiciary as 'baba rehmatay', Justice Nisar emerged as a different judge who made a legacy by taking populist decisions.

Subsequently, he was tagged as an anti-PML-N judge. The PML-N workers ran a campaign against him on social media.

The PTI leaders like Imran Khan, Usman Buzdar, Zulfi Bukhari got relief from his bench.  Though several proceedings were initiated against the PPP leaders the party remained generally satisfied with him as he ordered to exclude names of the PPP chief and Sindh chief minister from a JIT report. The matter is still pending.

Cases were also registered under Antiterrorism Act against the PML-N and the PPP workers for using derogatory language against Justice Nisar.  It is still debatable whether Justice Nisar restored dignity of judiciary after taking coercive actions against dissenting voices.

Justice Nisar and media

The CJP also took interest in media affairs. He also gave interviews to a few media persons towards the fag end of his tenure. He also took up matters related to media ads, rating and salaries issue.

Unlike Justice Iftikhar Chaudhry, Justice Nisar did not spare TV anchors and reporters allegedly misreporting. However, he wrapped up proceedings against them after they tendered unconditional apologies.  He also initiated proceedings over the delay in the salary of media men. He also facilitated beat reporters by allotting furnished room in the SC premises.

Investigating agencies

Instead of relying on investigating agencies, Justice Nisar formed joint investigation teams (JITs) to probe into different issued. He relied on the Federal Investigation Agency (FIA) Director General Bashir Memon to get favourable result in several cases. He even stopped caretaker government from transferring Memon from his post before elections.

Judicial accountability:

Before taking oath as the CJP, Justice Nisar was very concerned about lack of accountability within judiciary. In 2015, he had noted that the judiciary is a powerful institution but no judge is prosecuted in last 50 years.

During his tenure, the Supreme Judicial Council (SJC) remained active as one IHC judge Shaukat Aziz Siddiqui was ousted. Likewise, show cause notices were issued to three high courts judges including Anwar Kasi. One section of lawyers, however, is demanding that the SJC's opinion regarding these judges should be made public.

Appointment of judges:

Despite demands of bar councils, Justice Nisar did not amend the Judicial Commission of Pakistan (JCP) rules to end discretionary power of the CJP in judges' appointment process. In 2017, the Parliamentary Committee on Judges Appointment had noted that the JCP led by Justice Nisar had adopted a 'pick and choose' policy in the confirmation of LHC judges.

Pendency increase in his tenure: 

Judges decided record numbers of cases in the outgoing year; however, pendency of cases increased during the CJP's tenure. During his term particularly during the last one year the number of pending cases in the apex court jumped up from 38,129 to 40,987.

However, it is also a fact that the ratio of disposal of cases also increased during his tenure. He himself admitted that he is unable to put his house in order.

Opinion

Top jurists believe that Justice Nisar is leaving two legacies. One is about 'unprecedented judicial activism' where he remained arrogant and imbalanced and worked hard for the enforcement of fundamental rights.

The other legacy belongs to his tenure prior to 2017 when he strictly applied laws, rules and regulations and gave landmark verdicts on law points, which will be cited in law books.
COMMENTS (10)
Comments are moderated and generally will be posted if they are on-topic and not abusive.
For more information, please see our Comments FAQ