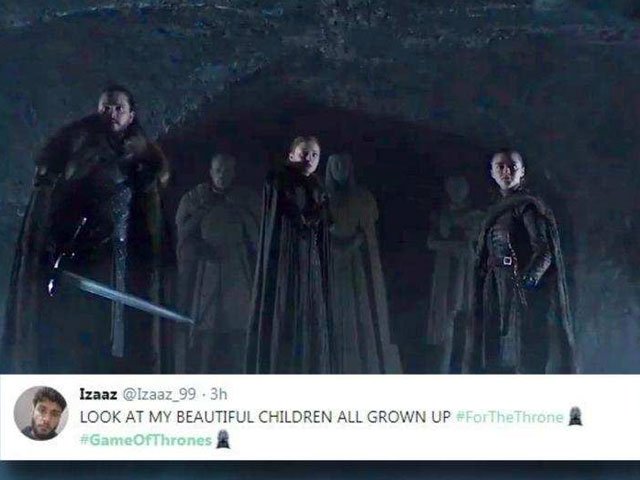 ---
LOS ANGELES: Final Season is coming - and it's all about Jon Snow, and (just for a change) it portends death.

Or at least that's the impression U.S. satellite network HBO chooses to give in the teaser for Game of Thrones that it unveiled on primetime TV on Sunday night.

The 1 minute 28 second clip trails the fantasy epic's eighth and last series, which hits screens on April 14.


The scene takes place in the crypts below Winterfell, where we hear the voices of the late Ned and Catelyn Stark speak of Jon as he passes their statues.

Jon is joined by Sansa and Arya Stark, and as three of the surviving children of the show's central clan walk further through the family crypt they arrive at a set of three statues that show ... themselves.

Soon after the trailer dropped, social media forums were filled with rib-tickling memes.

Here are few:


Last last Arya will die, is like you people have not learnt your lesson since Ned Stark's death and what happened at the red wedding, you think the makers of #GameOfThrones care about your feelings??

— Ayodele ◢ ◤ (@dheMechanic_) January 14, 2019
When you order something online vs when it arrives#GameofThrones #GoTS8 pic.twitter.com/OokXWFUR2v

— Winterfell's daughter (@steel_elle) January 15, 2019
Me trying to predict Season 8 of #GameofThrones based off the trailer alone. pic.twitter.com/R1jK9rPAmr

— Ryan 🦾 (@RyanBUFSZN) January 14, 2019
Arya's Statue is young
Sansa's Statue is young
Jon's Statue is old
Bran doesn't have a statue and is nowhere to be found

Me:#ForTheThrone#GameofThrones pic.twitter.com/rwmZNLLZ2D

— MINNIE (@miniyomusa) January 14, 2019
Imagine a Jon and Arya reunion 😭😭😭 #GameOfThrones pic.twitter.com/FtfnwQR9HL

— KUHLE wase'Bhayi ♏🛠 (@Kush_Kndy) January 14, 2019


https://twitter.com/Fxir_/status/1085073737374973952


Me waiting on the White Walkers to kill everybody cause GRRM doesn't like us happy #GameOfThrones pic.twitter.com/ikaUBGaA6f

— Big Nas X (@lukeyism) January 14, 2019
hhhhh Jon's statue was really really amusing and ugly😂😂😂 #GameOfThrones pic.twitter.com/aDF2QTq99N

— Mary (@mary_duan) January 14, 2019
Bran watching the teaser trailer knowing they all gonna die.#gameofthrones pic.twitter.com/4NH6oQKh3r

— A-Puff (@knockturnallie_) January 15, 2019
if arya and sansa die i s2g- #GameOfThrones pic.twitter.com/cU3eD2aWok

— jas | 1312 (@jasmr69) January 14, 2019
Have something to add to the story? Share it in the comments below.