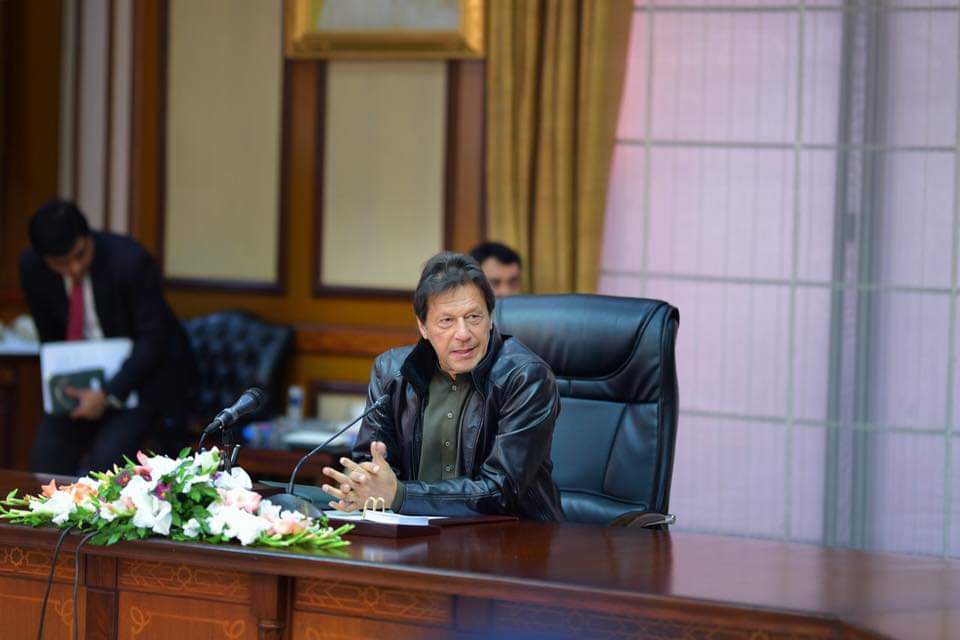 ---
ISLAMABAD/ LAHORE: Prime Minister Imran Khan on Tuesday termed the opposition's walkout from the National Assembly session a "pressure tactic" to seek a new National Reconciliation Ordinance (NRO).

In a tweet, the premier added such tactics were being used to "evade accountability for corruption in NAB cases" and added the cases were not initiated by the incumbent Pakstan Tehtreek-e-Insaf government.

Continuing his criticism of the opposition's behaviour, the prime minister further said that "this is the only function they [opposition] intend to perform".


In a Parliament that costs taxpayers billions yearly, yet another walkout in NA by the Opposition shows that this is the only function they intend to perform. These are pressure tactics to seek an NRO & evade accountability for corruption in NAB cases not initiated by PTI.

— Imran Khan (@ImranKhanPTI) January 15, 2019


He also questioned whether democracy equates to immunity from corruption of elected leaders and added that "it seems for them being elected is a license to plunder the country".


Does democracy mean immunity from corruption of democratically elected political leaders? It seems for them being elected is a license to plunder the country. https://t.co/POpMhLg7L1

— Imran Khan (@ImranKhanPTI) January 15, 2019


The opposition walked out of Monday's session of the Lower House after Opposition Leader Shehbaz Sharif questioned the bidding process of Mohmand dam's construction contract and demanded rebidding as the exercise was "questionable".

Structural reforms to continue despite 'anti-govt propaganda': PM

The government, earlier this year, awarded a Rs300 billion contract to a consortium led by Descon, a company formerly owned by Adviser to the Prime Minister on Commerce Abdul Razak Dawood on a single-bid basis.

The Pakistan Muslim League-Nawaz president had also criticised the government's act of cancelling the second bid on "technical grounds".

The opposition leader walked out of the house when Minister for Water Resources Faisal Vawda was about to begin his speech, leading to pandemonium in the National Assembly.

PM Imran's tweet draws opposition's ire

Reacting to Imran Khan's tweets, the opposition parties rubbished the allegation of seeking any NRO-type deal and suggested to the prime minister to first start attending the assembly proceedings before pointing figures.

Denying the allegation of pressurising the government for an NRO, PML-N President and opposition leader Shehbaz Sharif rejected the claim as baseless. PPP Chairman Bilawal Bhutto Zardari said what the prime minister, who didn't even attend the house, would know about its proceedings.

"Imran claimed to be the first PM who would answer the questions of house members every Wednesday but that turned out to be another of his lies," the PPP chairman said in a counter-attack on the prime minister.

Similarly, PML-N spokesperson Marriyum Aurangzeb said the premier is using parliament for point scoring. She added that this was the same parliament Khan besieged while leading an agitation against the then PML-N government four years ago.

"After remaining absent for five years from parliament despite taking all perks and privileges, PM Imran has suddenly become considerate of the cost of running the parliament just for the sake of political point scoring," said the former information minister.

"It is the same parliament which you [PM Imran] cursed and when asked to apologise, doubled down on cursing it," she said, adding that Khan's tweets were actually expression of his outrage over his own incompetent cabinet. "Mr prime minister, government cannot be run from Twitter."

Taking a jibe at Khan's absence from the National Assembly, she said: "The people of Pakistan are about to put up an advertisement to find where exactly is he." She added that crises after crises were derailing the government.

Senior PPP leader Syed Khursheed Shah said Imran Khan, now being the prime minister, must be careful about his statements. "He should know why parties resort to boycott," he said, adding: "Despite boycott, we still attend the house proceedings."

Sindh government's spokesperson Murtaza Wahab advised the prime minister that before accusing the opposition parties of wasting public money, he should himself reveal how many times he had attended the session.
COMMENTS (1)
Comments are moderated and generally will be posted if they are on-topic and not abusive.
For more information, please see our Comments FAQ