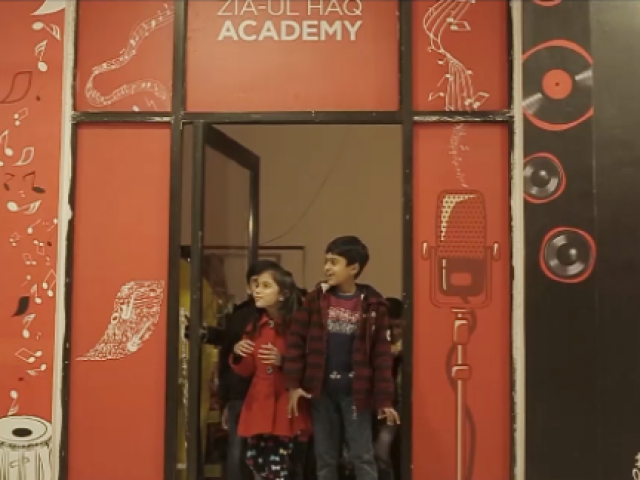 ---
NESCAFÉ Basement's first episode is out and it's song "Bol Hu" is already making waves. The song "Bol Hu" features one of the youngest singers, an 8-year-old Hadiya Hashmi, who got selected by Xulfi from the Surtaal academy. And after hearing her voice, we are in absolute awe. The talented girl was discovered during the auditions and later got to be a part of this musical platform after attaining a year's training in the academy. A year ago this passionate youngling went up to her father asking for singing lessons and that's when everything changed.

Amidst the auditions for season 5, team NESCAFÉ Basement came across a small music academy known as Surtaal Music Academy, which is run by Zia ul Haq. Xulfi discovered that Zia teaches young children singing as well as the art of appreciating and playing various instruments.



During his visit to the academy, Xulfi realised that the academy was falling apart. And even though he was aware of the talent the place encapsulated, he felt it lacked attention and was in dire need of renovation. Xulfi immediately reached out to Fizza Ijaz, the marketing manager of NESCAFÉ' and together they decided to give the academy a makeover.




Team NESCAFÉ was mesmerised by the young talented children. They acknowledged that curating young talent is essential for the future of Pakistani music industry and NESCAFÉ is doing its part to support such acts. "Some days you work for a pay cheque and some days you work for a purpose. And for me, personally, NESCAFÉ Basement is that thing where the purpose is what brings me to work every day." says Fizza Ijaz, the marketing manager of NESCAFÉ.




Xulfi, while discussing the initiative, said " Such initiatives will help attract new talented individuals who are looking for a platform as well as it will help revive Pakistan's music industry. This is the main aim of NESCAFÉ basement: to create a future for the music industry of Pakistan. And this young generation is the future."




NESCAFÉ Basement is the only platform that encourages the youth to awaken their passion for music and pursue their dreams. The brand is helping musicians refine their skills and restore our old songs, making them all the more appealing to our youth. The Musicians involved with show vary every year and new musicians bring something extra, something raw to the show.




The song, originally sung by Soch the band, represents a connotation of prayer with the lyrics literally call out to the Higher Being. Along with Hadiya's powerful and moving voice, it also features Jamil Ayyan, a Dambura player from Quetta and one of the few artists striving to save this instrument from being long forgotten. It is an amalgamation of different genres, proving music transcends age, experience, cultural backgrounds — at the end of the day, it is what speaks to the soul. Xulfi, through Nescafé Basement's platform, managed to pull off this masterpiece. The song portrays intense labour of love and it's really visible through the performance of Hadiya.




NESCAFÉ Basement's fifth season witnessed a change in the recruitment process as the contestants were encouraged to make a video of their performances and upload them to Facebook with the hashtag #nescafebasement5. The makers also selected the highest number of talent this year: 73 artists were selected out of the innumerous entries they received.

After witnessing the electrifying performance by Hadia, we definitely can't wait to find out what these young musicians have further got to offer in the rest of the episodes. Stay tuned here for more updates in regards to NESCAFÉ Basement Season 5. Or follow nescafe.pk on Instagram and @nescafebasement5 on Facebook and do not forget to subscribe to NESCAFÉ Basement's official YouTube Channel for the upcoming season!


COMMENTS
Comments are moderated and generally will be posted if they are on-topic and not abusive.
For more information, please see our Comments FAQ