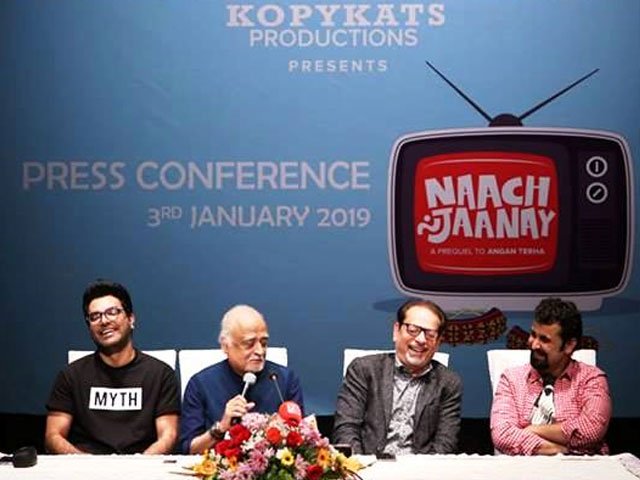 ---
KARACHI: Karachi Arts Council will soon be staging a production of Nach Na Jane starting March 1, 2019, stated a press release. The play is being conducted in collaboration with KopyKats Productions and has been written by renowned satirist and humourist Anwar Maqsood. It is a prequel to the acclaimed Urdu play Aangan Terha.

The premier of Nach Na Jane was held at the Arts Council on Thursday, January 3. The evening included a press conference attended by president of Karachi Arts Council Muhammad Ahmed Shah, director Dawar Mahmood, actor Yasir Hussain and of course, Maqsood himself.




The team revealed that all the revenue generated from play will be donated to artists, writers and poets who have given their lives to the craft but are now struggling to make ends meet. "It is our duty to help these people out in their time of need," said Shah. "Hence, all the income we earn from Nach Na Jane will be distributed amongst these troubled artists."

Shah added that the Arts Council has been thinking about doing something to help them out for a while now. "We have been thinking about it for a long time but we didn't have enough resources to facilitate everyone. Then, we decided to come up with this plan with Anwar Maqsood on board," he said.




Nach Na Jane will mark Hussain's return to theatre after a gap of seven long years during which, he has appeared in various films. Though this is not the first time he will work with Maqsood, he still sees it as a great learning opportunity, he said. The actor is essaying the character of Akbar in the upcoming play.

Mahmood informed that Nach Na Jane will be staged in Karachi for two months starting March 1. It will continue until Ramadan after which, the team will head to Lahore and then Islamabad respectively, for two months each. He also revealed that most of the actors in the play are debutantes he chose out of more than 11,000 auditions.

Have something to add to the story? Share it in the comments below.