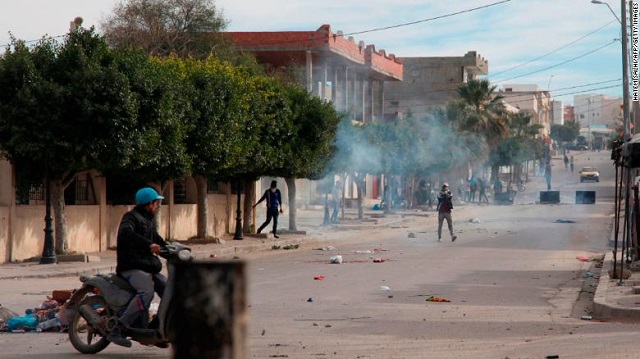 ---
Clashes between police and protesters erupted in Tunisia after a journalist set himself on fire and died on Monday, CNN reported.
Peshawar youth kills five family members before committing suicide
Journalist Abderrazek Zorgui posted a video of setting himself ablaze on social media, saying it was an expression of the hardships he and his family experienced. The video has since been removed.
A union of journalists have taken the government to task over Zorgui's last words- reinstating that he took his life, "due to harsh social circumstances and a lack of hope".
According to the state news agency TAP, police fired tear gas to quell dozens of protestors in the city of Kasserine but they could not be restrained.
Although authorities announced they are launching an investigation, people are unsatisfied and continue to clamour. 22 protestors have been arrested.
Indian businessman kills self, blames 'dark forces'
The protests are a stark reminder of Mohammed Bouazizi's self-immolation. Bouazizi was a street vendor who set himself on fire in the Tunisian capital in 2010, an incident that became the stimulus for the Arab Spring in the Middle East and North Africa.
This article originally appeared on 
CNN
.
COMMENTS
Comments are moderated and generally will be posted if they are on-topic and not abusive.
For more information, please see our Comments FAQ