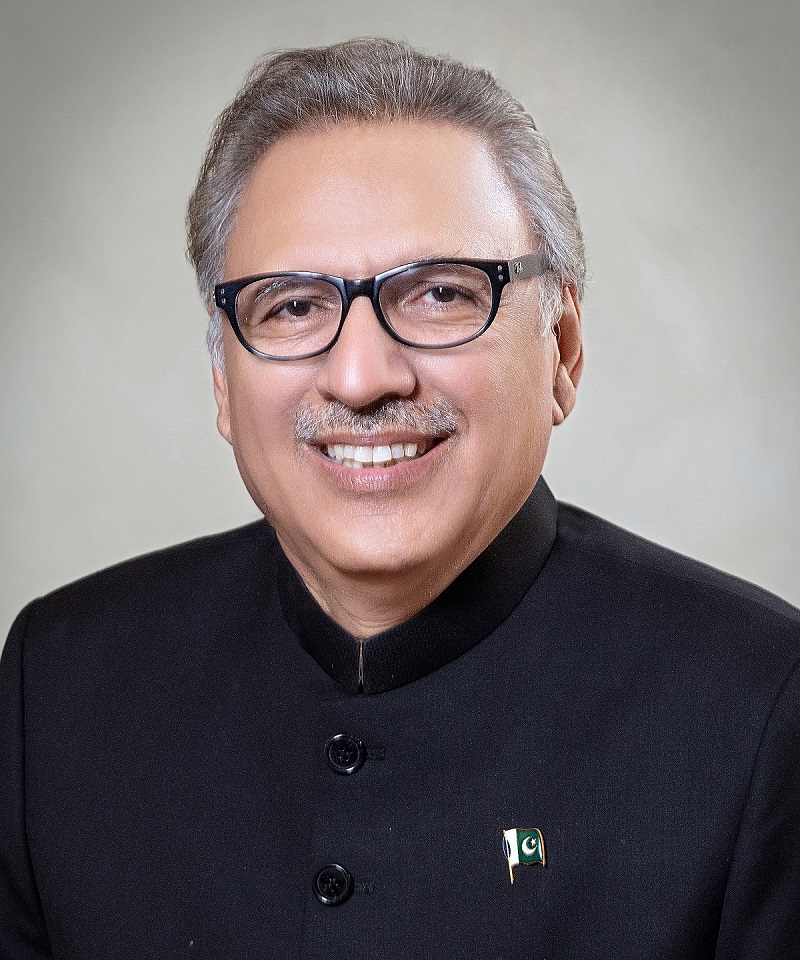 ---
Why was our president expelled from Karachi Grammar School? Why does Dr Arif Alvi have two bullets lodged in his arm? What are the books on artificial intelligence and quantum physics doing on his bedside table today? We covered all this and more in an interview at his Karachi residence.

Approaching his street by car, I was expecting several police checkpoints and roads to be blocked. Not only were the roads open, so were the gutters. I was pleasantly surprised to see that Dr Alvi was walking the talk on fighting protocol (I drove past his house seven times over three days to confirm that I could enter his street without being stopped or inconvenienced – usually there were 1-3 police vans on his narrow street but they let the traffic flow openly).

Too often, we interview our political leaders to understand their politics, without understanding them as human beings first. This is not a political or policy interview. This is an attempt to peel through the layers of the man who serves as our head of state. Dr Arif Alvi is an acquired taste. He isn't your typical flash in the pan Pakistani politician who rides his 1,000-watt charisma to answer questions. Instead, Dr Alvi is that rare Pakistani politician whose substance overwhelms his style. He quotes ideas from Plato, Maulana Maududi, Marx and Thomas Piketty with equal ease. Currently, he's reading books on quantum physics and the fourth industrial revolution, plotting ways for Pakistan to leap-frog ahead in artificial intelligence, blockchain and cloud computing. He is a policy nerd.

I ask him if he feels frustrated about being in a role – the Presidency – which is largely ceremonial and without real power. Could he have been more useful to the country in a policy-making role? He argues otherwise. Says he uses his influence to lobby for systematic solutions to endemic Pakistani issues like education, health and poverty. Strange thing to say but I feel he would have been more useful to the country in a direct policy-making role but that's a conversation for a different time.

Most Pakistani politicians display the inverse iceberg phenomenon. They show a lot of gravitas above the surface but there's little substance inside. Dr Alvi is the exact opposite. Even if you're a resident of his former constituency in Karachi's Defence or Clifton area, you might not know that he was shot twice while protesting against Ayub Khan's military rule.

"Suddenly my hand dropped and I started bleeding," says Dr Alvi, recounting the moment he was shot right before curfew. "I held my limp hand and walked towards the hospital. My fingers were paralysed for months. I thought I would have to give up dentistry as a profession after I was shot." The bullets remain lodged in his body to this day as he offered for me to touch during the interview, I politely declined.

"I never used to reach my clinic on time," shares Dr Alvi. "Before I became president, I wasn't very punctual. But now I'm very cautious about being punctual because I don't want people to think that I'm not on time because I'm the president."

As a young boy, he was late to school one day at the Karachi Grammar School, so his dad walked him into his first lesson of the day: Bible class. Dr Alvi's father, a dentist to Jawaharlal Nehru, started a campaign against the school having mandatory Bible classes, arguing they didn't fight for Pakistan for his son to be forced to attend Bible class. The school found it easier to expel Alvi rather than placate his father.

In addition to being tardy, it seems that Dr Alvi inherited his father's desire to fight for his cause, come what may. According to him, he was the first prominent Karachi politician to publicly call out his rival party for asking for 'Bhatta' live on television in the late 2000s. Shots were fired at his house in return and his wife received calls from relatives claiming Dr Alvi wouldn't live for long.

"My wife didn't talk to me for two weeks," says Dr Alvi. "It was the most painful time in my life. She couldn't look me in the eyes. She didn't know how long I would live. They fired shots at this door right here," he says, pointing to the front door of the house where he is staying today, as the president of Pakistan.

In many ways, recent changes in Dr Alvi's life mirror the changes Naya Pakistan is broadly offering to our emerging middle class: an influential seat at the table, a personalised rebuke of the feudal mindset (laced with protocol) within the powerful status quo and a flicker of hope, that our children's future will be brighter than our past.


COMMENTS (2)
Comments are moderated and generally will be posted if they are on-topic and not abusive.
For more information, please see our Comments FAQ