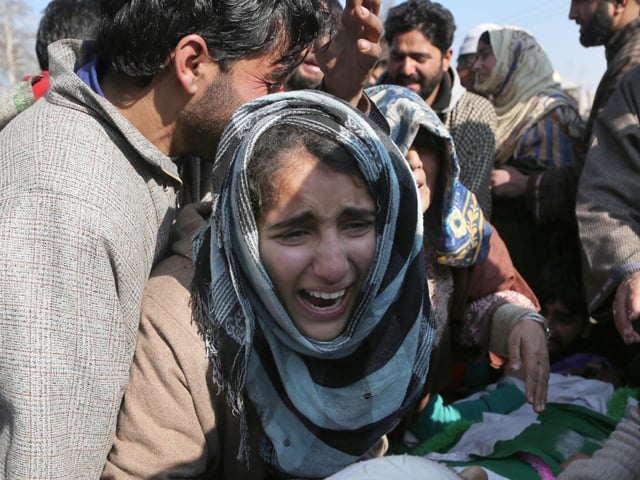 ---
KARACHI: Kashmiri political leaders sent out an SOS to the entire 'humanity' after Indian occupation forces massacred seven innocent civilians following a gunfight that left three freedom fighters and one soldier dead in the disputed Himalayan region of Kashmir on Saturday.

Mirwaiz Umar Farooq, the chairperson of his own faction of All Parties Hurriyat Conference (APHC), said that the Indian occupation forces went on a killing spree in Pulwama district of the occupied valley.

Seven civilians martyred as gunfight sparks protests in IoK

Writing on micro-blogging site Twitter, he feared that the death toll, which has already crossed seven, would rise further.


SOS # to all humanity !Kashmiri's being massacred as Indian forces go on a killing spree in #Pulwama firing indiscriminately !civilian death toll has crossed 7, more than 40 youth have been hit with Bullets many critical,death toll may rise!

— Mirwaiz Umar Farooq (@MirwaizKashmir) December 15, 2018


The Mirwaiz announced that Kashmir people would march towards Badami Bagh army cantonment on Monday to "ask the Indian government to kill all of us at one time rather than killing us daily".


#PulwamaMassacre,Bullets and pellets rain!As Govt of India has decided to kill Kashmiri's through its #ArmedForces who control us,JRL and people will march towards Badami Bagh Army cantonment on Monday 17 Dec to ask GOI to kill all of us at one time rather than killing us daily..

— Mirwaiz Umar Farooq (@MirwaizKashmir) December 15, 2018


The APHC leader said: "The youth have been shot in the head, in the neck, the abdomen. It was shoot to kill, not to disperse them." He added that India was killing innocent Kashmiris as a state policy.


Terror and Trauma on Kashmiri's continues unabated as Killing pursued as a state policy! Today morning two young civilians Aamir Ahmad and Abid Hussain of Pulwama fired upon directly by Indian forces killed on spot,scores injured while three armed youth are martyred! Ask Govt....

— Mirwaiz Umar Farooq (@MirwaizKashmir) December 15, 2018


Politicians from Azad Jammau and Kashmir and mainstream Pakistani political parties also denounced the bloodletting in the occupied valley.


Bloodletting continues in Palestine & Kashmir...Israel & India both states are daily killing un armed civilians & children with impunity and the so called civilised world is actually abetting the genocide with shameless apathy https://t.co/Fx0f5nYZt9

— Khawaja M. Asif (@KhawajaMAsif) December 15, 2018
We strongly condemn Indian atrocities in Occupied Jammu & Kashmir. Kashmiris deserve same consideration as people in East Timor & South Sudan. https://t.co/wzDmv8XepF

— Ahsan Iqbal (@betterpakistan) December 15, 2018
7 Civilians killed 60 Injured in Army firing in Pulwama Kashmir.
Nearly two dozen civilians hit by bullets and rest hit by pellets. Another bloody day in IAK.

India will pay for every crime it committed in Kashmir @Xadeejournalist @hinaparvezbutt#pulwamamassacre #KashmirBleeds

— MunirAlive (@Munir_Alive) December 15, 2018
Indian Occupied #kashmir : Eleven (11) Kashmiris killed by paramilitary forces in #Pulwama district of #Jammu & #Kashmir, today. pic.twitter.com/pqdRnFRs6p

— Lord Nazir Ahmed (@nazir_lord) December 15, 2018


Journalists, human rights campaigners and Twitterati are appalled by the wanton killing of Kashmiri civilians by Indian occupation forces in the disputed valley.


Horrific news coming out of Kashmir. 7 civilians killed during encounter in Pulwama, more critically injured. What a tragic, tragic day

— Nidhi Razdan (@Nidhi) December 15, 2018
There is nothing intelligent to say about a massacre. What Kashmir is witnessing is nothing short of massacre. Shooting kids in their faces to kill. Heartbreaking!

— Sameer 'Sadiq' Bhat (@sadiquiz) December 15, 2018
This os how india os doing in kashmir.@UNGeneva @UNHumanRights should fullfill duties to stop this genocide on kashmir by indian forces.. pic.twitter.com/Bku5KS2xsB

— Akmal Farooq (@akmalfarooq302) December 15, 2018
Bloodbath in #Pulwama.

7 civilains shot dead by Indian armed forces along with 3 militants. Reports coming in say 50 people injured while a few are critical.

People chat slogans of Azadi after a civilian Abid Ahmad's dead body is escorted out of the hospital.#Kashmir pic.twitter.com/M1F1DLBWCR

— Irfan Mehraj (@IrfanMeraj) December 15, 2018
You know New Delhi's (non existent) Kashmir policy is failing when the number of civilians killed is double the number of combatants killed. This mindless killing is in nobody's interest. The state in Kashmir is fast becoming indistinguishable from non state actors. https://t.co/0oJ45aapOs

— Shehla Rashid (@Shehla_Rashid) December 15, 2018


https://twitter.com/dr_rita39/status/1073931982302777344

The victims of India's mindless killing spree also included an 8th grade student and a 25-year-old business graduate who had recently returned from Indonesia after completing his degree there.

https://twitter.com/MAwaisPak1/status/1073935725710794752

https://twitter.com/IramFarhanVirk/status/1073934950066380801

https://twitter.com/Intellectroll/status/1073893753352531969


A teenager's body was lying on the hospital bed, as an unidentified, until a man walks in to find out it is his son. 7 civilians were shot dead while as sixty five others injured as the Indian forces opened indiscriminate fire upon protesters. #Kashmir https://t.co/lv2AZLEZGw pic.twitter.com/z7Fdi7W0y5

— Kabir (@kabir_writes) December 15, 2018


The brutal killing of civilians triggered angry protests in the Indian-occupied Kashmir where protesters condemned what they called 'genocide of Kashmiri people'.

https://twitter.com/powerofkashmir/status/1073847864835493888
COMMENTS (1)
Comments are moderated and generally will be posted if they are on-topic and not abusive.
For more information, please see our Comments FAQ