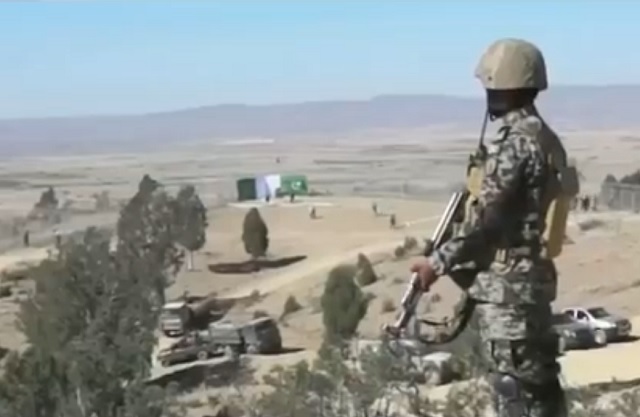 ---
The fencing work on Pakistan-Afghanistan border will be completed by the end of 2019, said the Pakistan Army's spokesperson, hoping the massive unilateral undertaking will effectively benefit peaceful people of the two countries while restricting terrorists.

802km out of 1,200km has been covered and work on 233 out of 843 forts has been completed in 'pri 1 areas', said Major-General Asif Ghafoor, the director general of Inter-Services Public Relations (ISPR) in a tweet on Saturday.

According to the chief military spokesperson, the total length of the fenced border will be 2,611km. He said the armed forces are aiming a speedy completion of the project in 'pri 1 areas', adding that the full project will be completed by the end of 2019.

Pakistan, China and Afghanistan sign MOU on anti-terrorism cooperation

Maj-Gen Ghafoor said the fenced border, once completed, will benefit peaceful people of Pakistan and Afghanistan while restricting terrorists.


Work on forts & fence continues on Pak-Afg Bdr. Total length 2611 KM. Work on 233 of 843 forts & 802 of 1200 KM pri 1 areas completed.Aiming speedy completion in pri 1 areas,overall completion by Dec 2019 IA.Shall benefit peaceful people of Pak & Afg while restricting terrorists. pic.twitter.com/o5xQbxEiEh

— DG ISPR (@OfficialDGISPR) December 15, 2018


The military-led construction effort went into action last year. The pair of nine-foot wire fences, with a six-foot gap, and topped with barbed wire, runs along rugged terrain and snow-capped mountains as high as 12,000 feet.

Officials estimate the project will cost over $550 million.

Earlier in the day, Pakistan, China and Afghanistan signed a Memorandum of Understanding (MoU) over anti-terrorism cooperation between the three countries in Kabul.

The MoU was signed by Foreign Minister Shah Mehmood Qureshi, Chinese Foreign Minister Wang Yi and their Afghan counterpart Salahuddin Rabbani.
COMMENTS
Comments are moderated and generally will be posted if they are on-topic and not abusive.
For more information, please see our Comments FAQ