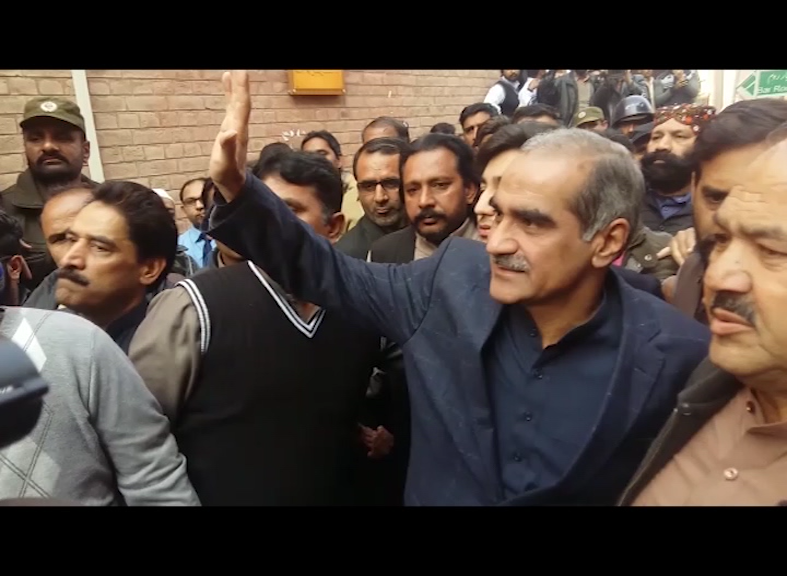 ---
ISLAMABAD:

In another blow to the Pakistan Muslim League-Nawaz (PML-N), the country's top anti-corruption watchdog arrested former railways minister Saad Rafique and his brother Salman Rafique after their pre-arrest bail applications were rejected by the Lahore High Court (LHC) on Tuesday.

The brothers had filed a petition in the Islamabad High Court (IHC) when the National Accountability Bureau (NAB) summoned them to appear before its combined investigation team (CIT) in connection with a probe into the brother's Paragon Housing Society.

Main accused in Paragon Housing scam shifted to Lahore

The IHC on October 11 asked them to approach the LHC, which had later granted them pre-arrest protective bails. These pre-arrest protective bails were extended earlier but on Tuesday a two-judge LHC bench denied an extension after hearing arguments of both the sides.

Afterwards, a NAB team arrested Rafique brothers, who had appeared before the bench, from the court premises. The PML-N activists present in the court premises agitated against the move; staged a protest and chanted slogans against the arrest.

Rafique brothers were later shifted to the NAB complex at Lahore's Thokar Niaz Beg area amid tight security. PML-N President Shehbaz Sharif, who is already in NAB's custody in connection with Ashiana-e-Iqbal Housing scheme case, condemned the arrested.

Later, the PML-N requested National Assembly Speaker Asad Qaiser to issue production order of Saad Rafique so that he may attend the ongoing session of the lower house in his capacity as an MNA.

PML-N supremo Nawaz Sharif is also facing two NAB references whose verdicts will be announced on December 24. He has already been convicted in one reference related to his children's flats in upscale London locality.

Later, NAB sharing grounds for arrest of the siblings said the arrest took place under section 09 A of 1999 NAB Ordinance. It said Saad Rafique in connivance with his wife Ghazala Saad Rafique, brother Salman Rafique, Qaiser Amin Butt and Nadeem Zia started a housing project Air Avenue.

"Later on, it [Air Avenue] was changed into M/s Paragon City (Pvt) Limited. Record showed that it was an illegal housing society. The accused persons in connivance with Nadeem Zia and Qaiser Amin Butt defrauded large members of the society.

"They also embezzled the illegal housing society projects funds for personal gains. The accused persons were collecting heavy amounts despite clear direction from the Lahore Development Authority (LDA)."

NAB said Saad got allocated 40 kanals of plots against his and his brother's name. They, by allegedly misusing their government position, extended the project illegally and benefited by selling many commercial plots amounting up to billions of rupees.   "The fact is that these plots were not property of Paragon Housing Society. They also committed corruption by defrauding the customers."

It said the accused persons could temper case files hence taint the prosecution. "The arrest of the accused persons was necessary for recovery of embezzled amount, collection of evidences for inquiry, investigations and culmination of the investigations to the logical end," the statement added..

Passport office blacklists Saad Rafique, brother on NAB's appeal

NAB will present them before an accountability court for remand on Wednesday (today).

Last week Qaiser Amin Butt had recorded a statement before a magistrate and said he was Saad Rafique's business partner in Paragon Housing Society. He is already in NAB's custody.

Few months back, Saad had denied before the Supreme Court of Pakistan any connection to Paragon Society. More arrests including that of a leader of the ruling party is also expected in the case.