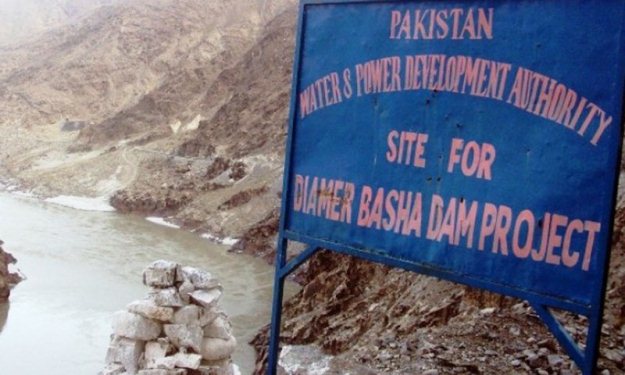 ---
ISLAMABAD: Overseas Pakistanis have contributed almost Rs1 billion to the Diamer-Bhasha and Mohmand Dams Fund, State Bank of Pakistan (SBP) data reveals.

According to SBP, approximately Rs8.46 billion had been deposited in the five months after the fund opened on July 6. Locals and institutions contributed Rs7.46 billion and foreign donations amounted to Rs1 billion.

Imran warns of drought threat, appeals for dams' donation

Chief Justice Saqib Nisar launched the fund on July 6 and later Prime Minister Imran Khan joined him in his appeal to overcome the country's water scarcity problem.

In September, the prime minister made a public appeal, especially overseas Pakistanis, to generously contribute for building new dams.

In a brief address to the nation, he described the ongoing water crisis as the biggest challenge confronting the country. He warned that if new water reservoirs were not built by 2025, the country would be facing a drought-like situation.

"Overseas Pakistanis, especially those living in European countries, should contribute at least $100 to the PM/CJP's fund for dams," Imran said.

The chief justice also conducted a fundraising tour of Britain to raise contributions.

Around $14 billion is required for the construction of the Diamer-Bhasha dam. Within Pakistan, contributions have been made through cheques, cash and mobile phone message service with Rs125 million received through SMS donations.

CJP to embark on fund-raising trip to Britain from Nov 20

Overseas Pakistanis transmitted their donations through debit and credit cards and in the SBP Nostro account and commercial banks overseas.

Donations from Pakistanis in the US amounted to Rs362 million and those from Britain to Rs 214 million. Pakistanis in Canada donated Rs 107 million.

Pakistanis in Saudi Arabia and Qatar donated around Rs40 million each, those in Switzerland contributed Rs 32 million and Rs65 million came from Pakistanis in the United Arab Emirates (UAE).

Smaller contributions also came from Pakistanis living in Afghanistan, Austria, Azerbaijan, Bangladesh, Belgium, Brazil, Brunei, China, Denmark, Dominican Republic, Finland, Fiji, India, Ireland, Jordan, Japan, Kyrgyzstan, Maldives, Malaysia, Netherland, New Zealand, Nigeria, Norway, Oman, Peru, Philippines, Russia, South Korea, South Africa, Sweden, Tajikistan, Turkey, Thailand and Tunisia.

The prime minister's assistant for overseas Pakistanis, Zulfikar Bukhari, expressed pride over the diaspora working to serve Pakistan. He said PM Imran's promise of facilitating donations boosted confidence for those donating from abroad.

CJP's dams donation drive fails to woo overseas Pakistanis

Bukhari announced the creation of an overseas Pakistanis Associates Committee to raise funds for the dams. He pledged to bring in more money from the upcoming fundraisers he is scheduled to attend abroad.
COMMENTS
Comments are moderated and generally will be posted if they are on-topic and not abusive.
For more information, please see our Comments FAQ