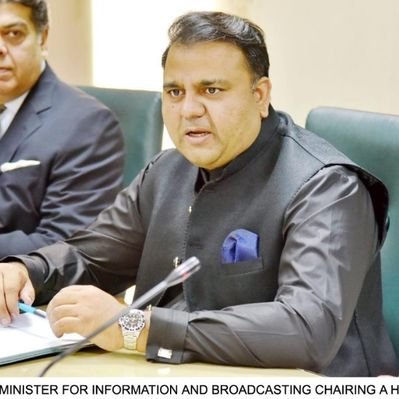 ---
Information Minister Fawad Chaudhry said on Saturday there was no room for corruption and money laundering in Pakistan and the Pakistan Tehreek-e-Insaf (PTI) government was creating an enabling environment for the expatriate Pakistanis to make investment in their home country.

Addressing a big gathering of British-Pakistani community on the premises of Pakistan High Commission, Chaudhry said Prime Minister Imran Khan was determined to end corruption, promote good governance and the rule of law in the country.

Chaudhry thanked the overseas Pakistanis for playing an important role in supporting the PTI and its leader Imran Khan in elections in Pakistan. The minister said the government was bringing about a paradigm shift where the powerful people and groups were being brought under the law.

"The groups and leaders, who were corrupt and considered themselves above the law, have been arrested and sent behind the bar," he told the gathering. "Our government is a scam-less dispensation as we have ensured good governance and rule of law in the country," he added.

Highlighting Pakistan-India relations especially the Kashmir issue, the minister said India had always rejected Pakistan's dialogue offers. However, he added: "We will wait for outcome of Indian elections. We will wait until India rethinks its position on Kashmir and come to negotiating table to resolve the dispute peacefully."

The minister said that due to the prudent economic policies of the government, the remittance and exports have increased. "The government has arranged $12 billion to bridge gap in the balance of payments and now the issue is resolved. Workers' remittances remain at $20 billion per annum… we want to increase it to $30 billion," he added.

He said that the government was providing incentives to export-oriented industries like textile, leather and sports goods for reducing the trade deficit in three years. He added that Pakistan had great potential to boost tourism sector and government also wanted to particularly promote religious tourism in Pakistan.

Chaudhry assured the British-Pakistani community of resolution of their problems. He said he had established a unit for overseas Pakistanis under a deputy secretary in the Ministry of Information to receive their complaints. He asked the Pakistani diaspora to take benefit from this facility.

To a question, the minister said under the Constitution, though the dual nationals cannot contest elections but there was no discrimination between Pakistanis residents and the overseas Pakistanis with regards to the rights and benefits enjoyed by them.
COMMENTS (2)
Comments are moderated and generally will be posted if they are on-topic and not abusive.
For more information, please see our Comments FAQ