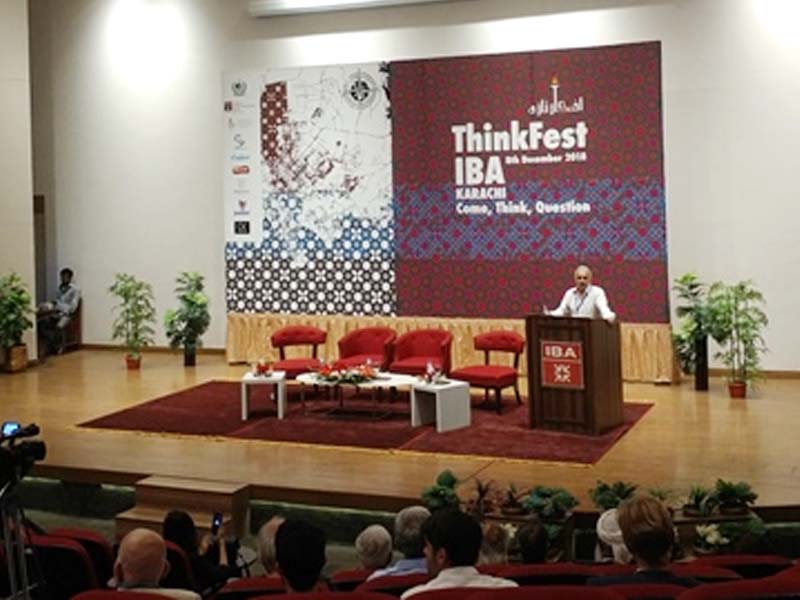 ---
KARACHI: In the changing world of today, thinkers, intellectuals and writers have to battle on two fronts:  the rise of the far right, neo-Nazism in the West and 'radical Islam'. Hanif Kureishi, renowned British author, playwright and screenwriter, has the solution to countering these two challenges - radical secularism.

"When I'm talking about [secular] radicalism, I'm talking about a sense of solidarity among us. Other people of colour in Europe, women [particularly in context of the #MeToo movement], gay and transgender people," Kureishi clarified his use of the word 'radicalism' while delivering the keynote address at Institute of Business Administration 'ThinkFest' held on Saturday.

Kureishi does not believe that the rise of far right in the West is linked to the emergence of 'radical Islam'. He blames neo-liberalism for that. However, he is greatly disturbed by people who call themselves Muslims shooting other cultural workers, writers and artists. "It's one of the most disgraceful things I've seen in my life," he says.

After 9/11, the wars in Iraq and Afghanistan along with reprisal bombings in Europe and other horrors, the West has lurched to the right. It has done so, partly by constructing Islam as the alien other, explains Kureishi as he dove into the core of the problem. "Now Muslims, like Jews and Blacks, will be punished, stigmatised, harassed and surveyed and we're all scared for good reason," he added.

Thinkfest: IBA to host academic festival

"Now Muslims in Europe become the victims of a confining caricature, which has helped build the far right. Race and religion take centre place in the creation of a new Europe. And the right is determined to use Islam and Muslims to create totalitarianism. Minorities have never been exploited this way before," he said, explaining the dynamics behind the events unraveling in the West.

However, Kureishi blames Muslims as well for their current debacle. He describes the contemporary view of Muslims as a mirror image of the current far right ideology which is overtaking the West.

"Sexist, homophobic, insular, monocultural, combative," he explained.

Kureishi believes that this form of political Islam, which emerged in the 90s, is exhausted as a future. "Clearly it leads to nowhere but annihilism. It was shameful that the formerly colonised could barely wait to recolonise themselves within the prison of religion and ideological darkness."

He stresses on the need for ideas, criticism and free thought to counter these challenges, with writers and journalists playing a key role.

Monotheistic fundamentalism reaction to aggressive secular leadership: Karen Armstrong

He says the notions about the identity of Muslims, especially those originating from the Subcontinent, have become very limited and it is time to "detoxify the brand".

"Every fascist in Europe speaks about Muslims as if they're all the same and as if they come from the same background. This is very dangerous," he added. Kureishi believes the answer lies in reaching out to other people of colour. "We have to create solidarity in order to create a free place for us in Europe," he said.  But Kureishi knows this is going to be a very difficult struggle. "I'm witnessing the kind of fascism [in Europe], the like of which I've never seen before," he noted in conclusion.

Published in The Express Tribune, December 9th, 2018.
COMMENTS
Comments are moderated and generally will be posted if they are on-topic and not abusive.
For more information, please see our Comments FAQ