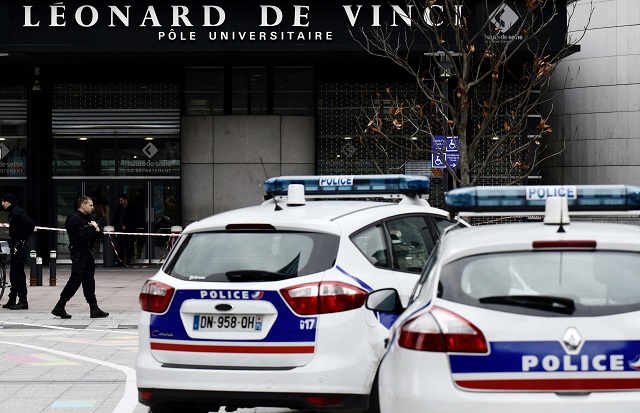 ---
NANTERRE, FRANCE: A disgruntled former Pakistani student stabbed his former professor to death in front of students at a university located in the suburbs of Paris on Wednesday, the Irish Times reported.

The 37-year-old Pakistani had been expelled from the school last year and is in police custody for the murder.

Niqab-wearing student barred from entering Lahore school

Witnesses told a French newspaper that the two men had a brief conversation when the former student took out a knife and stabbed the professor 13 times in the throat.

"He tried to flee but two security guards from the university managed to hold him down until police arrived," said a student named Shaima who was certain the crime was premeditated.

The victim, 66-year-old John Dowling, was an Irish lecturer who taught English and international relations at the Pôle Universitaire Léonard-de-Vinci, a private university located in La Défense business district, 8km northwest of Paris.

Dowling died on the spot and the knife was found at the scene.

The suspect had enrolled in the university's management school in September 2016 but after failing the final examination, had been told he could not continue in August 2017.

The university's director, Pascal Brouyae, told media that the Pakistani student was extremely upset after learning he had to leave the university.

NCA student killed over rent payment dispute not blasphemy: police

Many at the university were heartbroken over the professor's murder. One student told a Paris newspaper, "He was a passionate professor who always made you want to learn more. I cannot understand that anyone could attack him".

Marine Le Pen, the far-right French leader who is known for Islamophobic and anti-immigrant rhetoric tweeted:

"It is with horror that we learn of the death of a teacher at Courbevoie, in front of his school, with his throat slit by a former student. A threshold has been crossed in the barbarity that contaminates our country, and which spreads amid total indifference by the government."

Higher Education Minister Frederique Vidal expressed "deep shock and anger" at the killing which has stunned students and staff at the university.

This article originally appeared in the Irish Times.


COMMENTS (4)
Comments are moderated and generally will be posted if they are on-topic and not abusive.
For more information, please see our Comments FAQ