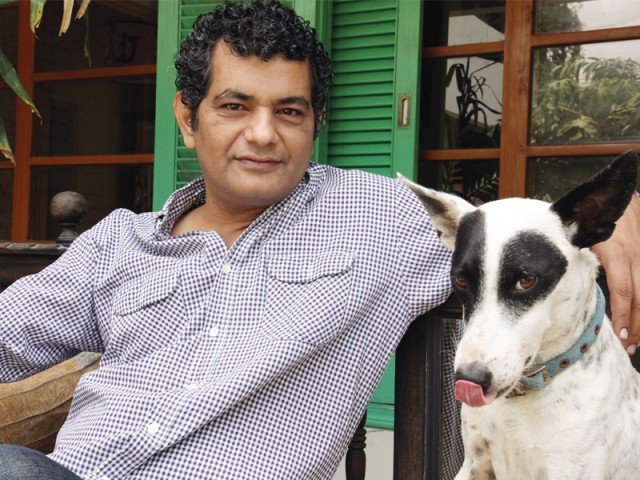 ---
KARACHI: Modern warfare has given birth to a lot of absurdities and there is something very disturbing about the human impulse to start a war, setup refugee camps, and then move on to another conflict, according to critically acclaimed novelist Mohammed Hanif.

The author made the remarks on Sunday during a ceremony related to the release of his book, Red Birds, in front of a small audience at British Council Library in Karachi. The award-winning writer took part in a short discussion on the new novel with journalist Sanam Maher, and also held a book signing afterwards to mark the occasion.

This is the first offering from Hanif in almost seven years. His last book, an ambitious undertaking which sought to explore the issues of identity in urban Karachi by looking at religion, class, caste and gender, was published in 2011. It was called Our Lady of Alice Bhatti.

Foreign info ops: Pakistan mentioned in over 5,000 tweets

However, the claim to fame for the journalist-turned writer was his first book, titled A Case of Exploding Mangoes, which came out in 2008, nearly ten years before Red Birds. The debut novel was a satirical thriller set around the plane crash which killed former Pakistan president General Zia-ul-Haq, and narrated by a fictional officer of the armed forces who was not particularly fond of the military dictator.

The Express Tribune spoke to Mohammed Hanif about Red Birds, contemporary warfare, ghosts, and the importance of satire before the event. Parts of the interview with the author have been reproduced below for interested readers.




In conversation with Mohammed Hanif

Satirising war is a difficult job for a writer, especially if the wounds of the devastation it caused are still fresh. What did you hope to achieve by writing this account? 

Satire or not, writing is difficult for me. I set out to tell a story about a family which is living in a post-war situation, and in wars, children go missing or are expected to act like adults. There is something quite absurd about our constant need to start a war, set up refugee camps, then forget them and start new wars and set up more refugee camps. I wanted (with this book) to remind ourselves that we are complicit. There is an old poetic conceit that the universe is actually God's laughter.

A part of the public opinion surrounding the book, driven by reviews in many international publications, centres on the idea that it is a damning indictment of US foreign policy. Do you think the book started out this way? Or was it a by-product of writing about modern warfare?

I think there is a dire need for worldwide indictments of US foreign policy, but that is better done through journalism, or protests and other means. Hopefully, a novel is a more complicated beast. America and its modern warfare machinery are involved in zillions of conflicts in the world, so yes, it is a by-product.

A few striking absurdities that the characters are witness to, detailed in the book, are left for the reader to interpret. Indeed, the title is a tribute to one such anomaly. Is this the magical realism of Garcia-Marquez? Or is it something entirely different?

People of my generation were obsessed with Marquez, his diction seemed familiar as if somebody was telling stories in our own language. Also reading, like writing, is a very personal, intimate act; two people can watch a Netflix show together but two people do not read a book together. So the reader is a partner in crime and I like that intimacy about reading and writing novels.

Most reviews of Red Birds do not address the single most interesting part about the book regarding talking ghosts. Can you please shed some light on the purpose they serve in your tale? Why did the focus on these ghosts accelerate towards the end of the book?

I think at the heart of the book is a missing boy, and when people go missing where do they go? What does it mean when you say you miss someone? I lost a few friends over the past six years. Ghosts are the ones who left us in the middle of a conversation; someone still likes their Facebook post, or maybe they took most of our lives with them. It is entirely possible that we are the ghosts.

Do you think the readers from the East and the West will perceive Red Birds differently? If so, how does that reflect on you as a writer from Pakistan?

I live in Karachi, not too far from your paper's offices. I do not think so; I like to believe that a reader is an individual who comes to the book for an intimate experience. They bring their prejudices to the book as I do. If it is a good story, east and west get along for the length of the book. It is all fiction.

Do you have a message for the readers of The Express Tribune?
You are our last hope.




Red Birds

Red Birds is set in an unnamed desert location and is narrated primarily by three main characters, called Ellie, Momo and Mutt. The setting is a departure from previous novels by Hanif, which were based in Pakistan. Even though the author does not specify the particular country in which the story is set, readers can picture the place as the narrative unfolds in the middle of a conflict zone.

Major Ellie is a pilot in United States Air Force, and crash lands in the desert at the beginning of the book, near a refugee camp he was supposed to bomb. Hanif is a former pilot, and drawing on personal experiences, he has conjured up an interesting character in Ellie, a "zoomie" - slang for a graduate of US Air Force Academy - trying to make it in a drone world, where pilots are fast becoming "museum pieces they keep for old times' sake".

Child stunting rates highest in South Asia: report

After wandering in the sands for almost a week on a few survival rations, Ellie runs into Momo and Mutt, residents of the refugee camp the pilot was supposed to bomb, who rescue him for reasons more complicated than just basic humanitarian sympathy. Momo is a teenager with a sharp tongue, a child of war who has grown up a little too quickly, while Mutt is his pet dog. Even though Hanif says that Momo is a voice he has had inside his head since a very long time, critics of the work point out that there are aspects to the personality of the fictional teenager that are not altogether authentic.

Momo is introduced to readers as a person who says that "while people discuss problems of growing up, I find solutions to problems that grown-ups have". He dreams of being a big business person, courtesy western media, and comes up with charming statements like "business is the process through which you turn ideas into hard cash, you take positions on futures and you see what bits of the past are gonna do well in the markets". According to The National, sometimes it is hard to believe Momo is only a fifteen-year-old. Momo also has a brother who disappeared some time ago (Bro Ali), a father (Father Dear) and mother (Mother Dear) who narrate the tale alongside him.




The third main character is Mutt, a dog Momo found around the camp and has now befriended. Mutt narrates the story in a complex manner, mixing philosophic observations on everyday life with amusing anecdotes like "the unfortunate incident with an electricity pole which fried my brains and turned me into a teller of tales". Interestingly, all the three protagonists of Red Birds hide a slight disdain for the concept of a Supreme Being in charge of the world, and their narrations are littered with underlying cynicism about the futility of this belief, which is perhaps a natural consequence of the story being set in a post-war refugee camp.

Monotheistic fundamentalism reaction to aggressive secular leadership: Karen Armstrong

The refugee camp is located in the middle of the desert, right next to an installation for American troops, referred to as The Hangar, which has been abandoned. The camp has no boundary walls (Momo tells us it has been stolen), no electricity (there are electric poles though), and no roofs on top of houses (instead there is a blue plastic sheet which covers everything). The only attractions in the camp are a fruit and vegetable shop and a hardware store. The camp also houses other characters which make intermittent appearances in the story, such as The Doctor, a veterinarian doubling as a doctor.

Into this world comes an American aid worker, a consultant named Lady Flowerbody, who is researching the effects of the war on the Muslim mind. The conflicts in the personality of this consultant aim to mirror the conflicts of the American psyche with regards to distant wars. The woman, a western academic, is not prepared to deal with the reality of war, instead trying hard to focus on "using the community as a laboratory for testing my hypothesis". The camp inmates see her as "the embodiment of lazy, tautological bullshit with a purse full of recreational hash".

Inevitably, the characters of the book collide, some early on, others at the end. These encounters shape the book, and are quite revealing. In fact, they set the pace of the book. As Momo rescues Ellie from the desert, he has a plan in mind to use Ellie to get inside The Hangar to look for his missing older brother, while Ellie is just glad the camp inmates buy his backstory about being an aid worker. Ellie and Lady Flowerbody also have a brief encounter, where Ellie, in a typical cynical manner, says, "If I didn't obliterate cities, how would you get to set up refugee camps? Where would all the world's empathy go?"

Toward the end, the narrators multiply, with Mother Dear and Father Dear, as well as The Doctor, getting cameos. As all the characters enter The Hangar, they encounter the ghosts of foreign soldiers who have taken part in the war over the years. It is here the tale gets somewhat uneasy and dark, and threatens to slip away entirely. However, once you look at the big picture, these ghosts serve as a timely reminder of the cost the forgotten and the missing pay in wars. Indeed, Hanif calls the ghosts a tribute to the fallen.

Witty, tragic and at times hilarious, Red Birds has all the ingredients for a thrilling read. Hanif has admitted that the book is an indictment of US foreign policy in the Middle East, South Asia and North Africa, although cautioning that novels are more complicated than newspaper articles. "Everyone will bring their own prejudices to the book," he explained to the audience gathered in Karachi on Sunday.