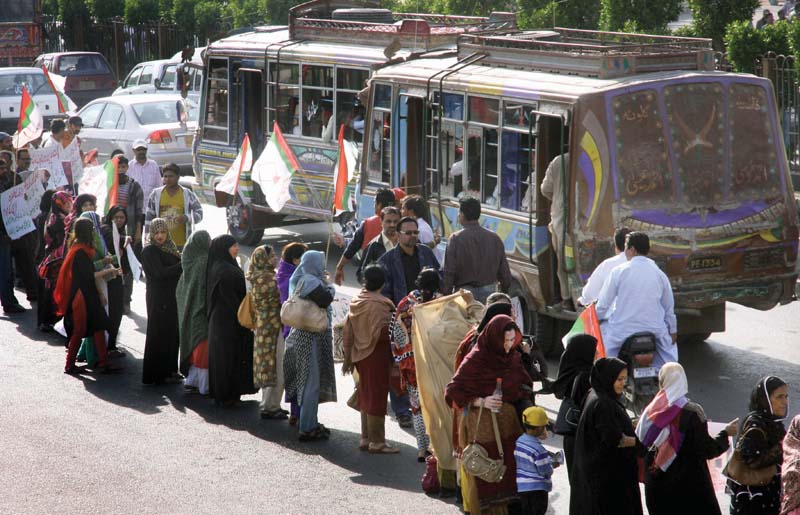 ---
HYDERABAD: Muttahida Qaumi Movement-Pakistan's (MQM-P) lawmakers have denounced the Sindh government for persistently failing to address civic issues in Hyderabad and for sidelining the city's elected representatives in decision-making. At a press conference in Hyderabad on Thursday, MNAs, Sabir Qaimkhani and Salahuddin, and MPAs, Rashid Khilji and Nadeem Siddiqui, deplored that problems ranging from clean drinking water to drainage, electric and gas supply, and encroachment have been compounding by the day.

"We very much appreciate the work of the Supreme Court-mandated Commission on Water and Sanitation but it is sad that there is no visible improvement in the system so far because of the government officials' attitude," said Qaimkhani. According to him, the city's main roads and intersections appear inundated in sewage puddles while problems of clean drinking water and water shortage remain unaddressed.

Although maintaining cleanliness is in the purview of the Hyderabad Municipal Corporation (HMC), which is headed by MQM-P Mayor Sayyad Tayyab Hussain, water supply and drainage are in the domain of the Water and Sanitation Agency. The agency is operating under the control of Sindh local government department.

The legislators also found fault with the ongoing anti-encroachment campaign in Hyderabad saying that they have not been taken on board. "The deputy commissioner had agreed to provide a road map outlining what development works like road expansion or laying drainage system will follow the removal of squatters. But we haven't been told anything," complained Qaimkhani.

He contended that the previous drive against encroachment had also gone awry as the areas which were marked for the operation were mostly left and substituted by those which were not then part of the plan. "The administration left Latifabad units 6 and 8 where there is encroachment but they began operation in Latifabad unit 11," said the MNA.

The lawmakers said that the traders whose shops and stalls are being removed during the operations are not being provided alternate places so that they continue earning their livelihood. They said no jobs were created for people of Hyderabad during last the 10 years of Pakistan Peoples Party's (PPP) rule and now local businesses are being dismantled.

Qaimkhani also held the district administration responsible for the complaints of low gas pressure in Latifabad and City talukas. According to him, the Sui Southern Gas Company Limited is ready to lay pipelines to increase gas supply. "All the deputy commissioners posted during the last one and a half years have kept refusing to allow the road cutting for laying the pipelines," he claimed.

"Hyderabad is the only city in Sindh where permission for road cutting has to be taken from the DC. Elsewhere the power is vested in the local government authorities." The MQM-P also blamed Sindh Industrial and Trading Estate for failing to develop SITE phase II in Hyderabad.

MNA Salahuddin said that 300 acres of land was allotted for phase II and millions of rupees were collected from the industrialists against the allotments 10 years ago. But, he lamented, so far neither infrastructure has been developed nor possessions have been given. "If this industrial zone could have been developed, thousands of people of Hyderabad would have found employment."

MQM-P's legislators also made complaints against the Hyderabad Electric Supply Company for prolonged and unscheduled outages, detection bills and inordinate delay in addressing complaints of electric supply suspension. They said that they had planned a protest demonstration but the company's chief executive officer, Raham Ali Otho, assured them in a meeting on Wednesday that their complaints would be addressed.

Published in The Express Tribune, November 30th, 2018.
COMMENTS
Comments are moderated and generally will be posted if they are on-topic and not abusive.
For more information, please see our Comments FAQ