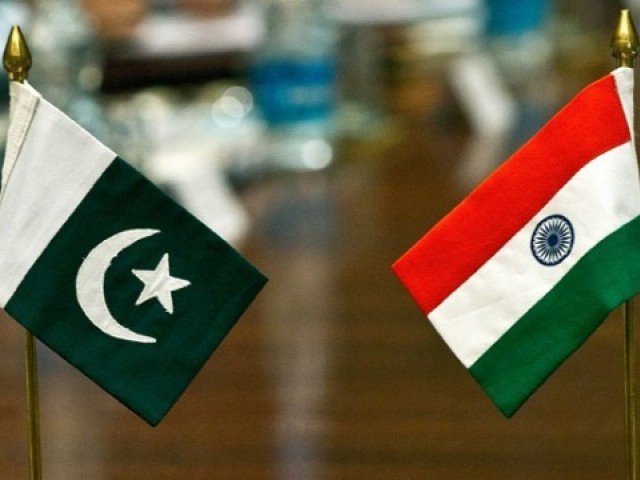 ---
KARACHI: India continued to harp on its terrorism mantra on Wednesday despite Pakistan's latest peace overture as Indian External Minister quashed the euphoria triggered by Prime Minister Imran Khan's Kartarpur corridor initiative by putting a dampener on hopes it might lead to resumption of bilateral talks between the arch-rivals.

Sushma Swaraj precluded India's participation in a summit of the South Asian Association for Regional Cooperation (Saarc) which is scheduled to be held in Pakistan.

"The moment Pakistan stops terrorist activities in India, the dialogue can start but the dialogue is not connected with only Kartarpur corridor," Indian media quoted Swaraj as saying. "We will not participate in Saarc [summit either]."

The statement came hours before Premier Imran performed the groundbreaking for the Kartarpur corridor in Narowal district of Punjab. The long-awaited corridor will link Gurdwara Darbar Sahib to Dera Baba Nanak in Indian district of Gurdaspur, providing a visa-free access to the Sikh community.

Pakistan Army laments Indian media's attempt to take the spotlight off Kartarpur event

"I fear the Indian government has taken an extreme position on resumption of dialogue," said senior Indian journalist Rajdeep Sardesai when asked about Sushma's statement. "While India has got it wrong by setting it as a precondition, Pakistan also cannot allow [terror] groups to first flouish then term them non-state actors."
The move to open the Kartarpur corridor has been welcomed by the Sikh community on both sides of the border as a "dream come true".

The community has long demanded they be able to walk to the Kartarpur shrine directly from Dera Baba Nanak rather than through the Wagah border crossing.

Speaking to The Express Tribune, Sardesai said the two countries are burdened by history. "But as Imran Khan said the world has moved on from worse. Russia, Germany, France have all managed to overcome it. I think both the countries need to take a step back and realise the lost opportunities."

On the day of the groundbreaking ceremony, India triggered a debate by ruling out Prime Minister Narendra Modi's participation in the the Saarc summit.

New Delhi had pulled out of the 19th Saarc summit scheduled to be held in Islamabad in December 2016. Taking cue, its regional allies Bangladesh, Afghanistan and Bhutan also withdrew from the meeting forcing its cancellation.

Senior journalist Murtaza Solangi told The Express Tribune that India would continue to decline Saarc initiative until it fits into her grand strategic calculus. "When India is on a mission to isolate Pakistan, it makes no sense for them to accept Pakistani invitation to join the Saarc platform in Pakistan."

India has frustrated every Pakistani move for regional peace and stymied regional cooperation with its obduracy. Earlier this year, India had called off a pre-planned foreign ministerial meeting on the sidelines of the UN General Assembly over the "killing of an Indian border soldier".It did not provide details as to when the incident had taken place.

While India continues to blame Pakistan for 'cross-border' terrorism, it vehemently opposes independent probe recommended by the UN into blatant human rights violations in Indian Occupied Kashmir - an investigation Pakistan favours.

Kartarpur border corridor: Pakistan and India break the ice

Sardesai urged New Delhi and Islamabad to move away from setting terrorism and Kashmir dispute as preconditions. "What happened today [Kartarpur corridor] was an important step. We need to push for people-to-people engagements. The beneficiary of today's event was a common Sikh pilgrim not a politician."

Solangi said the Kartarpur corridor and people-to-people contacts might bring about a slight change in the narrative "Without understanding on the Indian side this may even be counterproductive given the Sikh insurgency of the 1980s," he added.

India accuses Pakistan of sponsoring terrorism and supporting the secessionist Khalistan movement, even though New Delhi doesn't have anything to substantiate these allegations.

Islamabad, on the other hand, accuses Indian spy agency of bankrolling and sheltering Baloch terrorists. Indian spy, Kulbhushan Jadhav, who was arrested in Balochistan in 2016, has confessed to India's involvement in terrorist activities in Pakistan.

Sardesai cited political pressure as a reason for India reluctance to resume peace talks with Pakistan. "It is difficult to explain bilateral ties to your constituents back home with continuing cross-border terrorism. We need an atmosphere of confidence to boost trade."
Solangi differed.

"The Indian side at the moment is reluctant [to resume peace talk] because of the upcoming elections. Peace with Pakistan does not suit the ruling Bharatiya Janata Party at the moment."

He feared the reluctance to revive dialogue would continue post elections if India does not feel Pakistan's security establishment is fully on board with the peace initiative suiting Indian strategic interests.
COMMENTS (3)
Comments are moderated and generally will be posted if they are on-topic and not abusive.
For more information, please see our Comments FAQ