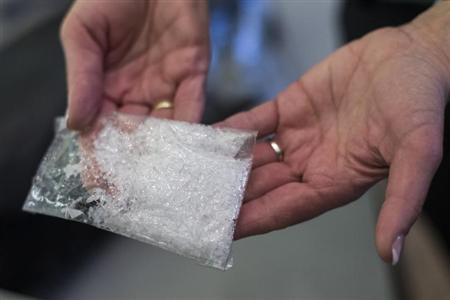 ---
ABBOTTABAD: The use of methamphetamine, commonly known as meth or ice, has become a scourge in Khyber-Pakhtunkhwa and police were making all out efforts to control the spread of this highly-stimulating drug destroying the youth of the province, Abbottabad police chief Abbas Majeed Marwat said.

DPO Abbottabad Abbas Majeed Marwat urged the people to cooperate with the police and inform about drug peddlers in their areas.

Talking to the media he said that the Abbottabad police had carried out a three-week crackdown against sale of drugs with particular focus on ice.

DPO Marwat said at the end of the drive on Tuesday, the the district police had seized over 63 grammes of crystal meth or ice, 152 kilogrammes of hashish, over seven kilogrammes of heroin and 48 bottles of smuggled liquor. A total of 156 cases in this regard.

According to police, the Cantt police station registered 43 cases against drug dealers and huge quantity of hashish, over one kilogramme of heroin and 30 kg ice drugs in its area. City Police station registered 38 cases and seized massive quantity of drugs.

During the campaign, raids were conducted on different places with special attention to the spots near to the educational institutions.

Police were on their toes following news that some of drug sellers had focused their attention on the university and colleges.

On the directives of DPO Marwat, plainclothesmen were deployed for recce of the areas around educational institutions to spot peddlers selling drugs to students.

Following successful action, Sherwan police station registered six cases, Mirpur Rashid Swati police station registered 12 cases, Lowra Shezad Khan Police Station registered five cases and Bagothar police station registered four cases and recovered huge quantity of drugs and narcotics from accused.

The DPO said that campaign would continue against drug traffickers and assigned special task to all police officers in the district to eradicate drugs including ice from the district.

The public may register complaints through SMS or contact on 03461119651 in this regard.

Published in The Express Tribune, November 28th, 2018.
COMMENTS
Comments are moderated and generally will be posted if they are on-topic and not abusive.
For more information, please see our Comments FAQ