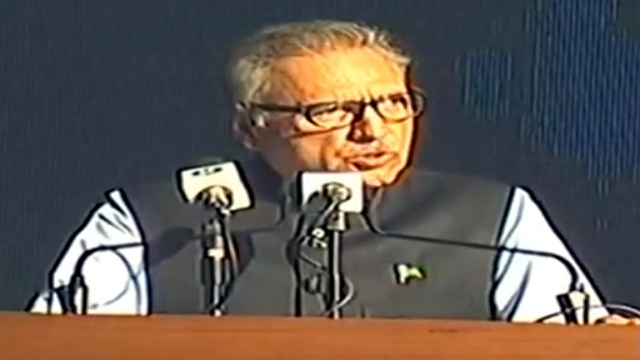 ---
President Arif Alvi reiterated on Tuesday that Pakistan's "weapons are for defence, not offence" and added that the nation aspires for peace, and have been striving for it.

Addressing the inauguration ceremony of IDEAS International Exhibition 2018, taking place at Karachi from November 27-30, the president said that Pakistan wants regional disputes to be resolved through talks.

"War is not an option," he maintained adding that even in Kashmir, Pakistan has been looking for peace but India has refused to come to the table.

International defence expo kicks off in Karachi

"India should come to the peace table and avoid excuses," he added

The president also described how "the security paradigm is changing," adding that it has gone beyond defence and now there should be food and economic security as well.

"When the paradigm is not in our favor, we have to assure that nobody turns a bad eye towards us," President Alvi stated in his address.

President Alvi also lauded the sacrifices of the armed forces on the occasion.

IDEAS and traffic flow

"There has been tremendous damage to our economy. We have withheld our borders very strongly," President Alvi said, adding that, "I visited Turkey a few weeks ago. They host refugees. Pakistan has hosted refugees since 1970's, however, the world has forgotten about Pakistan's contributions.

"Pakistan is home to 3.2 million Afghan refugees."

Aiming for the future president Alvi said that "we want the world to look up to our defence capabilities."

High ranking delegations and services chiefs from friendly countries are also attending the exhibition, Radio Pakistan reported.

Traffic Plan for IDEAS 2018

Sindh Police on Monday, released a traffic plan to be followed in the metropolis during the course of the four-day IDEAS 2018 expo.

According to a press release by Sindh Police, heavy and commercial traffic will not be allowed to commute from Stadium road to Karsaz. University road and Shahrah-e-Faisal would remain open to traffic. Heavy and commercial traffic would also not be allowed to commute from various routes such as from Rashid Minhas road to Dalmia and from PP chowrangi to NIPA.


The traffic police have issued a traffic plan for the 10th International Defence Exhibition and Seminar (IDEAS) 2018 set to begin in Karachi on November 27.#sindhpolicedmc #IDEAS2018 #TrafficAlert pic.twitter.com/PBc605agiF

— Sindh Police (@sindhpolicedmc8) November 26, 2018
COMMENTS (1)
Comments are moderated and generally will be posted if they are on-topic and not abusive.
For more information, please see our Comments FAQ