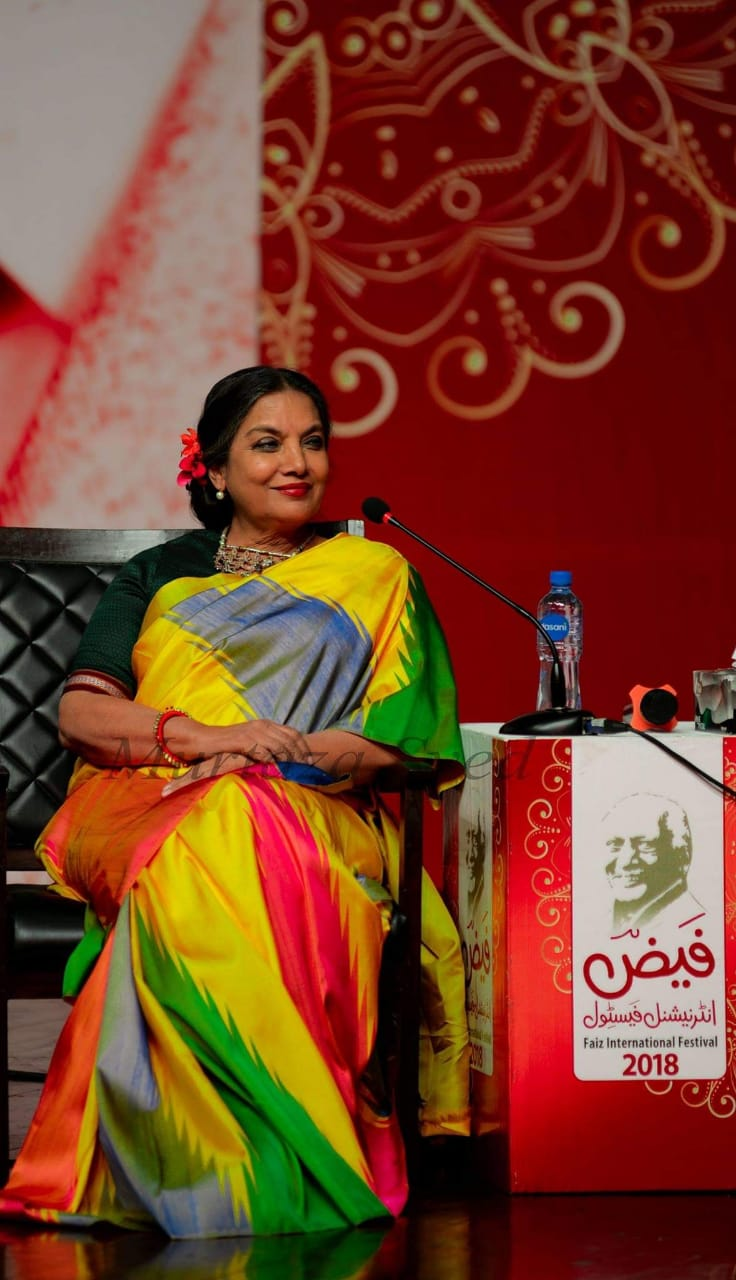 ---
LAHORE: The fourth Faiz International Festival kicked off yesterday as renowned Bollywood stars – poet Javed Akhtar and his actor wife Shabana Azmi – joined the event held at Lahore's Alhamra Hall. The mela's first day saw an exhibition at Alhamra Art gallery featuring posters of Faiz Ahmad Faiz and his work.

A play titled Kaala Mainda Bhes was also performed by Ajoka Theatre, paying tribute to their late founder, Madeeha Gauhar. Furthermore, a musical night was held with singer Tahira Syed.




Unsurprisingly, Azmi and Akhtar were the centre of attention at the fete, with an innumerable amount of people heading to the venue for the actor's session. The festival's administration had sent out a special invite to the star couple.

The two entertained audiences alike, with Akhtar reciting his poetry and Azmi making her appearance during a special event titled 'Kaifi and Faiz', alongside Faiz Ahmed Faiz's daughter Salima Hashmi. The name of the session has been derived from Azmi and Hashmi's fathers, Kaifi and Faiz, respectively.




During the session, the daughters of the late legends spoke about the work of the famed poets and the circumstances of their era. Advocate Ibn Abdur Rehman, writer Dr Sughra Sadaf, Faiz's daughter Muneeza Hashmi, and many other great personalities were present in the audience.

The Sparsh actor spoke of her father and his relationship with the legendary Faiz. "My father and Faiz Ahmad Faiz were progressive and revolutionary poets who spoke of ground realities and public situations within their poetry," Azmi shared during her session. "Their poetry stimulated from work and struggle wherein they asked the public to never lose hope. There's a reason people still take guidance from the poetry of Kaifi and Faiz, till this day."




Azmi went on to recite Faiz's poetry after which Akhtar also presented his own. Although the Kal Ho Naa Ho lyricist provided a snippet of his work to the audience yesterday, a complete session titled 'Mohabbat Ki Zubaan' will be held today, during which Akhtar will speak alongside poet Amjad Islam Amjad. The Bollywood veterans received a great response from the audience. Azmi was so overwhelmed and joyed with the positive reaction that she stated she will make sure to partake in the festival next year as well.

The Faiz Festival will run until November 18, 2018, and is expected to feature around 100 celebrities, both local and foreign, as well as 30 international scholars who will be speaking at different sessions. Alongside the general public, various showbiz personalities, literary giants, human rights activists and prominent foreign guests were also present.




Alhamra Hall was chosen as the location for the event as it is the hub of entertainment where numerous activities, literary discussions, theatre showcases and musical performances are held. Before the festival, Punjab's Information and Culture Minister Fayyazul Hasan Chohan and Governor Punjab Chaudhry Muhammad Sarwar met up with the Arth star and Akhtar for their official welcome.

Edited by Ramsha Vistro

Have something to add to the story? Share it in the comments below.
COMMENTS
Comments are moderated and generally will be posted if they are on-topic and not abusive.
For more information, please see our Comments FAQ