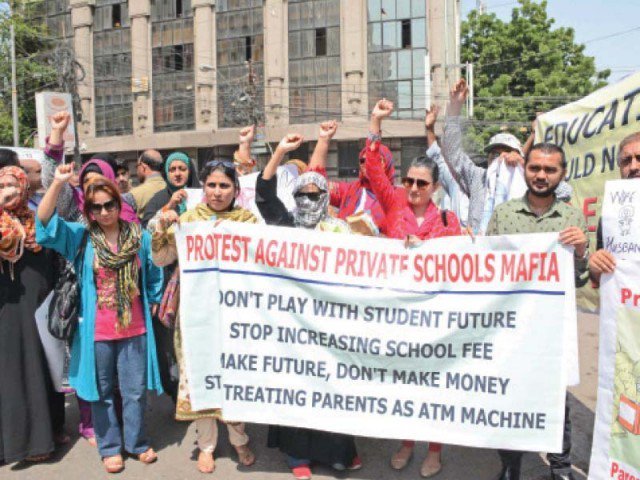 ---
ISLAMABAD: The top jurist of the country will personally chair a committee to resolve issues surrounding fee hikes by private schools swiftly and amicably.

This was directed by a three-member bench of the Supreme Court, headed by Chief Justice of Pakistan Mian Saqib Nisar, heard a suo motu case regarding fee hike by the private schools.

During Tuesday's hearing, CJP Nisar remarked that private schools were raising fees while the parents were left clutching straws. He added that ideally, all the stakeholders should sit together and find a solution to the problem.

"People are operating one-room schools while one woman in Karachi was operating 56 schools," he remarked and asked where did so many schools come from?

He added that the rising population of private schools needs to be curbed and a mechanism needs to be devised for determining and raising fees.

During the hearing, the Law secretary told the bench that private schools wanted to raise fees by eight to 10 per cent, and did not want any restrictions placed on them.

The law secretary and the commission told the court that the parents of students and lawyers for private schools had agreed on Terms of References (ToRs) for the commission and that the stakeholders are somewhat agreed on limiting fee hikes to around eight per cent per annum.

Justice Ijazul Ahsan dilated that the current committee, headed by a federal ombudsman and former attorney general Makhdoom Ali Khan, was taking far too much time to conduct a forensic audit of the fees being charged by schools.

He further asked which economic indicator can school fees be linked to? Moreover, he said that the forensic audit must determine how much do schools earn. Based on this information, a fees mechanism can be determined.

Justice Ahsan went on to suggest that an annual rate for raising fees should be fixed because inflation keeps fluctuating during the year. However, the fee hike must be justified.

CJP Nisar remarked that there was nothing to see in the initial report and expressed dissatisfaction on the committee's progress on the matter and remarked that he would chair the committee himself to decide by how much and how many times a year private schools will be allowed to hike fees.

The committee members were summoned on the next hearing of the case with the CJP and adjourned the case.

Published in The Express Tribune, November 14th, 2018.