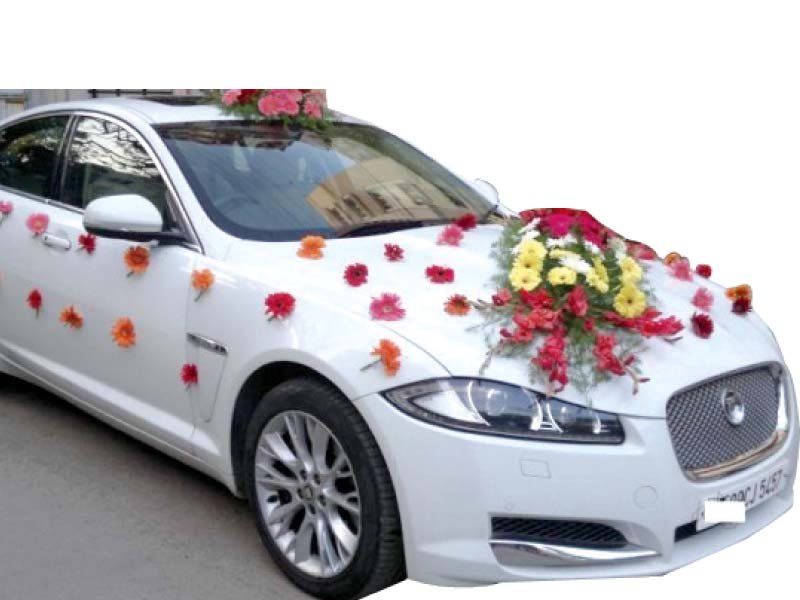 ---
ISLAMABAD: For most of the people, that one special day, their wedding, comes only once in a life and they want to make that day as memorable as possible with everything fancy and extravagant.

The vehicle to bring home the bride is an important part of the event and therefore it has to be decorated preferably with flowers and ribbons to give a royal touch. With the start of the wedding season, florists and their workers are seen busy in decorating cars dressing them up with colourful flowers for wedding ceremonies as the demand for decorative cars is at its peak all across the country ,

"Groom's car and bride's Doli without decoration of flowers are incomplete," said a florist. Decoration of the wedding car has become an important feature of Pakistani weddings

People adorn their cars with colourful flowers and ribbons that enhance their aesthetic value and attractive look to them

According to citizens, a car looks more beautiful and attractive when it is decorated simply with flowers that are not vibrant in colours and simple in all aspects, this wedding car decoration idea is all you need to use to deck up luxurious cars in a royal style.

Colourful decorated cars are always a main attraction for guests attending the ceremony as it looks elegant, they added.

A florist Sadiq Ali said: "to make the event of marriage successful and memorable occasion a well decorated car has lot of influence because if the wedding car is decorated in unique way then it could make the overall event beautiful."

Another flower shop owner Zia Khan said that decorating a wedding car is becoming like an art these days as wedding cars can be seen reflecting a good sense of aesthetic value.

In Pakistan It has become a traditional trend of luxury cars for the wedding and for this purpose there are different types of tips following for decorating these cars.

"We are earning a handsome amount of money these days during the season as every groom's family wants to look more presentable," said Aiman Waqas, sister of a would-be-bride.

Pakistani wedding cars are always covered with lots of flowers and ribbons, it is a traditional way of decorating cars, Adnan Sheikh said.

Zubair Ismail said that there is a trend of hiring a wedding car for a day or two. And now in Pakistan many famous cars are available for weddings with well decorated flowers.

On the other hand many people use their personal cars for this purpose, said , adding , there are professional designers who offer services for decorating your car.

Florists also do car decorations in low budget. Otherwise there are many other designer services are also accessible.

A groom Usman Haider said: "My family is very much interested to hire a car on my wedding day especially my sister as I am her only brother and she wants to see me in a decorated car on my wedding day."

Another groom Masood Danish said decorating is a vital part of every wedding in our country and the transport the groom arrives in on his wedding day is just as important as the ceremony.

The concept of decorating cars is not very new or adopted. Wedding cars have been decorated from ages Usually the wedding car is decorated with flowers and ribbons, he added.

A mother of a Dulha (bridegroom) Sumera Ashfaq said that a wedding car should look fascinating as it is a part of your ceremony.

A worker in a flower shop said: "we mostly charge Rs2,000 to 10,000 for a single decorated car.

Published in The Express Tribune, November 13th, 2018.