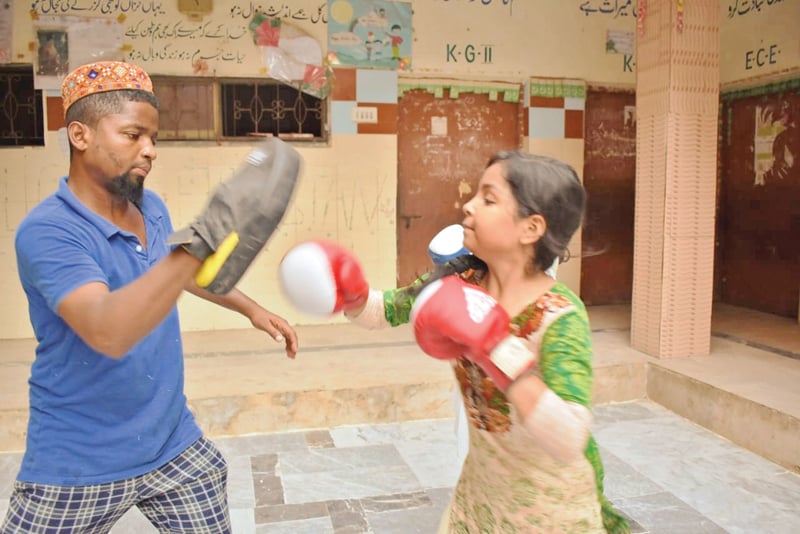 ---
KARACHI: Lyari is often spoken and written about as synonymous with violence, conflict, and gang-wars. It has also been in the news for its recent shift in political favour towards Pakistan Tehreek-i-Insaf (PTI) and also right-wing parties such as the Tehreek-e-Labbaik Pakistan and Jamaat-e-Islami, as opposed to the previously-favoured Pakistan Peoples Party (PPP). Sometimes you also hear about Lyari in association with sports. More commonly though, Lyari remains known as an area rife with conflict, a 'no-go area', if you will.

"The life of a Pakistani journalist is very dangerous, sometimes we have to go to conflict areas such as Lyari and Waziristan," said Umair Razzaq, quoting from an article, published in Herald in November 2016, while speaking at a session, titled 'Lyari Revisited' on the final day of the Sixth International Karachi Conference held at the Institute of Business Administration (IBA).

Razzaq went on to quote reports from prominent media channels. He recalled one anchor speaking of his district as, 'ye Lyari, tango tarri galiyaan, aur harso, jahalat ke ghiray' [This is Lyari, congested streets surrounded by illiteracy].

Razzaq's major frustration is that despite the significant improvements in Lyari and the several positive experiences of its residents, Lyari continues to be perceived under the singular banner of violence. "You know who Uzair Baloch is but do you know who Salman boxer is?" he asked, lamenting on how Lyari's filmmakers, artists, writers, poets and others, are ignored.

Of Karachi's privileges and problems

"Lyari is much more than just violence and conflict. Wherever we go, we are asked either about violence and politics, at most we may be asked about sports. What we need instead is a platform that allows us to share ideas and our work," said Razzaq.

His book, Lyari On The Rise (March 2018), is an act of resistance against this predominant narrative. It is his way of giving space to the community's creative individuals and memorialising their works in history, as the current discourse constantly chooses to ignore their efforts. In Lyari, Razzaq, a recent graduate of Benazir Bhutto Shaheed University, is known as a citizen journalist.

The fun in feminism

"In general, resistance has been thought about as taking place in the form of organised political action through protests and social movement," said Dr Nida Kirmani, while reading from her paper titled 'Is having fun a feminist act? Gender, mobility, and resistance in Lyari, Karachi'. Kirmani is an associate professor at the Lahore University of Management Sciences (LUMS), has a PhD in sociology, and has been researching on Lyari for over six years. Her paper focused on acts of feminist resistance but also shared Razzaq's reservations of people being reduced to a singular narrative. In fact her paper, a 'thought experiment' as she called it, sought to complicate feminist research and explore the link between feminism and fun.

"Feminists are often charged with being too serious, of not having a sense of humour and of not knowing how to have fun," read Kirmani, and while she doesn't think it holds true for feminists as individuals, she acknowledges that most feminist research is focused on negative aspects - on the oppression, discrimination and violence faced by women.  "I have to admit my work as a feminist sociologist is generally focused on exposing the darker side of patriarchy," she said, reiterating that although this kind of work is crucial, it can also be reductive.

"It reinforces the notion that the lives of women are bleak and that it is our job as researchers to shed light on their problems. This approach has many flaws. Not least because it flattens and simplifies women's lives, robs them of their agency and only tells a small part of a much richer and complex story. It also reinforces the notion that feminism is fundamentally opposed to fun," she said.

She referred to the book Why Loiter (2011) and spoke about the importance of women in public spaces, citing movements such as Girls at Dhabbas and Girls on Bikes which have recently emerged in urban cities and have added to women's presence in public spaces. Kirmani stressed that in South Asia where women rarely venture out of their homes, unless for a specific purpose, accessing public spaces for fun and leisure can be seen as a 'quiet revolution'.

Lyari Girls Cafe

One such effort is the Lyari Girls Cafe. Rimsha Raheen and Zulekha Dawood, residents of Lyari and social organisers at the Lyari Girls Cafe, were called upon by Kirmani to share their stories. Rimsha spoke about how after the 2013 operation, parents were concerned about the prevailing situation and restricted girls' education.

At the time, she and some of her friends who belonged to more 'open-minded families', as she put it, decided to provide a platform for women to focus on educational, vocational, and also physical pursuits such as cycling. "The girls wanted to partake in activities, their families permitted as well, but society was restrictive," said Rimsha. They also faced aggression from members of Jamaat-e-Islami but it did not deter them and their efforts encouraged others to benefit from the place. "We adorned our scarves and went on our bikes," said Rimsha.

Long-awaited project: Work begins on Gujjar Nullah's rehabilitation

The Lyari Girls Cafe not only allowed women to find space within the community but also enabled them to explore intellectual and creative pursuits which were both fun and productive.

While these efforts may seem small to an outsider, they do reflect change in the more supposedly serious matters as well. "[In Lyari] Education levels for girls and boy have increased exponentially over the past generation. In a short study, we saw that as compared to previous generations, access to education is now almost equal for both boys and girls. Although fewer women than men are employed in paid work, mere 20% women in Lyari have jobs, but this is still a significant increase as compared to the last generation. If this continues then more women will be participating in the labour force. We can say that there is quiet revolution happening there as well," Kirmani had read from her paper.

As Kirmani put it, "Like fun, violence is always present in everyday life, whether it is the memory of past violence or the imminent threat of future violence, in an area like Lyari which has experienced almost two decades of conflict, and in the lives of women who constantly face the threat of multiple forms of violence, you cannot just forget about the fact that violence exists. But paying attention to other aspects of social life, including fun and enjoyment, helps us understand what keeps individuals and communities together through difficult times."

Published in The Express Tribune, November 12th, 2018.
COMMENTS
Comments are moderated and generally will be posted if they are on-topic and not abusive.
For more information, please see our Comments FAQ