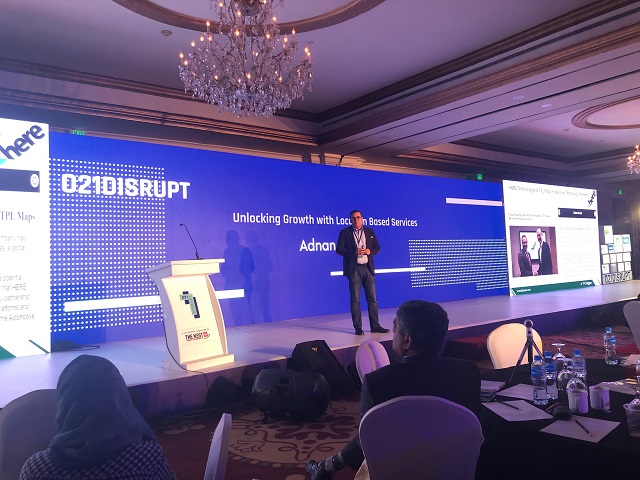 ---
KARACHI: TPL Maps Chief Executive Officer Adnan Shahid opened his 021Disrupt address by quoting Jamal Khashoggi, specifying that the departed journalist wouldn't have made headlines unless readers knew 'where' the incident occurred and what it entailed.

The mention of the recently assassinated Saudi Journalist Khashoggi immediately led to Shahid grabbing the audience's attention.

Speakers and panellists on the second day of the conference outlined insightful business knowledge crucial to startups and young business ventures. On a podium where issues such as wireless innovation, social enterprise and artificial intelligence took centre stage, Shahid elaborated on growth opportunities using location-based services.

"Location and time add context and change the perspective of how an incident or activity is approached or viewed," the expert maintained. Speaking of growth potentials, he argued that a range of business strategies are premised on navigation or mapping.

"Maps are like carpets on which all the furniture rests," the CEO told the audience.




'Cities need to start acting like startups to solve problems'

Internet of Things

Besides the Internet of Things (IoT) industry, location-services also increase efficiency among existing systems. Not only ride-hailing and mobility or logistics driven functions benefit from maps; timers on air conditioners and heaters too, for instance, are an example.

Smart offices

According to Shahid, much like smartphones, smart offices require a location of the end user in a particular area to be able to identify a solution and build on it.

"Imagine knowing the time to go to the cafeteria when it's not crowded," the TPL head quoted as an example.

Smart cities 

Everyday functions in order to turn 'smart' will unlock growth by maximising on using location-based services.

DICE: Creative social enterprises create jobs, experts say

Referring to Eidul Azha, Shahid added that waste management companies will be able to direct their fleet more effectively if they knew what time animal sacrifice will take place and in which area.

"Multiple senses besides mapping are at play," Shahid shared, "and every step can be managed through a blockchain".

Identifying behaviour using location

In what would be a "creepy" feature, Shahid apprised the audience that Facebook will soon be able to recommend people standing near you as suggested friends.

TPL Maps aims to improve location-based services

Achieving this through a patent, the social media giant will be able to determine how one behaves. It will then use the derived information to pair people engaging in similar activities. "Two people booking a ride or gymming in the vicinity will be suggested to become friends", elaborated Shahid.

Through the social network's new feature, location-based services will reveal another dimension.




This app connects people based on their location

The TPL professional maintained that their aim is to bring people in physical offline spaces to online platforms and empower digital ecosystems with location-based services.

He believed that the navigation feature has the power to engine various industries such as e-commerce, insurance, tourism, retail and telecom.






COMMENTS
Comments are moderated and generally will be posted if they are on-topic and not abusive.
For more information, please see our Comments FAQ